Zygom.art is a street artist who appeared in 2021 in Paris, mostly in 4th Arrondissement (Le Marais)
There are a number of other street artists focusing on mosaics, some began many years ago, others very recently: for example
RV20211 on Flickr and Instagram,
MrDjoul on Flickr and Instagram,
Stork on Instagram,
Mifamosa on Instagram,
and most recently Solrac, with his constellation project "Watch Out For Black Holes". Here are a few examples: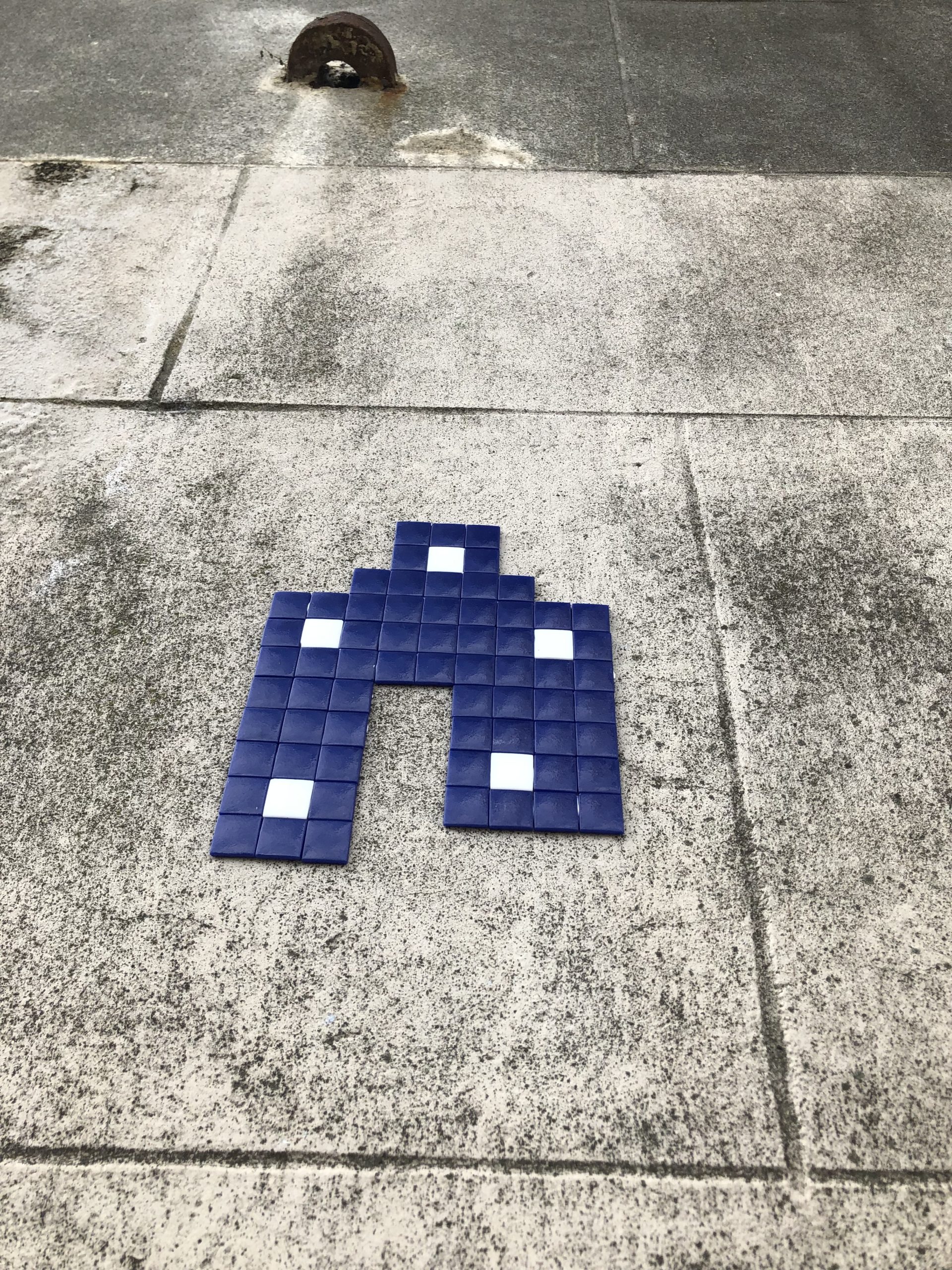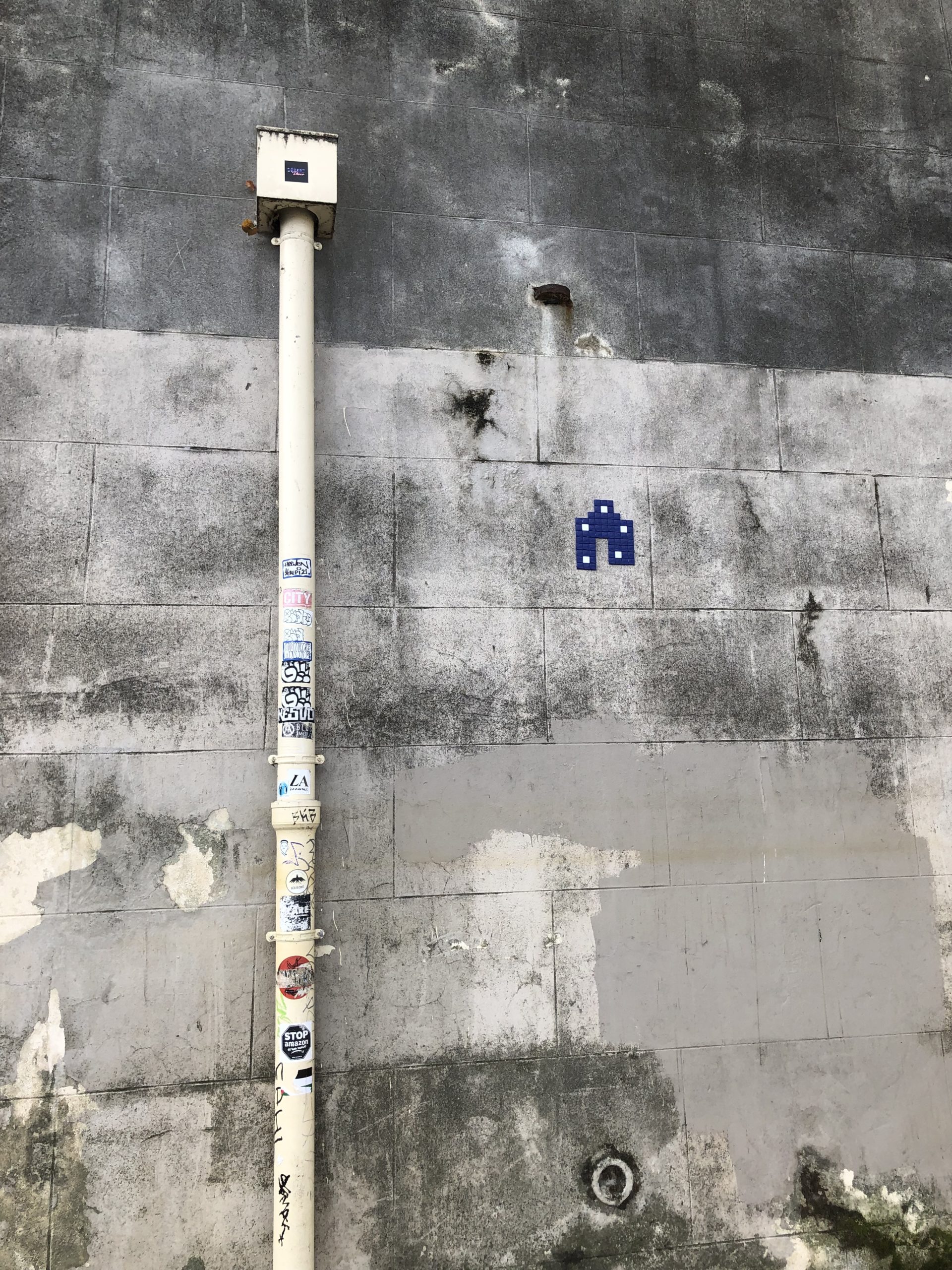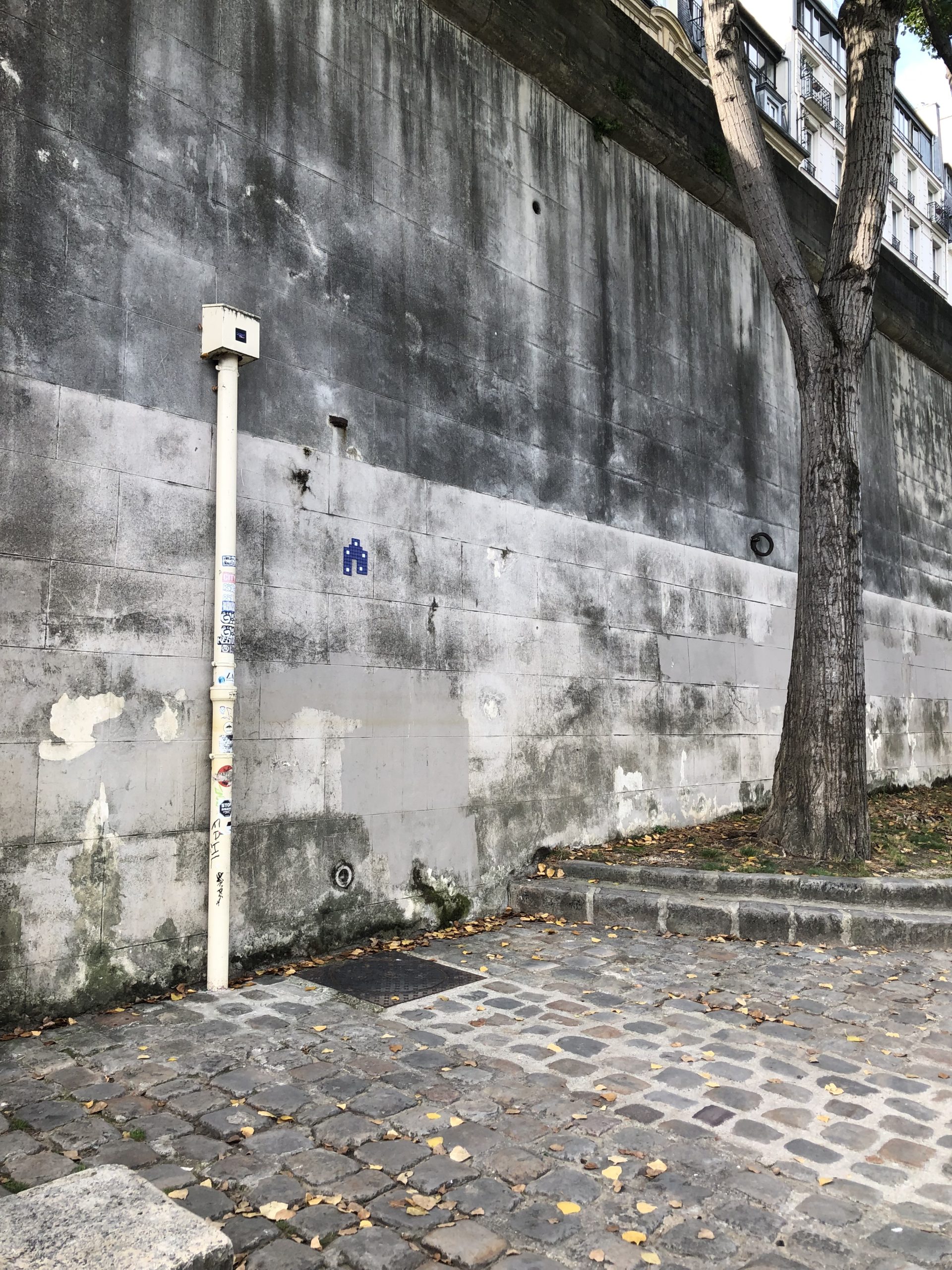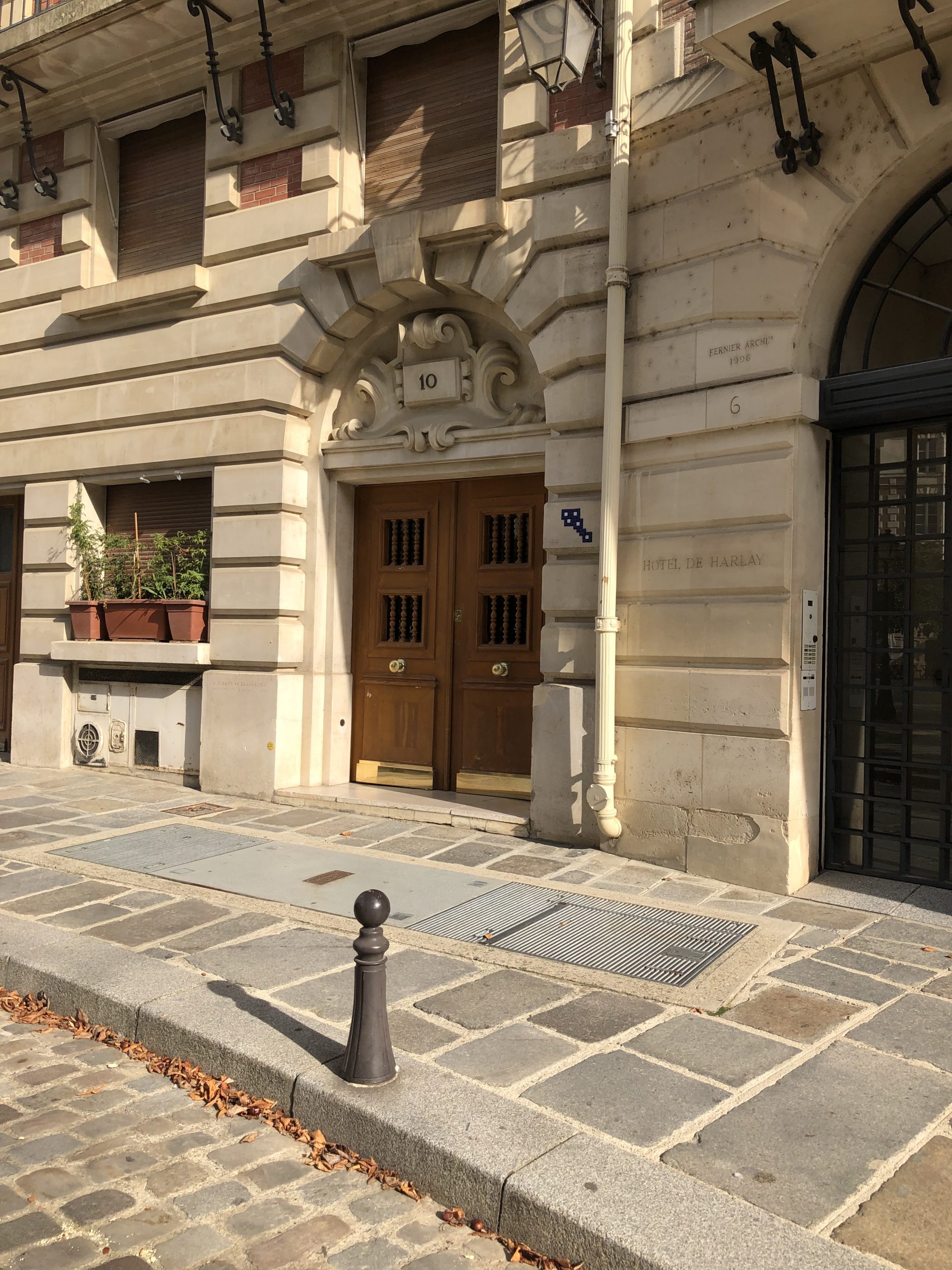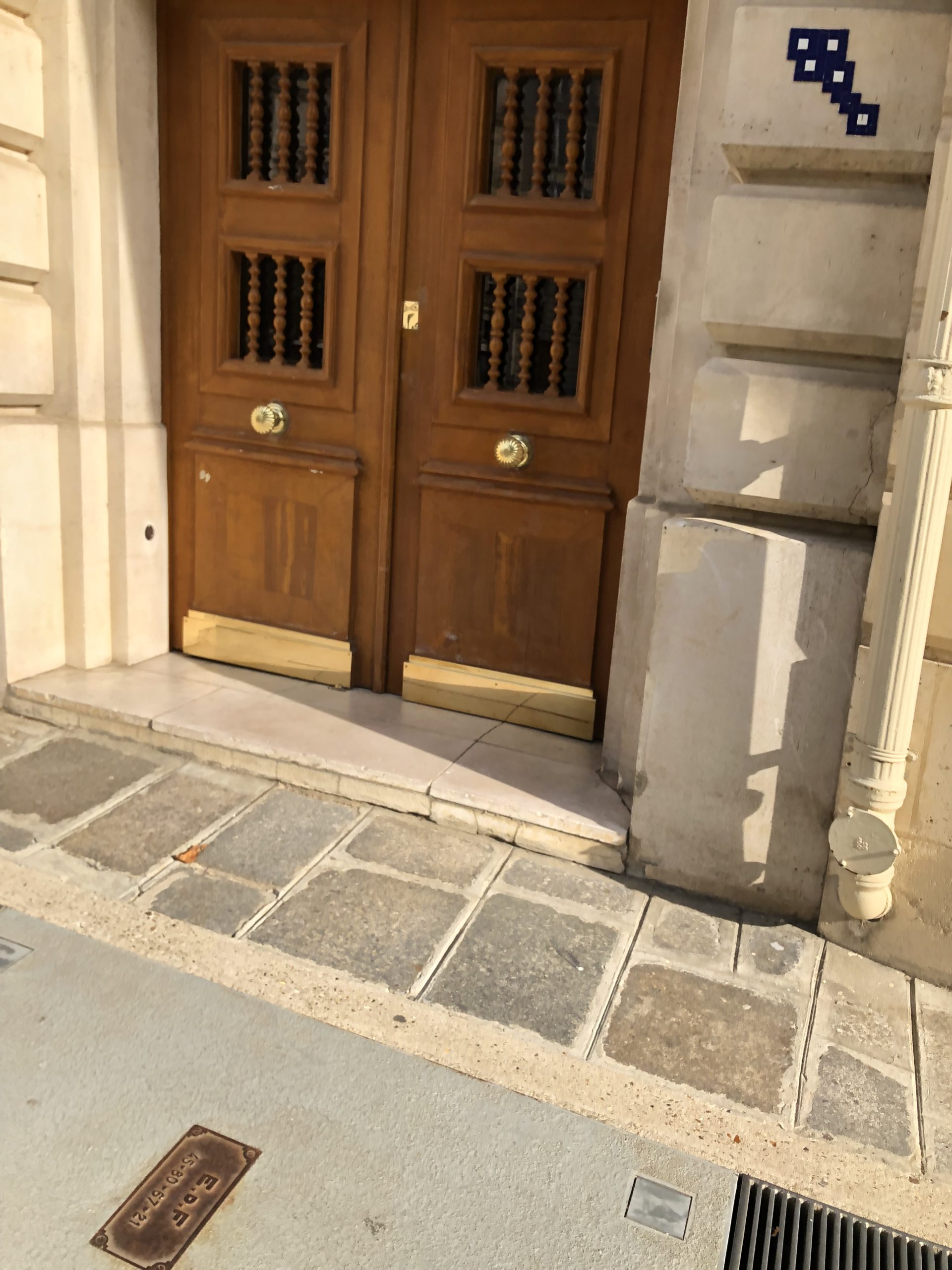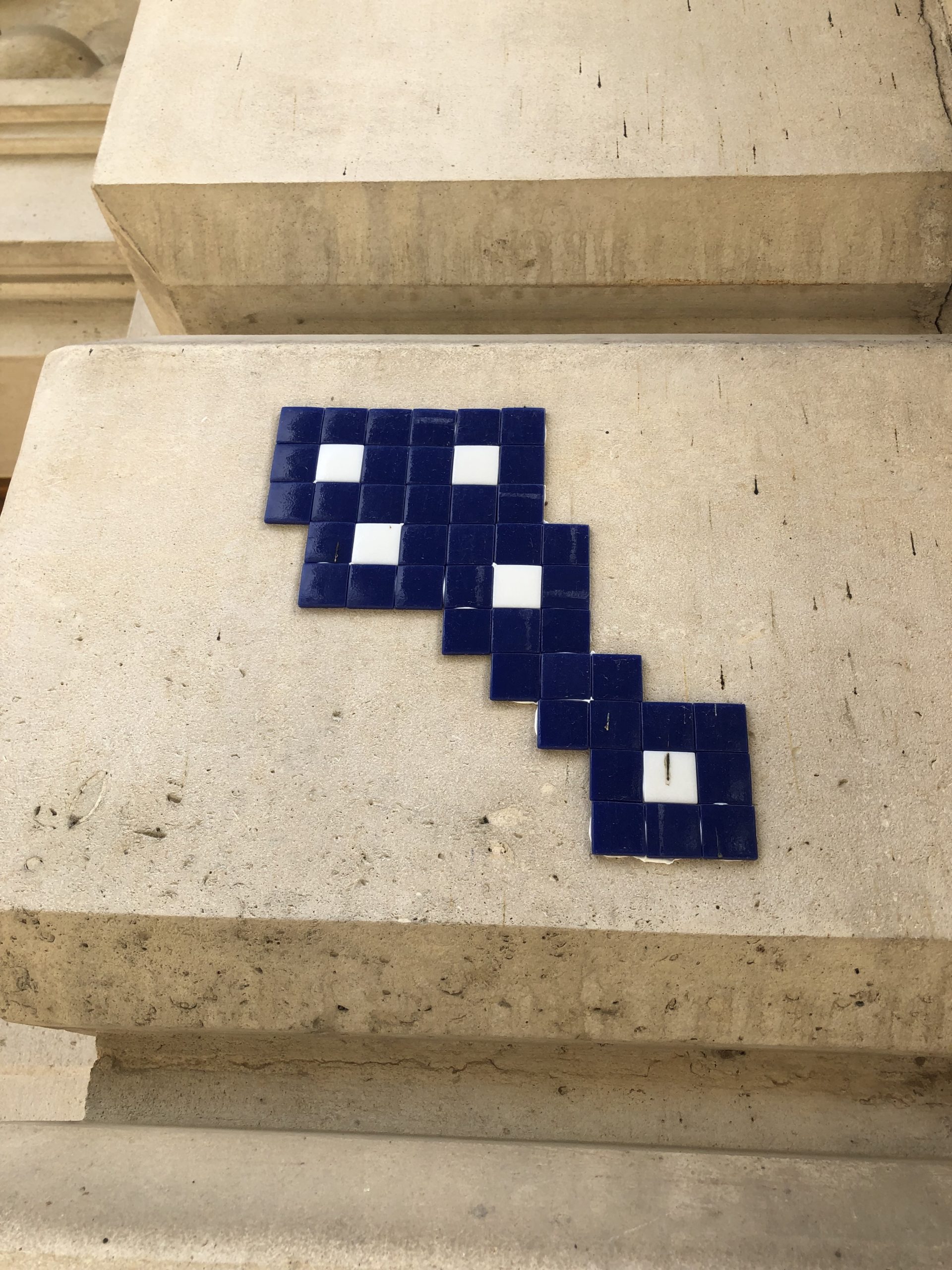 Butte aux Cailles in the 13th arrondissement is one of the richest and most diverse source of Street Art in Paris. Here is the result of a sunday spent there in March 2021.
Butte_aux_Cailles-Street_Art – sma

A higher quality and updated pdf can be found on Scribd. Here is a detailed list, even if uncomplete, of artists, locations and web links:
#
Artist
Street
Link
1
1, rue des Cinq Diamants – artiste au coquelicot
2
1, rue des Cinq Diamants – artiste au coquelicot
3
Kbal + Dona
1, rue des Cinq Diamants
www.facebook.com/kbaldonamosaic
4
Kbal + Dona
1, rue des Cinq Diamants
5
Kbal + Dona
1, rue des Cinq Diamants
6
Kazar
2, rue des Cinq Diamants
www.instagram.com/iam.kazar
7
Smile
7, rue des Cinq Diamants
www.urbacolors.com/fr/artist/smile
8
Smile
7, rue des Cinq Diamants
9
Jef Aerosol
12 Rue des cinq Diamants
www.jefaerosol.com
10
Jef Aerosol
12 Rue des cinq Diamants
11
Misstic
30 Rue des cinq Diamants – Chez Gladines
missticinparis.com
12
Misstic
30 Rue des cinq Diamants – Chez Gladines
13
Misstic
30 Rue des cinq Diamants – Chez Gladines
14
Misstic
23 Rue des cinq Diamants
15
Misstic
27 Rue des cinq Diamants
16
Misstic
27 Rue des cinq Diamants
17
Words by Wabi Sabi
29 Rue des cinq Diamants – Karl
Insta : @wordsbywabisabi
18
Silex
29 Rue des cinq Diamants
19
29 Rue des cinq Diamants – Scrabble Love Each Other
20
Smile
29 Rue des cinq Diamants
21
29 Rue des cinq Diamants – Street Art de Merde
22
Zelda Bomba
29 Rue des cinq Diamants
www.zeldabomba.com
23
Misstic
38 Rue des cinq Diamants
24
Zelda Bomba
38 Rue des cinq Diamants
25
Misstic
38 Rue des cinq Diamants
26
Misstic
38 Rue des cinq Diamants
27
Misstic
38 Rue des cinq Diamants
28
a_ydar
31 Rue des cinq Diamants
www.instagram.com/a_ydar
29
Zabou
31 Rue des cinq Diamants
zabou.me
30
Clito + Zob …
31
42 Rue des cinq Diamants – Sortez Masqués
32
42 Rue des cinq Diamants – Sortez Masqués
33
rue des Cinq Diamants
34
LOUYZ
rue des Cinq Diamants
www.facebook.com/louyz
35
44 rue des Cinq Diamants
36
Boutros Bootleg
44 rue des Cinq Diamants
www.facebook.com/boutrosbootleg
37
Misstic
39 rue des Cinq Diamants
38
Misstic
39 rue des Cinq Diamants
39
44 rue des Cinq Diamants – Scrabble – C'est l'histoire d'un manque
40
Monsieur Plus
rue des Cinq Diamants
www.instagram.com/monsieurplus_streetart
41
Zut
44 rue des Cinq Diamants
www.facebook.com/Zutartist/
42
Tegmo
rue des Cinq Diamants
www.tegmo.fr
43
46 rue des Cinq Diamants – Maison de la Commune de Paris – artiste au coquelicot
44
Monsieur Plus
rue des Cinq Diamants
45
Misstic
39 rue des Cinq Diamants
46
Toqué
46 rue des Cinq Diamants
www.facebook.com/toquefreres
47
Toqué
41 rue des Cinq Diamants
www.facebook.com/toquefreres
48
Tegmo
47 rue des Cinq Diamants
49
Tegmo
47 rue des Cinq Diamants
50
Flex Mecca
Passage Barrault
www.instagram.com/flex.mecca/
51
Tegmo
Passage Barrault
52
Tegmo
Passage Barrault
53
Passage Barrault – Not Y Aroz
54
Qwelt
Passage Barrault – Alien à deux yeux
55
Qwelt
Passage Barrault – Alien à deux yeux
56
Tegmo
rue des Cinq Diamants
57
rue des Cinq Diamants
58
rue des Cinq Diamants – la beauté est dans la rue
59
Tegmo
rue des Cinq Diamants
60
Misstic
rue des Cinq Diamants
61
?
62
Next
21 rue de la Butte aux Cailles – rouge et vert
63
Next
21 rue de la Butte aux Cailles – rouge et vert
64
Seth
30 rue de la Butte aux Cailles
65
30 rue de la Butte aux Cailles
66
30 rue de la Butte aux Cailles
67
Boutros Bootleg
30 rue de la Butte aux Cailles
68
Jef Aerosol
15 rue de la Butte aux Cailles
69
Oji
15 rue de la Butte aux Cailles
www.ojidjo.com
70
Oji
15 rue de la Butte aux Cailles
71
Passage Boiton
72
Flex Mecca
Passage Boiton
73
Flex Mecca
Passage Boiton
74
Eugène Barricade
Passage Boiton
www.facebook.com/eugenebarricade
75
Eugène Barricade
Passage Boiton
76
TEMGO
Passage Boiton
77
Essone
Passage Boiton (aussi sur 74)
78
Monsieur Plus
Passage Boiton
79
Passage Boiton
80
Eugène Barricade
Passage Boiton
81
Eugène Barricade
Passage Boiton
82
Passage Boiton
83
Passage Boiton
84
Passage Boiton
85
Passage Boiton
86
Passage Boiton
87
Philippe Baudelocque
Passage Boiton
88
Passage Boiton
89
Passage Boiton
90
?
91
Invader – Clone
Passage Boiton
92
Passage Boiton
93
Seth
Passage Boiton
94
Seth
Passage Boiton
95
Seth
Rue Buot & Rue Martin Bernard
96
Seth
Rue Buot & Rue Martin Bernard
97
TEMGO & Monsieur Plus
Rue Buot & Rue Martin Bernard
98
Rue Buot
99
QWELT ?
Rue Buot
100
Seth
Rue Buot
101
Seth
Rue Buot
102
Rue Buot
103
Seth
Rue Buot
104
Rue Buot
105
Qwelt &Words by Wabi Sabi
Rue Buot – Alien à deux yeux
Insta : @wordsbywabisabi
106
Qwelt
Rue Buot – Alien à deux yeux
107
Qwelt
Rue Buot – Alien à deux yeux
108
Rue Buot
109
Rue Buot
110
Seth
Rue de l'Espérance et rue de la Butte aux Cailles
111
Seth
Rue de l'Espérance et rue de la Butte aux Cailles
112
Seth
Rue de l'Espérance et rue de la Butte aux Cailles
113
29 Rue de la Butte aux Cailles
114
Flex Mecca
29 Rue de la Butte aux Cailles
115
Rue de la Butte aux Cailles – wanted dead or alive
116
Misstic
8 Rue de la Butte aux Cailles & Rue Jean-Marie Jégo
117
Misstic
8 Rue de la Butte aux Cailles & Rue Jean-Marie Jégo
118
Misstic
36 Rue du Moulin des Prés
119
Clet Abraham & Words by Wabi Sabi
Place Paul Verlaine – scrabble "sans interdit" + panneau Clet Abraham
Insta : @wordsbywabisabi
120
Clet Abraham
Place Paul Verlaine – scrabble "sans interdit" + panneau Clet Abraham
121
Place Paul Verlaine – scrabble "sans interdit" + panneau Clet Abraham
122
Next
Face au 37 Rue Vandrezanne – rouge et vert
123
Next
Face au 37 Rue Vandrezanne – rouge et vert
124
Misstic
39 Rue du Moulinet
125
Invader
Rue Henri Michaux
126
Invader
Rue Henri Michaux
127
Invader
Rue Henri Michaux
128
Invader – Clone
Passage du Moulinet
129
Invader – Clone
Passage du Moulinet
130
Passage du Moulinet – XIII -Cercle Du Cheval Blanc
131
Passage du Moulinet – XIII -Cercle Du Cheval Blanc
132
Qwelt
Alien à deux yeux
133
Qwelt
Alien à deux yeux
134
Qwelt
Alien à deux yeux
135
TEMGO
136
TEMGO
137
Misstic
6 Passage Sigaud
138
Misstic
6 Passage Sigaud
139
Misstic
6 Passage Sigaud
140
Seth
4 Passage Sigaud
141
Misstic
9 Passage Sigaud
142
Clone du Rimbaud  Enerst Pignon Ernest – https://pignon-ernest.com/
143
Seth
18 rue Alphand
144
Seth
18 rue Alphand
145
Seth
18 rue Alphand
146
C + S
Rue Alphand et rue Barrault ? This is England
www.instagram.com/c_plus_s_street_art
147
C + S
Rue Alphand et rue Barrault ? This is England
148
C + S
Rue Alphand et rue Barrault ? This is England
149
C + S
Rue Alphand et rue Barrault ? This is England
150
C + S
Rue Alphand et rue Barrault ? This is England
151
Stew
57 Rue Gérard et rue Simonet
www.facebook.com/stewearth
152
LOUYZ
7 rue du Moulin aux Pres
www.facebook.com/louyz
153
Seth
47 et 53 rue Gérard
154
Seth
47 et 53 rue Gérard
154
Un ours face au 47 et 53 rue Gérard
March 28