Entrepreneurship in Action by Philippe Mustar is a really good book, as I had hinted in my previous post.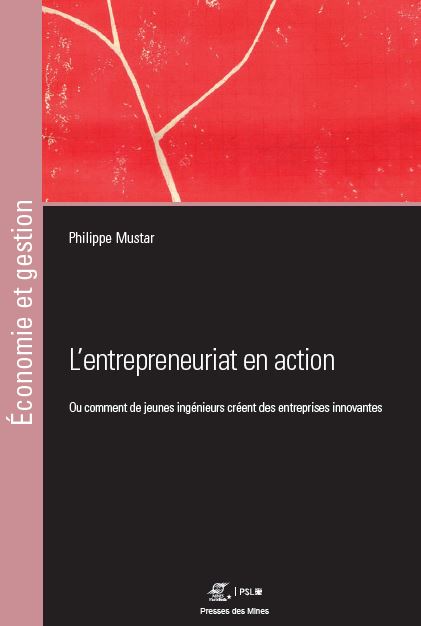 I just finished reading the analysis about DNA Script which I found very convincing. More than 70 pages describing an adventure which is built by moving forward often blindly, and with a lot of uncertainties. You learn by doing very often. Here is the concluding page which will hopefully make you want to read the full chapter.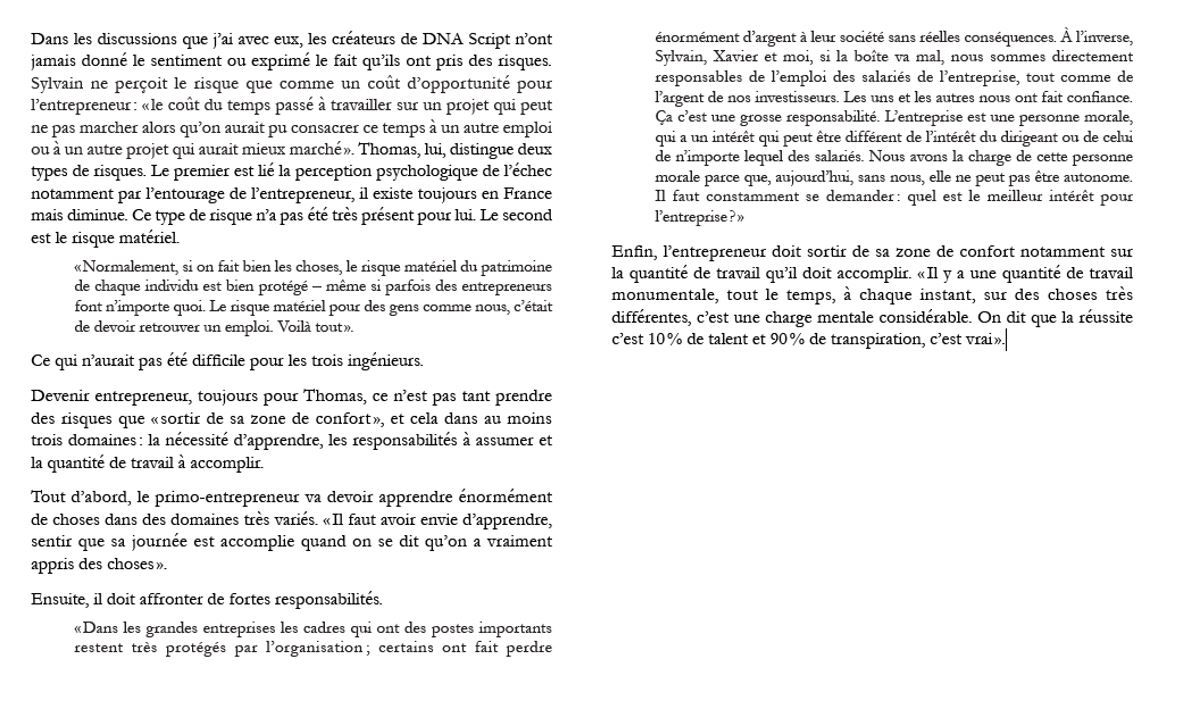 Through discussions with them, the creators of DNA Script never gave the feeling or expressed the fact that they took any risks. Sylvain only sees risk as an opportunity cost for the entrepreneur: "the cost of time spent working on a project that may not work when we could have spent this time on another job or another project that would have worked better". Thomas distinguishes between two types of risk. The first is linked to the psychological perception of failure, particularly by the entrepreneur's entourage, which still exists in France but is declining. This type of risk was not very present for him. The second is the material risk.
"Normally, if you do things right, the material risk to each individual's assets is well protected – even if sometimes entrepreneurs do stupid things. The material risk for people like us was having to find a job. That is all".
Which wouldn't have been difficult for the three engineers.
Becoming an entrepreneur, always according Thomas, is not so much taking risks as "getting out of your comfort zone", and this in at least three areas: the need to learn, the responsibilities to be assumed and the amount of work to be done.
First of all, the first-time entrepreneur will have to learn a lot of things in a wide variety of fields. "You have to want to learn, to feel that your day is completed when you say to yourself that you have really learned things."
Then, you must face strong responsibilities.
"In large companies, executives who hold important positions remain very protected by the organization; some have cost their companies huge amounts of money without real consequences. Conversely, Sylvain, Xavier and I, if the business goes badly, we are directly responsible for the job of the employees of the company, as well as for the money of our investors. Both have trusted us. This is a big responsibility. The company is a legal person, which has an interest that may be different from the interest of the manager or that of any of the employees. We are responsible for this legal person because today, without us, it cannot be autonomous. You have to constantly ask yourself: what is the best interest for the company?"
Finally, the entrepreneur must step out of his comfort zone, especially on the amount of work he has to accomplish. "There's a monumental amount of work, all the time, at every moment, on very different things, it's a huge mental load. They say success is 10% talent and 90% transpiration, that's right."