It is the third time I can relate Playboy magazine to technology startups. Strange.
In 1971, Intel went public the same day as Playboy and its co-founder, Gordon Moore, funnily recounts in Something Ventured: And a few years later one of the analysts: "The market has spoken. It's chips over chicks, 10-to-1." He did not exactly say that but something similar. I will let you search if you wish…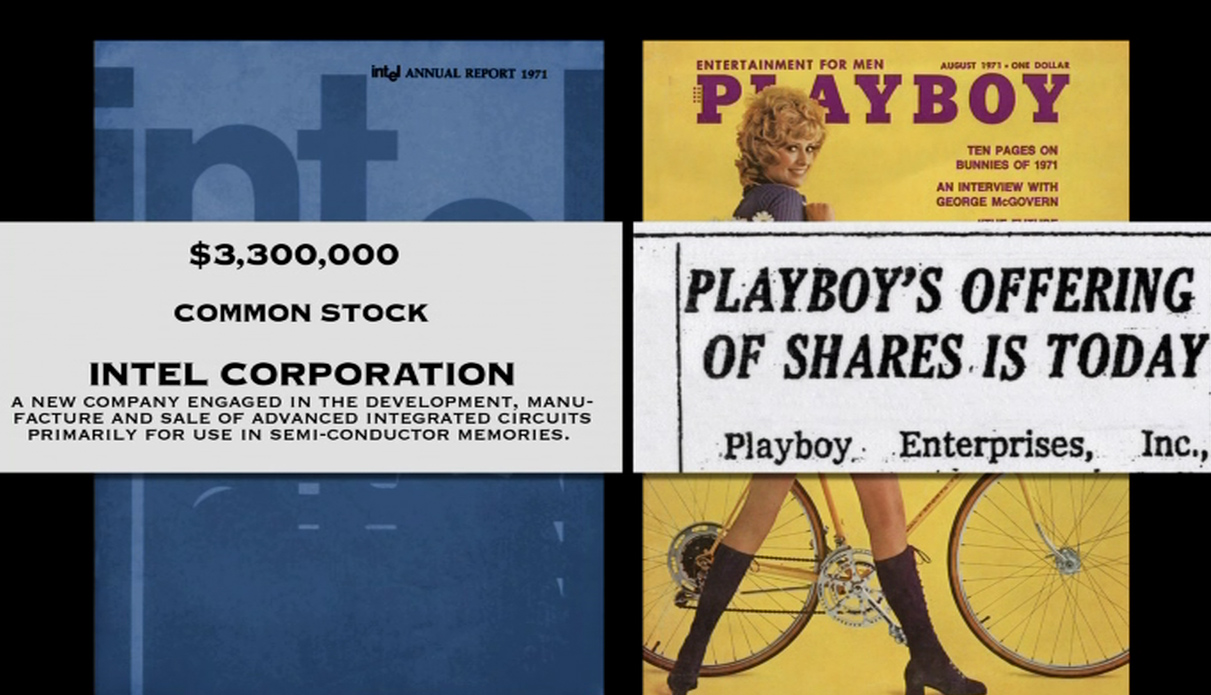 In 2004, the playboy interview of the Google founders, The Google Guys, America's newest billionaires, was very controversial. Not because of the publisher, but of the timing. You can read
Google says Playboy article could be costly.
Finally I recently discovered that in 1984 was published a lengthy 13-page interview of Silicon Valley's newest star: Steven Jobs, a candid conversation about making computers, making mistakes and making millions with the young entrepreneur who sparked a business revolution. Here are some extracts.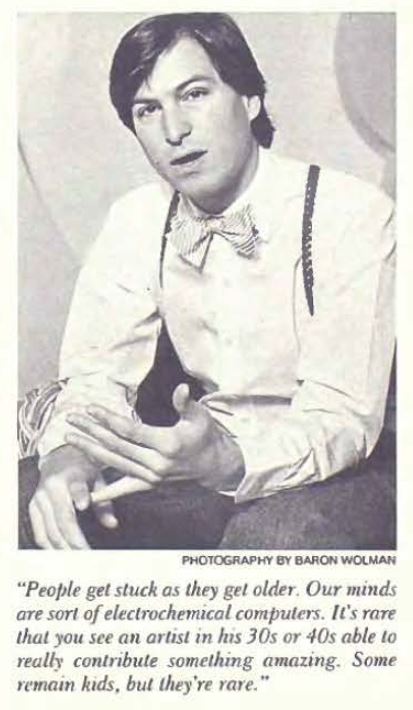 About computers
We're living in the wake of the petrochemical evolution of 100 years ago. The petrochemical revolution gave us free energy – free mechanical energy, in this case. It changed the textures of society in most ways. This revolution, the information revolution, is a revolution of free energy as well, but another kind: free intellectual energy. It's very crude today, yet our Mackintosh computer takes less power than a 100-watt light bulb to run and it can save you hours a day. What will it be able to do ten or 20 years form now, or 50 years from now? This revolution will dwarf the petrochemical revolution. We're on the forefront.
Computers will be essential in most homes. The most compelling reason to buy a computer for the home will be to link it into a nationwide communications network. We're just in the beginning stages of what will be a truly remarkable breakthrough for most people – a remarkable as the telephone.
It's often the same with any new revolutionary thing. People get stuck as they get older. Our minds are sort of electrochemical computers. Your thoughts construct patterns like scaffolding in your mind. You are really etching chemical patterns. In most cases, people get stuck un those patterns, just like grooves in a record, and they never out of them. It's a rare person who etches grooves that are other than a specific way of looking at things, a specific way of questioning things. It's rare that you see an artist in his 30s or 40s to really contribute something amazing. Of course, there are some people who are innately curious, forever little kids in their awe of life, but they're rare.
About innovation
What happens in most companies is that you don't keep great people under working environments where individual accomplishment is discouraged rather than encouraged. The great people leave and you end up with mediocrity. I know, because that's how Apple was built. Apple is an Ellis island company. Apple is built on refugees from other companies. These are the extremely bright individual contributors who were troublemakers at other companies.
Polaroid did that for some years, but eventually Dr Land, one of these brilliant troublemakers, was asked to leave his own company – which is one f the dumbest things I've ever heard of.
About growing
Anyway, one of our biggest challenges and the one I think John Sculley and I should be judged on in five to ten years is making Apple an incredibly great ten- or 20-billion-dollar company. Will it still have the spirit it does today? We're charting new territory. There are no models we can look to for our high growth, for some of the new management concepts we have. So we've to find our own way.
The way it's going to work is that in our business, in order to continue to be one of the major contributors, we're going to have to a ten-billion-dollar company. That growth is required for us to keep up with the competition. Our concern is how to become that, rather than the dollar goal, which is meaningless to us.
There may be some imitators left in the $100,000,000-to-$200-000-000 range, but being a -$200-000-000 company is going to mean you are struggling for your life, and that's not a really a position from which to innovate. Not only do I think IBM will do away with its imitators by providing software they can't provide, I think eventually it will come up with a new standard that won't even be compatible with what it's making now – because it is too limiting.
[Jobs was visionary but could be always right. Look at Dell, Compaq, Lenovo, HP and Intel/Microsoft…]
I used to think about selling 1,000,000 computers a year, but it was just a thought. When it actually happens, it's a totally different thing. So it was. "Holy shit, it's actually coming true!" But what's hard to explain is that this does not feel like overnight. Next year will be my tenth year. I had never done anything longer than a year in my life. Six months for me, was a long time when we started Apple. So that has been my life since I've been sort of a free-willed adult. Each year has been so robust with problems and successes and learning experiences and human experiences that a year is a lifetime at Apple. So this has been ten lifetimes.
There's an old Hindi saying that comes into my mind occasionally: "For the first 30 years of your life, you make your habits. For the last 30 years of your life, your habits make you." As I'm going to be 30 in February, the thought has crossed my mind. And I'm not sure. I'll always stay connected with Apple. I hope that throughout my life, I'll sort of have the thread of my life and the thread of Apple weave in and out of each other, like a tapestry. There may be a few years when I am not there, but I'll always come back.
About artificial intelligence
The original video games captured the principles of gravity. And what computer programming can do is to capture the underlying principles, the underlying essence, and then facilitate thousands of experiences based on that perception of the underlying principles. Now if we could capture Aristotle's world view – the underlying principles of his world view? Then you could ask Aristotle a question. Ok you might say it would not be exactly what Aristotle was. It could all be wrong. But maybe not.
Part of the challenge, I think, is to get these tools to millions and tens of millions of people and to start to refine these tools so that someday we can crudely, and then in a more refined sense, capture an Aristotle or an Einstein or a Land while he's alive.
That's for someone else. It's for the next generation. I think an interesting challenge in this area of intellectual inquiry is to grow obsolete gracefully, in the sense that things are changing so fast that certainly by the end of the Eighties, we really want to turn over the reins to the next generation, so that they can go on, stand on our shoulders and go much further. It's a very interesting challenge, isn't it? How to grow obsolete with grace.
Post-Scriptum: It is difficult to add anything to this beautiful conclusion and yet I wish to create a (quite artificial) link between these first two parts. I just discovered it while finishing this article and the coincidence is quite beautiful. I didn't know about this Steve Jobs interview. Much better known, even famous, is the speech he gave in 2005 at Stanford University, for the graduation of students (the "commencement speech" – my first article in this blog)
Coincidentally, Michael Gibson ends his book, Paper Belt of Fire, by analyzing another commencement speech given in 2005 and considered by some to be one of the most beautiful with that of Jobs. This is "This is water" by David Foster Wallace, the entirety of which you will find in This Is Water: Some Thoughts, Delivered on a Significant Occasion, about Living a Compassionate Life.

Here is its conclusion:
The capital-T Truth is about life BEFORE death.
It is about the real value of a real education, which has almost nothing to do with knowledge, and everything to do with simple awareness; awareness of what is so real and essential, so hidden in plain sight all around us, all the time, that we have to keep reminding ourselves over and over:
"This is water."
"This is water."
It is unimaginably hard to do this, to stay conscious and alive in the adult world day in and day out. Which means yet another grand cliché turns out to be true: your education really IS the job of a lifetime. And it commences: now.