Following the mysql case, here is the Skype capitalization. Skype was founded in November 2003 and acquired by eBay in September 2005 for about $2.6B. The deal was complex as it had a cash component as well as an equity one and because there was an upside potential, up to $4B. The SEC document said "Skype shareholders were offered the choice between several consideration options for their shares. Shareholders representing approximately 40% of the Skype shares chose to receive a single payment in cash and eBay stock at the close of the transaction. Shareholders representing the remaining 60% of the Skype shares chose to receive a reduced up-front payment in cash and eBay stock at the close plus potential future earn-out payments which are based on performance-based goals for active users, gross profit and revenue." In October 2007, eBay announced the final earn-out to be $530M. I consider here the acquisition was $2.6B.
The two founders, Janus Friis (Danish) and Niklas Zennström (Swede) were the previous founders of Kazaa and had created a holding company, Maitland Holdings, which would own their founder's shares in Skype. It is not clear if other people had shares in Maitland and I made the assumption that the team of Estonian early developers (Toivo Annus, Jaan Tallinn, Pritt Kasesalu and Ahti Heinla) had such shares but it is possible they had options only. Because the sharing is unknown, I plainly assume that the two founders had about 40% each and the Estonians shared equally the remaining 20%. This is not fully consistent with SEC documents where the Estonians seem to have 5.6% of the eBay shares at acquisition. But I could not find hard facts. However the number of common shares, stock options and preferred A and B shares comes from Legilux, the Luxembourg register of commerce and is therefore correct (see sources below).
Skype had two main rounds and also a seed round before the creation of the company (a convertible loan). The Legilux documents help is assuming that Skype raised €600k of seed money in 2002-2003 with Bill Draper and other angels, its first round of €1.5M in Nov. 2003 (led by Mangrove and Bessemer) and a €14.5M B round in March 2004 (led by DFJ and Index Ventures). The number of shares and the amounts in each round imply in each case a specific price per share.
Skype seemed to have a strong board with its investors, Tim Draper (DFJ), Danny Rimer (Index) and Mike Volpi (Cisco). Volpi later became CEO of Joost, Friis and Zennström's new venture. Skype had about 200 employees at acquisition; its revenues were $7M in 2004 and expected to be $60M in 2005.
Click on pictures to enlarge or download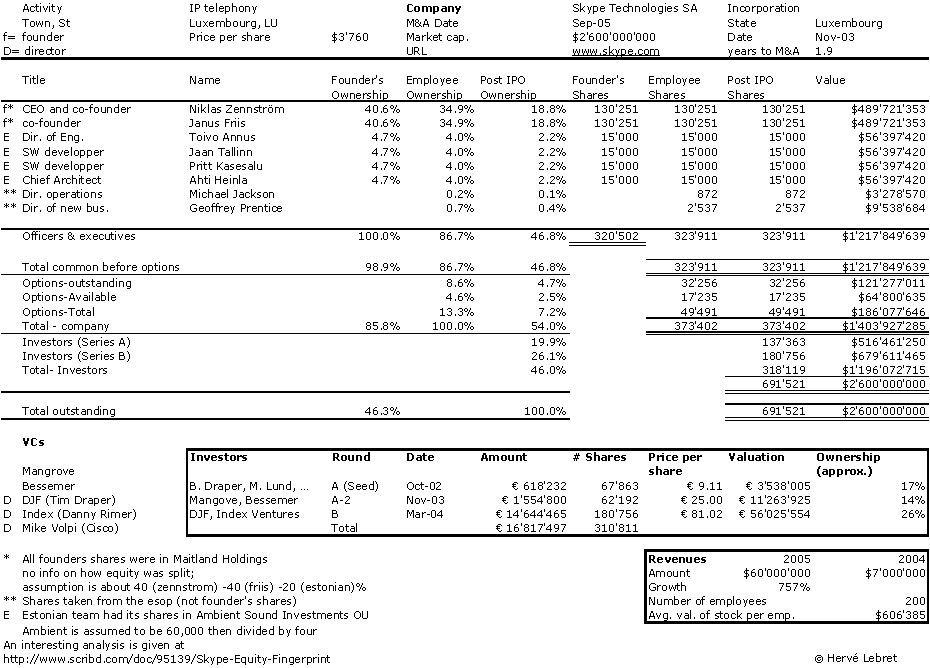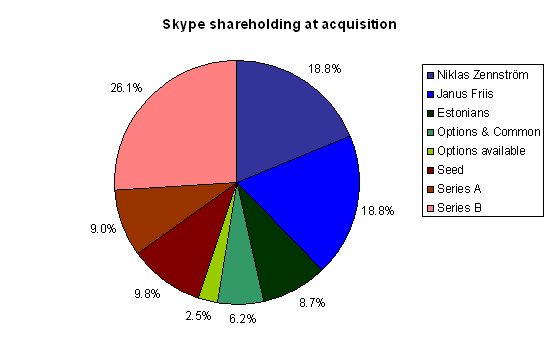 Sources: SEC, Legilux, Kazaa and Skype, Eestit Ekspress
Next posts: Kelkoo, Addex.