This is an open-ended debate between those who think there is not enough capital for start-ups and entrepreneurs and those who believe too much money kills the ideas (lack of discipline, too many me-too companies being some arguments).
I have a tendency to believe there is too much money these days and let me illustrate the argument.
A recent analysis showed how much money was committed and invested over the past two decades. Here are the numbers.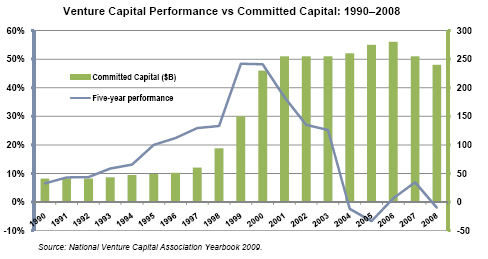 Despite the Internet bubble, we have not come back to the level of the early nineties.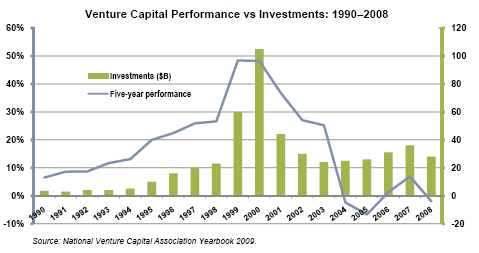 Now there is a second argument, marvelously explained in the post VC's Mathematical Challenge by Matt McCall. If the money invested by VCs ($35B) is at the same level of the combined value of M&A and IPOs, the VC industry is just in trouble. Just have a look at his post.
So yes, it is tough to raise money. You may have heard of the Sequoia R.I.P. document. However Sequoia just annouced they have done more early stage investments in the last 12 months than in the two previous years.
And apparently, yes, there is finally less fund raising.
Here are two illustrations:
– I was in Washington a few days ago and read the following article: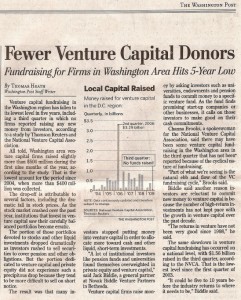 – you may read the post of Xconomy entitled Is Venture Up or Down?
In conclusion, I think there was too much money and the recent news may indicate we are finally going back to the right levels… any thought?