Here is my fifth contribution to Créateurs, the Geneva newsletter, where I have been asked to write short articles about famous success stories. After Synopsys, women and high-tech entrepreneurship, Adobe and Genentech, here is an short article about a Swiss founder in Silicon Valley.
Do you know Edouard Bugnion? I am not sure that Switzerland knows about its child, who grew up in Geneva and Neuchâtel before graduating from ETHZ (Zürich) in 1994 and moving to California where he obtained his MS from the University of Stanford in 1996. Yet he is the co-founder of VMware and Nuova Systems, two recent success stories from Silicon Valley.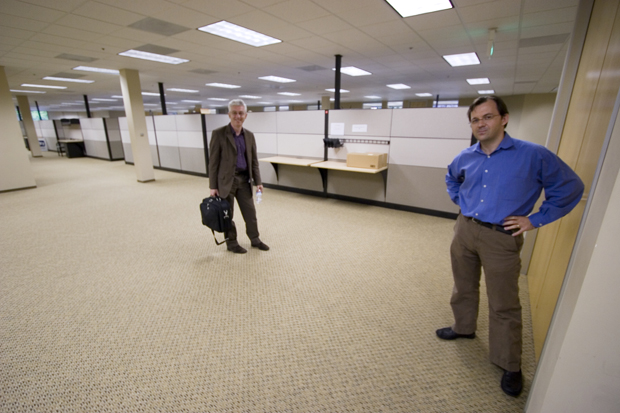 Edouard Bugnion with the author in the middle of « cubicles » at Nuova in May 2006 (Picture: Mehdi Aminian).
As I was preparing a short trip to San Francisco, I had been advised to meet this Swiss citizen that I had never heard of. The meeting was planned in his office which we found thanks to a quickly printed logo posted on his door: Nuova Systems. The place was gigantic for a start-up which was less than one-year old. But Nuova was hiring fast. I should add that Cisco would soon invest $50M in the start-up. Why so much money? Because the founders of Nuova were exceptional: Mario Mazzola had just left Cisco and had also been the founder of Crescendo, the first start-up acquired by Cisco (in 1991). Edouard was one of the five co-founders of VMware in 1998, which was bought in 2004 by BMC for $625M. VMware was so successful with its virtualization tools that BMC gave back its independence to the company which is today quoted on Nasdaq (its market capitalization was above $10B at the end of 2009) and has more than 6'000 employees and $1.8B in sales. Nuova has been acquired by Cisco in 2008 for $600M.
When I told my surprise in front such a big office space, Edouard told me the story that when VMware had grown to a workforce which forced the company to move, the company proposed to lease its old offices to a small new start-up. Its founders looked at the place and declined: "Too small!" The start-up was unknown and its founders were very young people. Edouard was as surprised then as I was when we met. Was it ambition? Was it arrogance? The start-up was Google and its two founders, Page and Brin, were, without any doubt, visionaries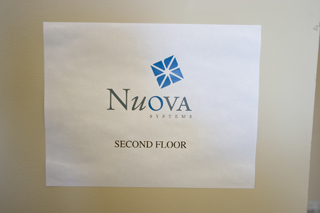 Nuova's front door logo in May 2006.
Edouard might be qualified as a school dropout. Even with his diplomas from ETHZ and Stanford, he quit the Stanford PhD program in 1998 to launch VMware with his professor. With $20M of venture-capital, they could grow the company until its acquisition six years later. In 2000, he gave an interview to SwissInfo. With 120 employees, VMware was only two years old. "In Switzerland, young entrepreneurs do not dare dreaming about such a scenario. If you have a good idea, you can find a few million and your product can reach the market for better or worse." Such is the quote from the author of the interview, Pierre Godet, who, then, says his concern about this brain drain. Bugnion is more optimistic: "Swiss people in Silicon Valley develop a very unique experience, as well as a network. Then, most of them come back to Switzerland at some point in their professional life." It is one of the theses in my book. It may be a good idea to go and work in the Bay Area, a region where anything is fast, very fast, where ambition can be expressed and where failure is tolerated. I hope that someday, Edouard will come back to Switzerland to tell his story himself and share his experience and know-how…