My sixth article in the newsletter Créateurs about high-tech success stories: Swissquote. I am leaving Silicon Valley after purely American stories with Adobe & Genentech, then followed by Europeans in SV (Synopsys, VMware) to talk about a pure Swiss success!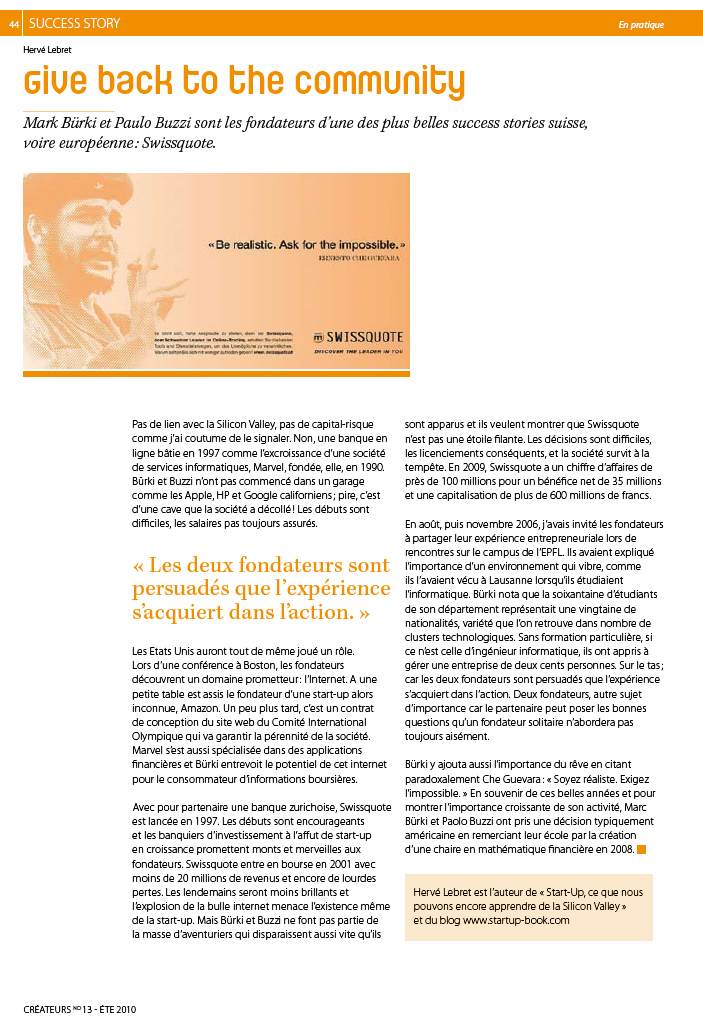 Mark Bürki and Paulo Buzzi are the two founders of one of the nicest Swiss (not to say European) success stories: Swissquote. No link to Silicon Valley, no venture capital, an exception to what I am used to promote. "Just a" local online bank launched in 1997 as a spin-off of a software service company, Marvel, which was founded in 1990. Bürki and Buzzi did not launch their start-up in a Garage like HP, Apple or Google; worse, it was in a cellar! The beginnings were not easy, salaries were not always guaranteed…

The USA played a role however. At a conference in Boston, the two founders discovered a new promising platform: the Internet. Sitting at a tiny booth, the founder of an unknown start-up, Amazon. Later, a contract with the IOC, the International Olympic Commitee, for the design of their web site, gave the much needed cash to Marvel. Marvel had also specialized in financial applications and Bürki could see the potential of the Internet for the consumer of stock and financial news.
With a Zurich-based bank as a financial partner, Marvel launched Swissquote in 1997. The beginnings were very encouraging and at that time, most investment banks were competing for the fast-growing start-ups to be quoted on stock exchanges. Swissquote went public in 2001 with less than CHF20M in sales and a huge loss. The future would not be as nice as the pre-IPO boom and the burst of the Internet bubble threatened the mere existence of the company. But Bürki and Buzzi were not part of the mass of entrepreneurs who disappeared as fast as shooting stars. Decisions were tough, many employees were fired but Swissquote survived. In 2009, its sales were about CHF100M with a net profit of CHF35M, and its market capitalization was nearly CHF600M.
In August, and then in November 2006, I had invited the two founders to share their entrepreneurial experience on the EPFL campus. They had explained the importance of a vibrating ecosystem, as they had enjoyed it in Lausanne during their studies, years before. "When we were students in computer science", Bürki noticed, "the sixty or so students in the department belonged to about twenty different nationalities", a diversity that can be found in the best technology clusters. Without any business training, they learnt how to manage a company with two hundred people. The two founders are convinced that you learn these things by doing. Two founders. Another important topic. Your co-founder can challenge you with the right questions that a lonely founder may not solve easily.
Bürki also mentioned the vital role of the dream by quoting, in a rather surprising manner, Che Guevara: "Be Realistic, Ask for the Impossible." As a reminder of their beautiful years at EPFL and also as a sign of their success, Marc Bürki and Paolo Buzzi took in 2008 a typically American decision by creating an endowed chair in quantitative finance.