After my recent posts about Israel and high-tech innovation, I discovered I did know not very well the Check Point story. Start-up Nation did not provide much info and though you can find a lot on Wikipedia or on the Facts@Glance of the company. for example, I became a little frustrated when I discovered I could not find much about the company early days and IPO. I even had to buy the IPO filing through the SEC as the document is not public on the web and Check Point could not help me with such info.

There are a couple of very interesting points:
– the three founders had equal shareholding at foundation (and afer Check Point went public).
– Gil Shwed, one of the co-founders, is still the chairman and CEO. Another unexperienced and young entrepreneur who grew his baby through adulthood.
– Many women in the management of the company, Deborah Triant at the time of IPO, but even today Dorit Dor, Tal Payne and Juliette Sultan as the executive team page shows. (This may have to be linked to Israel culture again).


Gil Schwed, Shlomo Kramer ,Marius Nacht, the 3 co-founders and
Deborah Triant (from the early web sites of Check Point)
Now the usual cap. table that I could build from the IPO filing and the shareholding pies at the end of the post.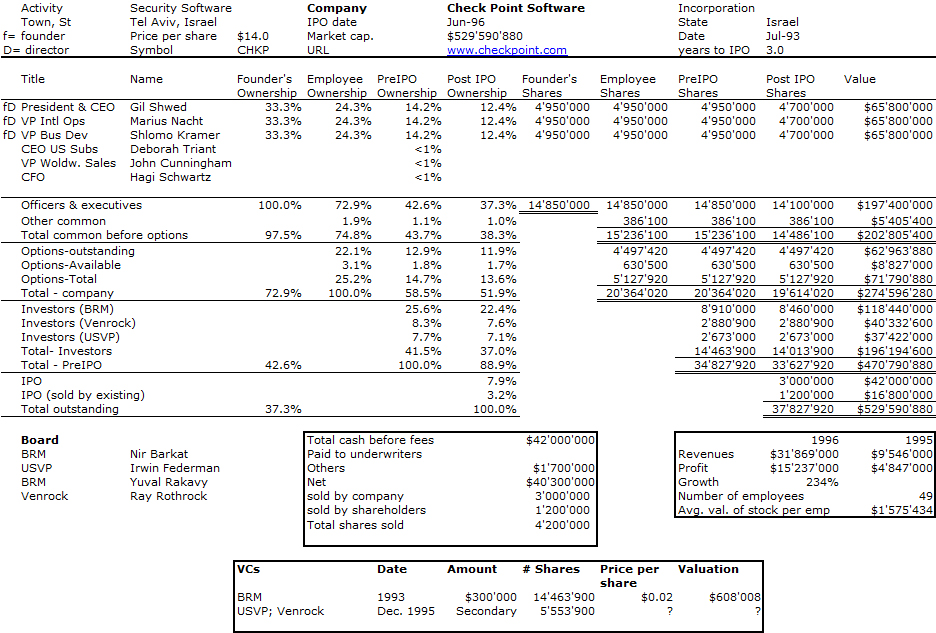 – What is interesting is that Check Point did not raise a lot of money, mostly $600k from BRM in 1993. There were also some loans ($400k) and R&D ($160k) from BRM also which do not appear in the shareholding.
– The American VCs (Venrock and USVP) bought shares from BRM in a secondary financing, so there was no new money for Check Point.
– Check Point issued 3M new shares at IPO and existing shareholders (BRM and the 3 co-founders) sold 1.2M shares.
– Not the least impressive, it took the company 3 years only to go public and its 1995 and 1996 numbers are already impressive.
As usual, I hope this does not include too many inaccuracies or mistakes…