Going through the higher and higher number of IPO filings, I was suprised to find Wozniak's names among the officers of one the filing companies. Steve Wozniak, Apple co-founder, is the chief scientist of Fusion-io, a Salt Lake City start-up which has raised more than $100M with NEA and LightSpeed and made more than $30M in revenues in 2010.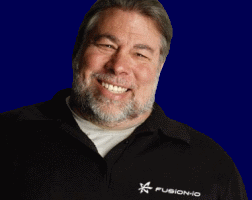 Wozniak is neither a founder nor apparently a big shareholder. At least the S-1 filing does not mention his stake, which means that he has less than 5% of the company. My usual cap. table shows typical numbers. The two founders remain with 6.1 and 4.7% each, investors have about 50% of the company and the ESOP is 20% (25% if I include available options for future grants). All this assumes the company goes public and includes the future IPO shares.
One detail I will focus on in a post to come is equity given to independant board members (VCs are on the board but usually do not own equity personally). Here Ray Bingham and Dana Evan own 0.03% of the company and less than 1% of the founders shares.