Sometimes, giving an interview has interesting and strange results. I do not read Korean so I cannot really help! But apparently what was kept from the conversation is that "it is important to make a culture where we are not afraid to fail". As well as " Culture is important to propagate entrepreneurship in universities. Even if the (academic) system is very good, it might be far from starting a business without this culture." I had learnt my name is Russian was Эрве Лебре. Now I know it in Korean: 에레 레브레. And what about my new look according to a Korean photographer… Here is the full article.
◆ 창조경제의 요람 유럽대학 ① ◆
기사의 0번째 이미지
"대학에 기업가정신을 퍼뜨리기 위해서는 문화가 중요합니다. 제도가 아무리 좋아도 문화가 뒤따르지 않으면 창업은 요원한 일입니다."
스위스 로잔공대 이노베이션파크에서 만난 이노그랜트 프로그램 총괄 책임자 에레 레브레 박사는 "유럽의 대학생들도 한국과 마찬가지로 기업가정신이 부족한 편"이라며 "미국 실리콘밸리처럼 기업가정신이 대학 곳곳으로 퍼질 수 있는 문화를 만들어야 한다"고 강조했다.
이노그랜트는 창업을 원하는 교수나 학생에게 조건 없이 창업자금을 지원하는 프로그램이다. 2005년 스위스의 한 은행이 학교를 위해 내놓은 100만달러를 종잣돈으로 삼아 만들어졌다. 레브레 박사는 "로잔공대에는 기술사업화와 창업을 지원하는 다양한 프로그램이 있었지만 `스타트업`을 중점적으로 돕는 프로그램이 필요하다고 판단했다"며 "이노그랜트 프로그램을 만든 뒤 지난 7년간 56개 아이디어에 자금을 지원했고, 이를 통해 25개 새로운 회사가 탄생했다"고 밝혔다.
이노그랜트 펀딩의 대상자가 되면 교수와 학생을 구분하지 않고 1년간 창업에만 열중할 수 있다.
창업에 실패한다고 하더라도 받은 돈을 학교에 반납할 필요가 없다. 레브레 박사는 "이노그랜트의 펀딩을 받으면 연구나 수업에서 제외된다"며 "1년간 생활자금을 지원해 주기 때문에 돈 걱정 없이 창업 준비에만 신경을 쓰게 된다"고 했다.
이 같은 혜택에 힘입어 이노그랜트 프로그램에 창업을 하겠다며 지원하는 프로젝트는 연간 40~50건에 달한다.
[로잔(스위스) = 원호섭 기자]
[ⓒ 매일경제 & mk.co.kr, 무단전재 및 재배포 금지]
http://news.mk.co.kr/newsRead.php?year=2013&no=583051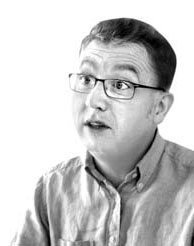 After posting this article, I received an English translation from the author. here it is:
Create a culture that is not afraid to fail
(This article is a part of the special series of articles titled "Visit European universities, Cradle of the creative economy")
The EPFL is a unique place of innovation and competence. The EPFL handles innovation through its VPIV. The VPIV is responsible for the technology transfer, supporting start-ups through the Innogrants program and the coordination of all relationships between industry and EPFL. The EPFL turned out 156 new companies between 2000 and 2012. Hervé Lebret, the manager of the Innogrants said "Even if there was a best system, startups are still far-off without culture. It's about culture. Just like Silicon Valley, we have to make a culture which can spread the entrepreneurship throughout the university." The Innogrants were created by the EPFL in 2005 to encourage the entrepreneurial spirit and support start-ups. To date, 56 ideas were funded which enabled the creation of 25 start-ups. An Innogrant is a 12-month salary for the project owner in an EPFL laboratory and the beneficiary is freed of teaching or research activities so that the project owner fully concentrates on that project.