Thiel's classes 9 to 12 leave the pure field of start-ups to the higher levels of economy, business and innovation. Thiel gives general advice such that customers are important and more important than competitors with the recurring "obsession" that peace and correlated monopoly  are better than war and deadly competition.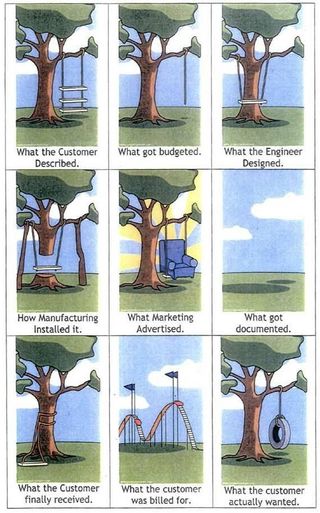 Class 9 is about customers and more specifically how to find them. "People say it all the time: this product is so good that it sells itself. This is almost never true. […] The truth is that selling things is not a purely rational enterprise. There is much stranger stuff at work here. […] Most engineers underestimate the sales side of things because they are very truth-oriented people. In engineering, something either works or it doesn't. […] Engineering is transparent. […] Sales isn't very transparent at all. (As a side comment, I advise again to read Packer about transparency and politics in SV, in fact look at what follows!) […] A good analogy to the engineer vs. sales dynamic is experts vs. politicians. If you work at a big company, you have two choices. You can become expert in something. The other choice is to be a politician. […] The really good politicians are much better than you think. Great salespeople are much better than you think. But it's always deeply hidden. In a sense, probably every President of the United States was first and foremost a salesman in disguise.
Thiel loves quadrants but does not draw one here, he just explains it:
– Product sells itself, no sales effort. Does not exist.
– Product needs selling, no sales effort. You have no revenue.
– Product needs selling, strong sales piece. This is a sales-driven company.
– Product sells itself, strong sales piece. This is ideal.
Thiel has similar views on marketing "Advertising is tricky in the same way that sales is" and he uses the famous quote: "Half the money I spend on advertising is wasted: the trouble is I don't know which half." Sales follow a power law similar to the one existing in value creation. Viral marketing rarely works… and viral marketing requires that the product's core use case must be inherently viral.
In his class 10, Thiel begins to explore the future and shows how difficult it is to identify opportunities. He even mentions the nice quote (but never said in reality) "everything that can be invented has been invented" (falsely) attributed to U.S. Patent Commissioner Charles H. Duell in 1899. Again both in terms of technology innovation (vs. computers) or globalization (vs. China), he advises not to compete but to collaborate.
But the worst competitor is time… "More interesting are cases where people are right about the future and just wrong on timing. […]And being too early is a bigger problem for entrepreneurs than not being correct. It's very hard to sit and just wait for things to arrive. It almost never works." Andreessen who was Thiel's guest approved: "For entrepreneurs, timing is a huge risk. You have to innovate at the right time. You can't be too early. This is really dangerous because you essentially make a one-time bet. It's rare are to start the same company five years later if you try it once and were wrong on timing. Jonathan Abrams did Friendster but not Facebook."
And Andreessen also agrees about sales: "The number one reason that we pass on entrepreneurs we'd otherwise like to back is focusing on product to the exclusion of everything else. We tend to cultivate and glorify this mentality in the Valley. We're all enamored with lean startup mode. Engineering and product are key. There is a lot of genius to this, and it has helped create higher quality companies. But the dark side is that it seems to give entrepreneurs excuses not to do the hard stuff of sales and marketing. Many entrepreneurs who build great products simply don't have a good distribution strategy. Even worse is when they insist that they don't need one, or call no distribution strategy a viral marketing strategy."
Again about timing: "You can go wrong in a few ways. One is that the future is too far away […] It's like surfing. The goal is to catch a big wave. If you think a big wave is coming, you paddle really hard. Sometimes there's actually no wave, and that sucks. But you can't just wait to be sure there's a wave before you start paddling. You'll miss it entirely. You have to paddle early, and then let the wave catch you. The question is, how do you figure out when the next big wave is likely to come?"
A few not related topics:
– You need to find the balance that lets you think about patents least. It's basically a distracting regulatory tax.
– What's ideal is to have a founder/CEO who is a product person. Sales operators handle the sales force. Larry Ellison [is no exception and] is a product guy.
– Being CEO is a learnable skill. With the "world class" CEO model, you miss out on Microsoft, Google, and Facebook. The CEOs of those companies, of course, turned out to be excellent. But they were also the product people who built the companies. [Do not misunderstand] everybody thinks management is a bunch of idiots, and that engineers must save the day by doing the right things on the side. That's not right. Management is extremely important. Great management and a great product person running the company is characteristic of the very best companies.
Class 11 is also about the future, but in terms of "secrets" which may be important to know how to identify real opportunities: "Some secrets are small and incremental. Others are very big. The focus should be on the secrets that matter: the big secrets that are true. The big ones so far have involved monopoly vs. competition, the power law, and the importance of distribution. "Capitalism and competition are antonyms." That is a secret; it is an important truth, and most people disagree with it."
Thiel explains why secrets are important: "Four primary things have been driving people's disbelief in secrets.
– First is the pervasive incrementalism in our society. People seem to think that the right way to go about doing things is to proceed one very small step at a time. […] Academics are incented by volume, not importance. The goal is to publish lots of papers, each of which is, in practice at least, new only in some small incremental way. […]
– Second, people are becoming more risk-averse. People today tend to be scared of secrets. They are scared of being wrong. Of course, secrets are supposed to be true. But in practice, what's true of all secrets is that there is good chance they're wrong. If your goal is to never make mistake in your life, you should definitely never think about secrets. Thinking outside the mainstream will be dangerous for you. […]
– Third is complacency. There's really no need to believe in secrets today. Law school deans at Harvard and Yale give the same speech to incoming first year students every fall: "You're set. You got into this elite school. […]
– Finally, some pull towards egalitarianism is driving us away from secrets. We find it increasingly hard to believe that some people have important insight into reality that other people do not. Prophets have fallen out of fashion. Having visions of the future is seen as crazy. In 1939 Einstein sent a letter to President Roosevelt urging him to get serious about nuclear power and atomic weaponry. Roosevelt read it and got serious. Today, such a letter would get lost in the White House mailroom."
But… "There is no straightforward formula that can be used to find secrets."
Class 12 is about war and peace again, but I do not have much to comment here except a quote from Reid Hoffman: "A side note on invention and innovation: when you have an idea for a startup" consult your network. Ask people what they think. Don't look for flattery. If most people get it right away and call you a genius, you're probably screwed; it likely means your idea is obvious and won't work. What you're looking for is a genuinely thoughtful response. Fully two thirds of people in my network thought LinkedIn was stupid idea. These are very smart people. They understood that there is zero value in a social network until you have a million users on it. But they didn't know the secret plans that led us to believe we could pull it off. And getting to the first million users took us about 460 days. Now we grow at over 2 users per second." Peaceful secrets are safer than competing for known things.