The title of this post is the first sentence of the report published by the Kauffman foundation entitled Measuring an Entrepreneurial Ecosystem. And it is a critical question. For years, universities, cities, regions, countries try to assess if they are innovative and entrepreneurial enough. And unfortunately, this is often measured through inputs and not outputs. Sometimes for good reasons, because stakeholders can offer favorable conditions but in the end entrepreneurs perform and stakeholders help but do not act…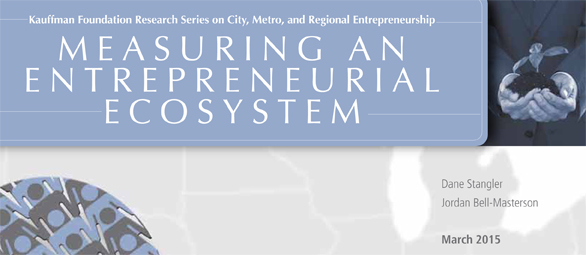 The Kauffman foundation is proposing a set of metrics to help in assessing your ecosystem. It is an ambitious proposal as these are not easy to obtain, but they look very interesting and I thought it would be worth describing them here. They are classified in 4 topics:
DENSITY
1- Number of new and young companies per 1,000 people,
where "young" can mean less than five or ten years old. This will tell you, in the most basic way, how the level of entrepreneurship changes over time relative to population.
2- Share of employment accounted for by new and young companies.
Entrepreneurial vibrancy should not just be measured by the number of companies — it also should include all the people involved in those companies. This will capture founders and employees.
3- Density of new and young companies in terms of specific sectors.
Some places already may have a particular economic sector that has been identified as the centerpiece of an ecosystem, such as "creative" industries or manufacturing. Again using population as a denominator.
FLUIDITY
4- Population flux, or individuals moving between cities or regions.
Entrepreneurial vibrancy means people both coming and going. From an ecosystem perspective, this means that the entrepreneurial environment must be fluid to enable entrepreneurs to engage. The obverse, of course, is that limits on fluidity will suppress entrepreneurial vibrancy.
5- Population flux within a given region.
Individuals also need to be able to find the right match with different jobs within a region. The pace at which they are able to move from job to job and between organizations should be an important indicator of vibrancy.
6- The number (and density) of high-growth firms,
which are responsible for a disproportionate share of job creation and innovation. A concentration of high-growth firms will indicate whether or not entrepreneurs are able to allocate resources to more productive uses. Importantly, high growth is not necessarily synonymous with high tech.
CONNECTIVITY
7- Connectivity with respect to programs, or resources, for entrepreneurs.
A vibrant entrepreneurial ecosystem is not simply a collection of isolated elements — the connections between the elements matter just as much as the elements themselves. The diversity of your entrepreneurial population is likely to be high, and a one-stop shop for serving entrepreneurs is unlikely to do much good in serving all of them. Entrepreneurs move through an ecosystem, piecing together knowledge and assistance from different sources, and the connectivity of supporting organizations should help underpin the development of a strong entrepreneurial network.
8- Spinoff rate.
The entrepreneurial "genealogy" of a given region, as measured by links between entrepreneurs and existing companies, is an important indicator of sustained vibrancy.
9- "Dealmaker" network
Individuals with valuable social capital, who have deep fiduciary ties within regional economies and act in the role of mediating relationships, making connections and facilitating new firm formation play a critical role in a vibrant entrepreneurial ecosystem.
DIVERSITY
10-Economic diversification,
an important concept because no city or region should be overly reliant on one particular industry. At a country level, research has shown that economic complexity is correlated with growth and innovation.
11- Attraction and assimilation of immigrants.
Historically, immigrants have a very high entrepreneurial propensity.
12- Economic mobility,
i.e. the probability of moving up or down the economic ladder between different income quintiles. The purpose is to improve the quality of life for your citizens, to expand opportunity, and to create a virtuous circle of opportunity, growth, and prosperity.