Stanford is in the top2 universities with MIT for high-tech entrepreneurship. There is not much doubt about such statement. For the last ten years, I have been studying the impact of this university which has grown in the middle of Silicon Valley. After one book and a few research papers, here is a kind of concluding work.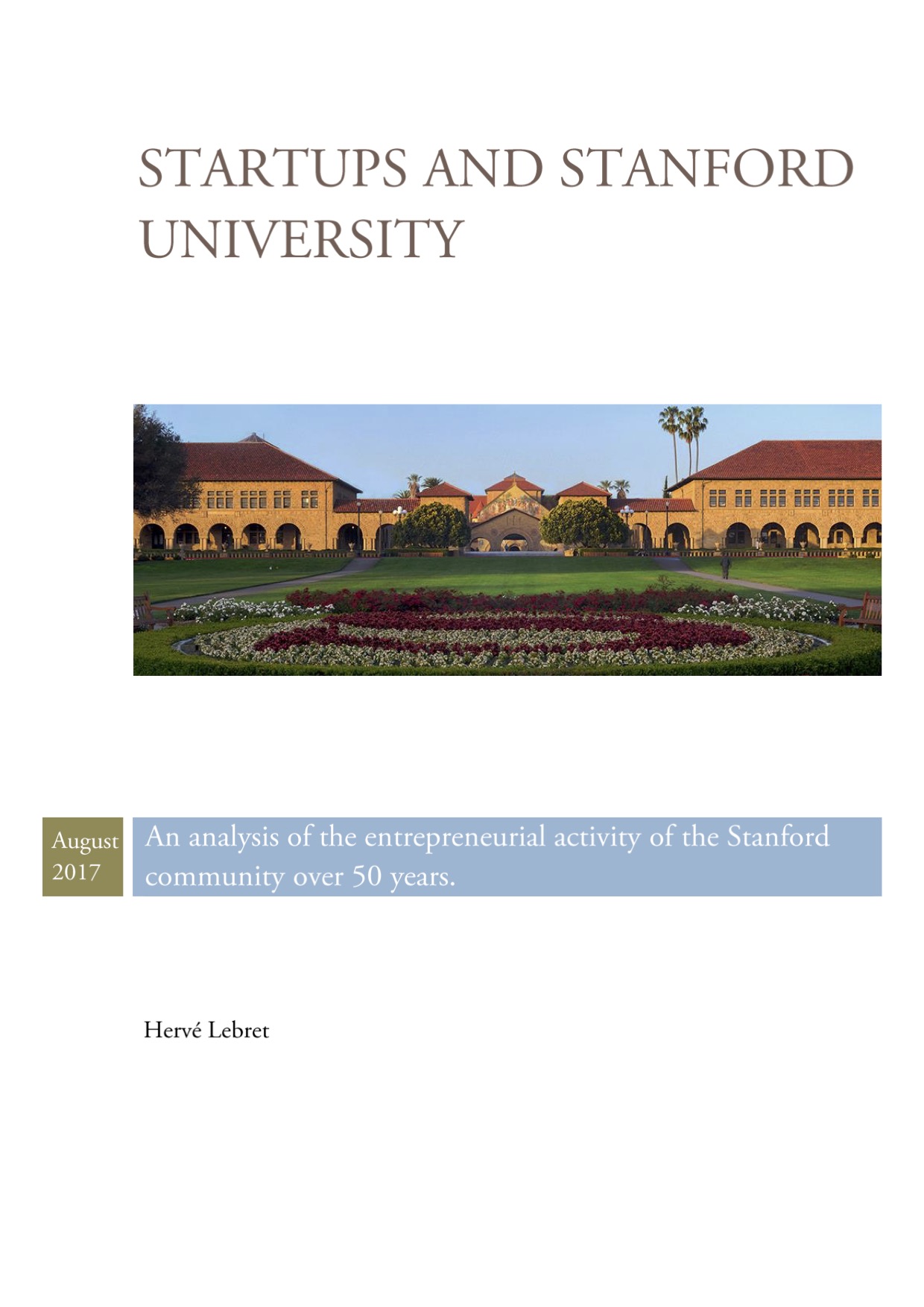 A little less than 10 years ago, I discovered the Wellspring of Innovation, a website from Stanford University listing about 6'000 companies and founders. I used that list in addition from data I had obtained from OTL, the Stanford office of technology licensing as well as some personal data I had compiled over years. The report Startups and Stanford University with subtitle "an analysis of the entrepreneurial activity of the Stanford community over 50 years", is the result of about 10 years of research. Of course, I did not work on it every day, but it has been a patient work which helped me analyze more than 5'000 start-ups and entrepreneurs. There is nearly not storytelling but a lot of tables and figures. I deliberately decided not to draw many conclusions as each reader might prefer one piece to another. The few people I contacted before publishing it here twitted about it with different reactions. For example:
An analysis of entrepreneurial activity at Stanford community over 50 years… Interesting! https://t.co/dw6P7ORsf4

— Tina Seelig (@tseelig) August 24, 2017
Interesting to see how @Stanford #health startups compare to IT hw/sw and non-tech startups. Analysis by @hlebret https://t.co/1eVwcFEbRA https://t.co/4A8wQfGVGy

— Marta Gaia Zanchi (@medinnovo) August 24, 2017
Katharine Ku, head of OTL has mentioned another report when I mentioned mine to her: Stanford's Univenture Secret Sauce – Embracing Risk, Ambiguity and Collaboration. Another evidence of the entrepreneurial culture of that unique place! I must thank Ms Ku here again for the data I could access thanks to her!
This report is not a real conclusion. There is still a lot to study about high-tech entrepreneurship around Stanford. With this data only. And with more recent one probably too. And I will conclude here with the last sentence of the report: "How will it develop in the future is obviously impossible to predict Therefore a revisited analysis of the situation in a decade or so should be very intersting."