This is my third article in the journal Entreprise Romande (and thank you to them for editing my work and for the opportunity given to talk about topics that are dear to me.)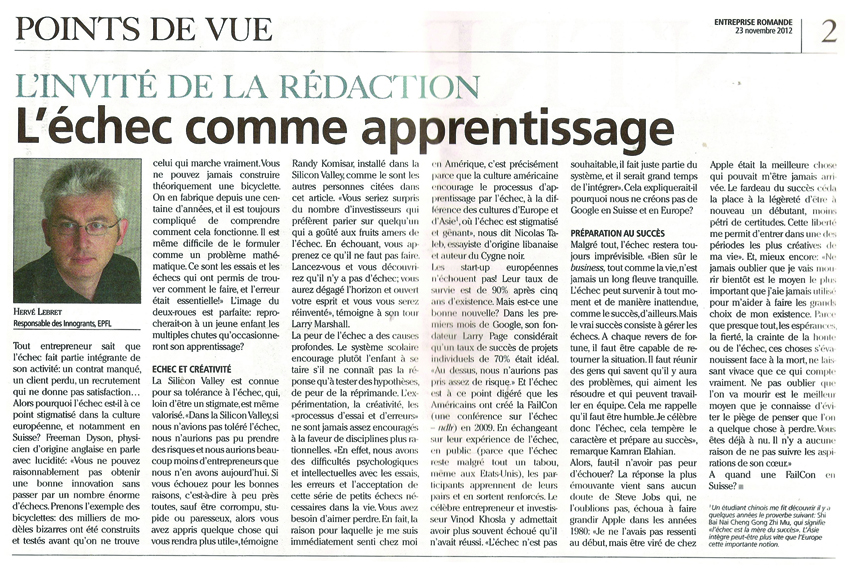 Every entrepreneur knows that failure is an integral part of business: a contract breach, a lost customer, a unsatisfactory hire… So why is failure so stigmatized in the European culture, and especially in Switzerland? Freeman Dyson, ths famous physicist explains it more clearly: "You can't possibly get a good technology going without an enormous number of failures. It's a universal rule. If you look at bicycles, there were thousands of weird models built and tried before they found the one that really worked. You could never design a bicycle theoretically. Even now, after we've been building them for 100 years, it's very difficult to understand just why a bicycle works – it's even difficult to formulate it as a mathematical problem. But just by trial and error, we found out how to do it, and the error was essential." The example of the bicycle is just perfect: who would blame a young child for his multiple drops wjile learning who to ride it?
FAILURE AND CREATIVITY
Silicon Valley is known for its tolerance for failure, which, far from being a stigma, is even valued. "In Silicon Valley, if we had not tolerated failure, we would not be able to take risks and we would have many fewer entrepreneurs than we have today. If you fail for good reasons, that is to say almost all, except to be corrupt, stupid or lazy, then you have learned something that will make you more useful," says Randy Komisar, based in Silicon Valley, as are the other people mentioned in this article. "You'd be amazed at how many investors prefer to back someone who has tasted the bitter fruits of failure. In failing you learn what not to do. Get your skin in the game and there is no failure—you have opened your mind to growth and yourself to reinvention," adds Larry Marshall.
The fear of failure has deep roots. The school system encourages the child not to try or say anything if she does not know the answer rather than testing hypotheses, for fear of reprimand. Experimentation, creativity, the "process of trial and error", are never quite encouraged in favor of more rational disciplines. "Indeed, we have psychological and intellectual difficulties with trial and error and with accepting that series of small failures are necessary in life. "You need to love to lose". In fact the reason I felt immediately at home in America is precisely because the American culture encourages the process of failure, unlike the cultures of Europe and Asia where failure is met with stigma and embarrassment", says Nicolas Taleb, essayist of Lebanese origin and writer of The Black Swan.
The European start-ups do not fail! Their survival rate is 90% after 5 years of existence. But is it good news? In the first months of Google,co- its founder Larry Page considered a success rate of 70% of individual projects was ideal. Asking for more, "we would take too few risks." And failure is so digested that Americans have created the FailCon (a conference on failure) in 2009. By sharing their experience of failure in public (because failure is still a taboo even in the United States), participants learn from their peers and leave strengthened. The famous entrepreneur and investor Vinod Khosla admitted to have failed more often than he was successful. "Failure is not desirable, it is just part of the system, and it is high time to accept it." Would this explain why we do not create any Google Switzerland and Europe?
PREPARING FOR SUCCESS
Nevertheless, the failure will always be unpredictable. "Of course, business, just as life, is never a smooth curve. Failure can come as quickly, and more unexpectedly, as success. But true success is management of failure. Every time you hit a bad patch you must be able turn your fortunes around. That's why it's important to be always prepared for failure and build strong teams. To be a successful entrepreneur, venture capitalist or philanthropist, you must bring together people who know there will be problems, love to solve problems, and can work well as a team." … "It reminds me not to be too proud. I celebrate failure — it can temper your character and pave the way for great achievement." notices Kamran Elahian.
So, should we be not afraid to fail? A short and most moving answer comes from Steve Jobs, who – we must not forget – failed to grow Apple in the 1980s: "I didn't see it then, but it turned out that getting fired from Apple was the best thing that could have ever happened to me. The heaviness of being successful was replaced by the lightness of being a beginner again, less sure about everything. It freed me to enter one of the most creative periods of my life." And even better: "Remembering that I'll be dead soon is the most important tool I've ever encountered to help me make the big choices in life. Because almost everything — all external expectations, all pride, all fear of embarrassment or failure – these things just fall away in the face of death, leaving only what is truly important. Remembering that you are going to die is the best way I know to avoid the trap of thinking you have something to lose. You are already naked. There is no reason not to follow your heart."
When will a FailCon be organized in Switzerland?
A Chinese student introduced me to a few years ago the following proverb: "Shi Nai Bai Zhi Gong Cheng Mu", which means "failure is the mother of success." Asia might learn perhaps faster than Europe this important concept.