Penny Aycinena asked me to write a short article in EDA confidential, which summarizes my concerns and hopes about innovation and start-ups. It is published today (June 30, 2008).

Let me add more here:
The chapter of "Start-Up" which has been the least noticed is Chapter 6. It is one of my favourites though. It is about EDA, which stands for Electronic Design Automation. Today, no architect would design a complex building without software, nor would an automobile engineer. It is exactly the same with digital circuits.
Twenty five years ago, EDA was nearly non-existent. Forty years ago, chips were designed internally (and manually) at IBM, Motorola… and little by little, some new players emerged, tiny start-ups became big and an industry was born. It was more than $5B in revenues in 2007. The typical ebb and flow of start-up creation and acquisition went on for two decades. But since 2001, not much has happened: no IPO, small M&A deals and a few days ago, Cadence, the biggest EDA vendor, announced a hostile acquisition bid against Mentor, the number 3 player. Both companies were founded in the 80s.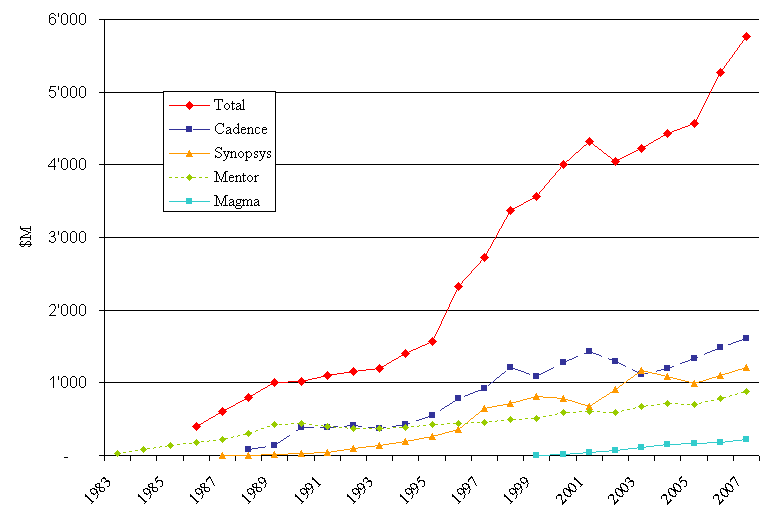 EDA is a good illustration of what Silicon Valley is: a rich network of individuals, academics, entrepreneurs, investors. What is interesting about EDA is that its center is probably Berkeley (rather than Stanford or Sand Hill Road) as the picture below shows. Let me quote again two legends of the EDA field, two recipients of the Kaufman award, the Nobel Prize of EDA:
– "Risk taking in EDA is gone." Joe Costello
– "If there is a single point I wish to make here today, it is that as a discipline, both in industry and in academia, we are just not taking enough risks today." Richard Newton
It could be that the maturity of EDA and of Silicon Valley is not such a good sign.