With my seventh contribution to the Créateurs newsletter, I stay in Switzerland again with two succesful SMEs. Enjoy!

There is a recurrent debate in the world of high-tech start-ups: and if the American model of fast growth supported by aggressive venture capital was not adapted for European or Swiss entrepreneurs? Two examples may contribute to the discussion: Sensirion and Mimotec.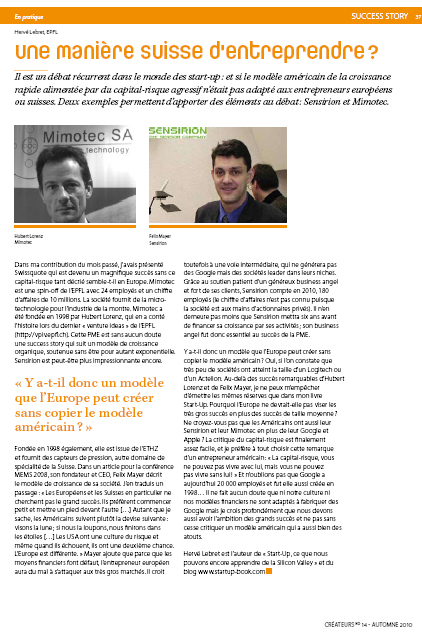 In my contribution to Créateurs last time, I had focused on Swissquote, which has become a magnificent success story, without that venture capital, which is so much criticized these days. Mimotec is an EPFL spin-off with 24 employees and about CHF10M in revenues. The company provides micro technologies for the watch industry. Mimotec was founded in 1998 by Hubert Lorenz who told his start-up's story during a recent venture ideas conference at EPFL. It is a clear example of organic growth, a steady growth even if not exponential.
Sensirion is probably more impressive. Founded also in 2008, it is an ETHZ spin-off and it sells pressure sensors, another field of expertise in Switzerland. In an article published for the MEMS 2008 conference, Felix Mayer, Sensirion's co-founder and CEO, described the growth model of his company. Here is an extract: "The Europeans – especially the Swiss – do not go for the big thing! They rather start small and put one foot in front of the other. A characteristic of the European and Swiss mentality is not to promise high returns for a business idea based on an immature new technology. The European way is rather to start with the own money, to try to find customers, and to grow with the earnings. The Americans, as far as I can tell, follow the motto: "Shoot for the moon. Even if you miss, you will land among the stars". This means: to go for the new big thing, write down a promising business plan, and raise money to realize it. Hunting for potentially high gains means, on the other hand, to take a higher risk. The United States have more of a high risk culture. However, if you fail, you also get a second chance. Europe is different in this respect".
Mayer adds that because the financial means are lacking, the European entrepreneur will be more challenged to target the very big markets. Therefore he believes in an intermediate path which will not generate Google-like companies, but leaders in their niche. Thanks to the patient support from a business angel and then from its customers, Sensirion can be proud in 2010 of its 180 employees (the revenue numbers are not public as the start-ups is still privately held). I should however add that it took Sensirion six years before ti could fund its growth through its profits; its business angel was apparently critical to its success.

Is there a model that Europe may follow without just copying the Silicon Valley way? Yes, if we notice that very few companies could reach the size of Logitech or Actelion for example. Whatever the success of an Hubert Lorenz or a Felix Mayer, I cannot help expressing again the same thing I did in my book Start-Up. Why should not Europe ambition the same large success the USA experience in addition to our mid-size stories. Don't you think the Americans do not have companies similar to Mimotec and Sensirion, in addition to Google or Apple? Criticizing venture capital might be an easy way and I prefer quoting an American entrepreneur on investors: "You can't live with them, you can't live without them" And let us not forget that Google has today about 20'000 employees and it was founded in… 1998. There is no doubt that our culture and financial support is not made to produce our own Google but I seriously believe that we should not be afraid of having large ambitions instead of criticizing an American model which also has great assets.