My book is now available in Russian. You can find more info by clicking here or on the picture below. Using Google Translate you can read what the people who publish it say about it: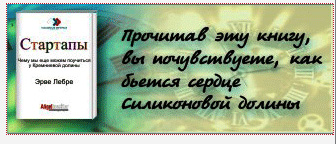 Dear readers!
We are glad to present the book "Start-up. What we may still learn from Silicon Valley, by the author Hervé Lebret [1]. The book is a translation of the English-language original. In Russia, it is published as a joint project company "Corporate Edition" and the Russian Venture Company. The purpose of the book – to provide start-ups information with a different perspective. The book begins with the author's story of Silicon Valley start-ups, which gradually becomes a description of the region. The second part is devoted to Europe, where start-ups as a phenomenon have been less successful. Analyzing the causes of successes and failures, the author cites numerous examples from real life, considering the history of building successful companies from ideas.
Hervé Lebret tells of his personal vision of Silicon Valley and its culture, describes the companies and the individuals through the prism of fascinating stories of success and failure, of which the reader is sure to extract useful lessons. In presenting his individual views, the author demonstrates a remarkable ability to penetrate into the essence of things and see the difference between "old Europe" and "Young America."
The book is unique in terms of number of analytical and reference material and, according to Alexandra Johnson is the best book, that tells of Silicon Valley. This book will be of interest not only to experts on innovation and entrepreneurs in high tech, but anyone who is interested in history and economics of startups.
Currently, innovation ecosystem of Russia is still in its formative stage. Innovative infrastructure sometimes patchy, new venture capital firms are perceived as extremely risky. However, there is an intentional movement to build "smart economy": in the country, there are business incubators, venture funds, lobby for the interests of small and medium businesses, Russia is amended its laws relating to intellectual property and copyright, to increase the number of successful innovative projects.
We believe that the book will help us one more time "to learn from Silicon Valley", to understand the secret of her success, to adopt its competitive advantage and bring them to our Russian reality.
You can buy books related to the formulation by phone or email. Cost of the book is 300 rubles
Contact: Olga Morozova
Tel: 8 (495) 783 44 07
e-mail: ads@corporatepublishing.ru
[1] Hervé Lebret his entire life engaged in high technology. After spending several years in academic research, in 1997 he became a venture capitalist, joined the fund Index Ventures. Since 2005 he manages the Innovation Fund to support entrepreneurs and start-ups in high technology at the Polytechnic School in Lausanne (Switzerland). Has a doctorate in electrical engineering, a graduate of the Ecole Polytechnique in France and at Stanford University in the U.S..