As I wrote in my previous post on a few Indian tech start-ups, I just read The Startup Game by Bill Draper. In general, that kind of books is of average quality, this one is much above the average, though this is just my personal feeling. I like what is written and here my summary.
Bill Draper is one of the fathers of venture capital and belongs to a interesting genealogy. His father was a grandfather of VC and his son is currenlty an active investor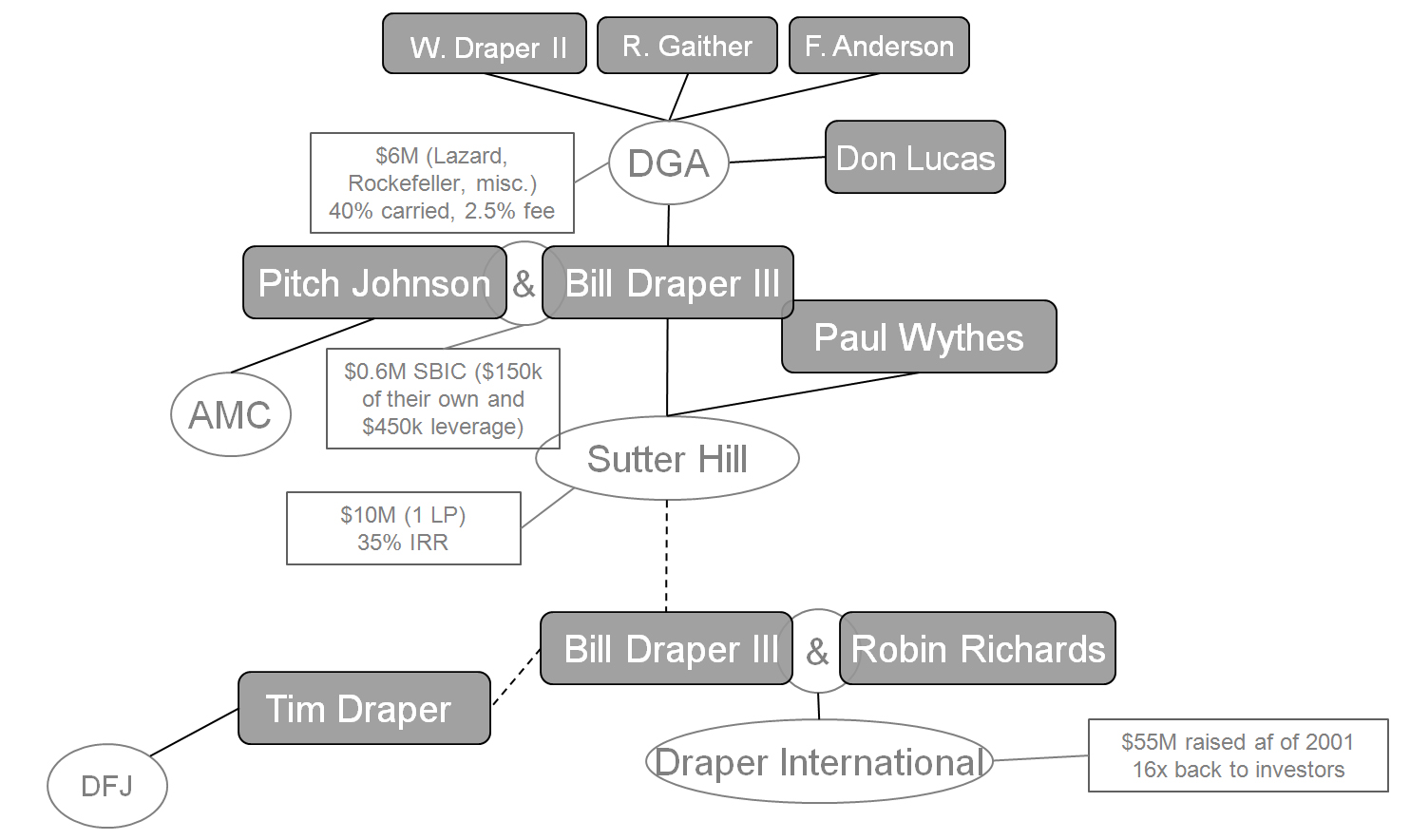 More in the chapters of my book about venture capital!
Draper's book begins with Buck's, one of the famous meeting places of Silicon Valley (SV). SV is known as an open environment, where people meet easily, and public places such as bars and restaurants have become famous for this. There was the Wagon Wheel Bar, there is Buck's or Il Fornaio and a few more.
He also mentions -page 5- another famous component of the SV legend, the Garage. He explains how he missed Yahoo even if he visited their famous trailer donated by Stanford when "Yahoo was space-intensive", a place "legendarily littered with overheating terminals, pizza boxes, dirty clothing and golf clubs".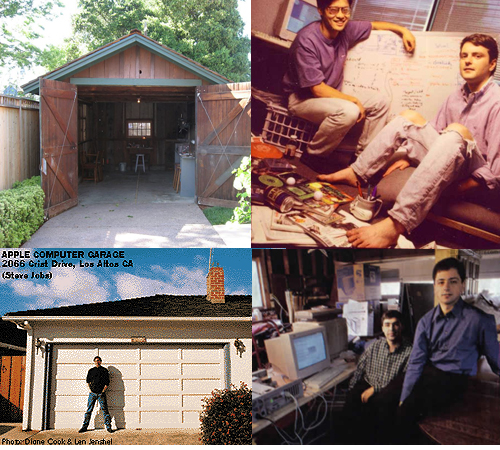 Clockwise: HP, Yahoo, Google and Apple garages.
Of course, if his book was about anecdotes only, Draper would be of small interest. He gives also many lessons. For example:
– Hire managers "ambitious enough to help…. Adventurous enough to take a flyer on an almost untested vision of the future." – Page 8.
– "Don't invest money you can't afford to lose." An important lesson about venture capital (Page 12)
– Again on what is venture capital, when he planned an investment in real estate in Hawai, a Rockefeller partner had him fly in NY: "We don't need you to put our money in real estate and then collect a fee and a carry, to add insult to injury. We became a partner in DGA because you told us you were going to invest in technology and honest-to-god entrepreneurs. It would have been far and away the best investment DGA could have made… although I cannot disagree with his main point that we should have focused on opportunities in our own neighborhood." (Page 27)
– On what is a good venture capitalist (page 30):
Good judgement
Record of success in another form of business
Warm and friendly personality
Intuitive sense of where the world is going
– On the venture capital model (page 41), when he asked about his son's first six investments: "dead, dying, bankrupt, probably won't make it, and not so good"
Uh-oh I said to myself. And what about the sixth investment, Tim?" I asked, trying to sound upbeat.
He looked up and paused. "Home run!".

And he adds later, "a young man can succeed in venture capital with a small amount of money, a willingness to sift through a lot of chaff to get to the wheat, a tolerance for risk, and a reasonably good calibration of the potential of various entrepreneurs. It is also evident that luck plays a part, but the old adage comes to mind: the harder one works, the luckier one gets."
– On the entrepreneurs (page 54): "[Arthur] Rock feels that the most important ingredient in any company is the brains, guts and vision of the leader. If the product turns out to be wrong, the visionary leader will come up with a new one. If the market shrinks, the leader will stir the whole team toward another one."
– Then page 55: "the entrepreneurs with the lowest risk of failure are those who know their field intimately." Then senior managers of a successful company backed by the same VC are second in importamce, then again those with the ability to recognize their own limits and agree that they can be replaced.
– On entrepreneurs and investors (page 64) , he nearly copies Don Valentine (see below). "A fifty-fifty attitude: VCs put all the money, entrepreneurs all the blood, sweat and tears."
– Another legend of SV (and I think it is true) "SV is the home of the handshake. Your word is your bond – or you're in trouble." (page 99).
– Could there be something changed in the SV culture? I mean too much finance people and financial engineering? Draper mentions investors should keep their shares in a company (chapter 7, page 173), at least if they believe in the future growth potential of the company value. But when in it comes to Skype acquisition by eBay (page 188), Draper sold his stock at $45.21 through some complex combination of puts and calls in less than a week after the closing of the deal. When Skype was bought, eBay's share was $44.96… Six months later, eBay was trading at $33 a share.
Finally, the top 10 avoidable mistakes by entrepreneurs (page 75) :
Creating overly optimistic projections
Underestimating timelines.
Trying to do everything yourself.
Failing to master the elevator pitch.
Not downsizing when necessary.
Being inflexible.
Not developing a clear marketing plan.
Building a board that consists only of friends.
Not taking action in a recession.
Not knowing the right was to approach venture capitalists.
He concludes with his vision of opportunities for the future (page 224):
– The quantum computer
– Synthetic life form
– Decode and reprogram information systems of biology
– Life science in general (diagnostics, therapeutics, medical devices, healthcare IT)
– Voice and storage will be free
– Small nuclear power plants (sic)
– Changes in transportation
In a simple conclusion; a good book where you will learn some good lessons from Silicon Valley and elsewhere (i did not mention Draper spent 10 years with the UN and then created the first VC firm in India, through Draper International).
Note: Don Valentine said about entrepreneurs and investors: "When people come as a team (usually it is three or four people and typically heavyweight on engineering), it is a complex process. But I think all of us have seen it in the earlier days, times when I can remember saying, "Well, look, we'll put up all the money, you put up all the blood, sweat and tears and we'll split the company", this with the founders. Then if we have to hire more people, we'll all come down evenly, it will be kind of a 50/50 arrangement. Well, as this bubble got bigger and bigger, you know, they were coming and saying, "Well, you know, we'll give you, for all the money, 5 percent, 10 percent of the deal." And, you know, that it's a supply and demand thing. It's gone back the other way now. But, in starting with a team, it's a typical thing to say, well, somewhere 40 to 60 percent, to divide it now. If they've got the best thing since sliced bread and you think they have it and they think they have it, you know, then you'll probably lose the deal because one of these guys will grab it." Transcript of oral panel – the Pioneers of Venture Capital – September 2002