This is my final post on the old Red Herring magazines I had collected from a friend. It has been fun to read what people thought 10-15 years ago. You can have a look at them through my Red Herring tag.
The most striking "mistake" was clearly linked to the difficutly in predicting the future. Just have a look at the cover page of July 2001.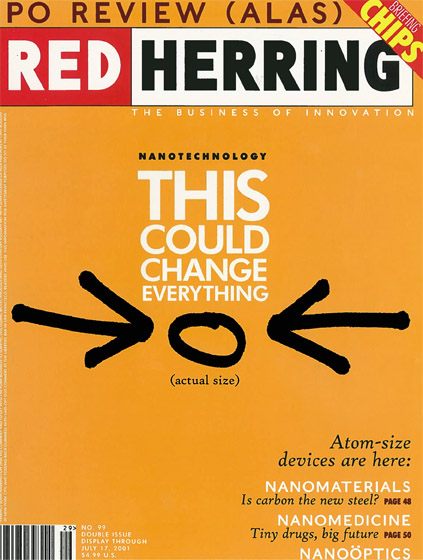 I am not sure nanotechnologies have changed the world and 10 years is eternity. At least by start-up metrics. Medicine, optics and materials science as mentioned by Jason Pontin below may not have experienced breaktroughs from nanotechnologies.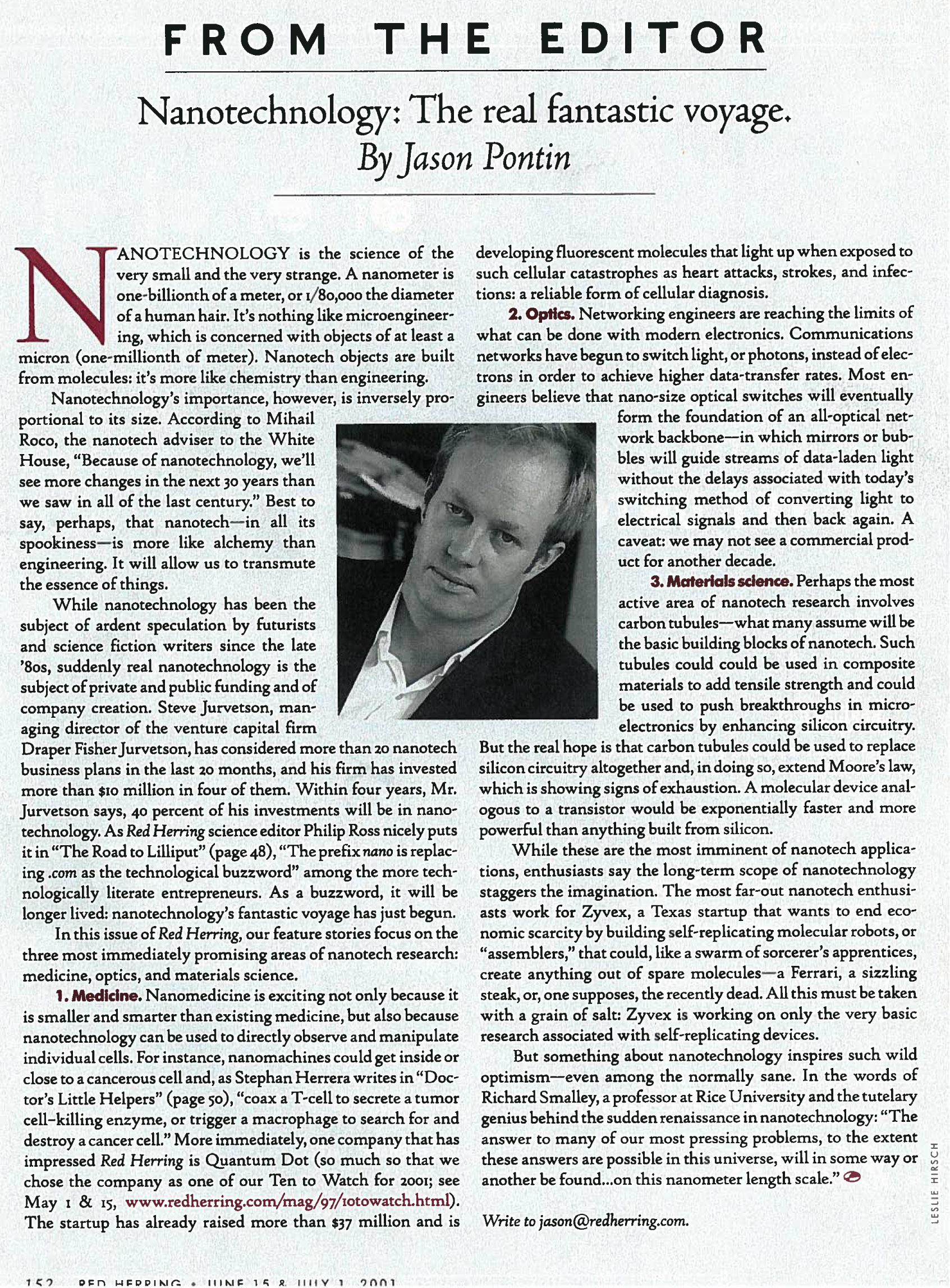 But honestly, what I liked the most was Anthony Perkins' contribution in December 2001. "Its back to the good old days".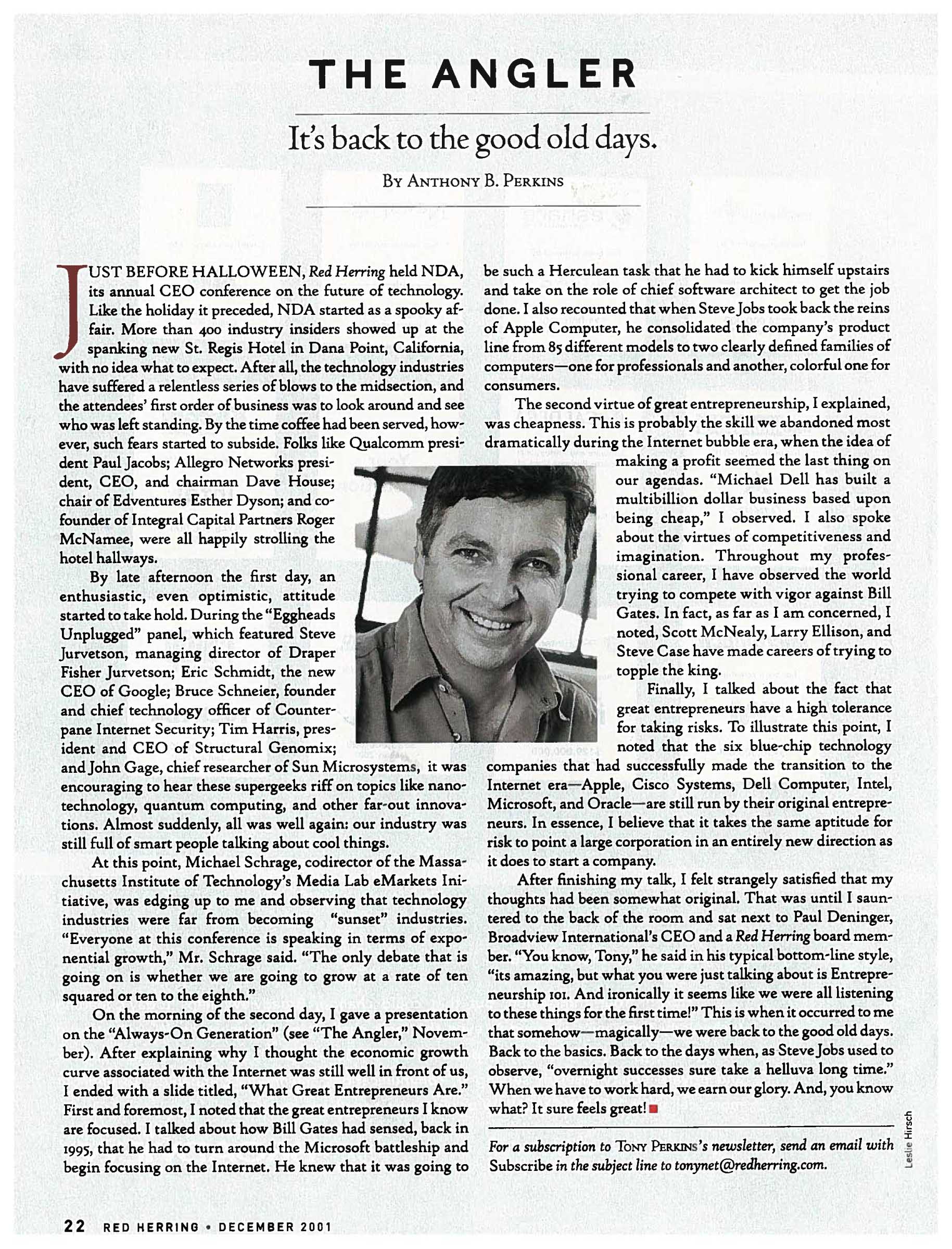 So let just me expand why I liked it (by putting in bold fonts what I liked). Here is the text again:
***********************
Just before halloween, Red Herring held NDA, its annual CEO conference on the future of technology. Like the holiday it preceded, NDA started as a spooky affair. More than 400 industry insiders showed up at the spanking new St. Regis Hotel in Dana Point, California, with no idea what to expect. After all, the technology industries have suffered a relentless series of blows to the midsection, and the attendees' first order of business was to look around and see who was left standing. By the time coffee had been served, however, such fears started to subside. Folks like Qualcomm president Paul Jacobs; Allegro Networks president, CEO, and chairman Dave House; chair of Edventures Esther Dyson; and cofounder of Integral Capital Partners Roger McNamee, were all happily strolling the hotel hallways.
By late afternoon the first day, an enthusiastic, even optimistic, attitude started to take hold. During the "Eggheads Unplugged" panel, which featured Steve Jurvetson, managing director of Draper Fisher Jurvetson; Eric Schmidt, the new CEO of Google; Bruce Schneier, founder and chief technology officer of Counterpane Internet Security; Tim Harris, president and CEO of Structural Genomix; and John Gage, chief researcher of Sun Microsystems, it was encouraging to hear these supergeeks riff on topics like nanotechnology, quantum computing, and other far-out innovations. [1] Almost suddenly, all was well again: our industry was still full of smart people talking about cool things.
At this point, Michael Schrage, codirector of the Massachusetts Institute of Technology's Media Lab eMarkets Initiative, was edging up to me and observing that technology industries were far from becoming "sunset" industries. "Everyone at this conference is speaking in terms of exponential growth," Mr. Schrage said. "The only debate that is going on is whether we are going to grow at a rate of ten squared or ten to the eighth." [2]
On the morning of the second day, I gave a presentation on the "Always-On Generation". After explaining why I thought the economic growth curve associated with the Internet was still well in front of us, I ended with a slide titled, "What Great Entrepreneurs Are." [3] First and foremost, I noted that the great entrepreneurs I know are focused. I talked about how Bill Gates had sensed, back in 1995, that he had to turn around the Microsoft battleship and begin focusing on the Internet. He knew that it was going to be such a Herculean task that he had to kick himself upstairs and take on the role of chief software architect to get the job done. I also recounted that when Steve Jobs took back the reins of Apple Computer, he consolidated the company's product line from 85 different models to two clearly defined families of computers–one for professionals and another, colorful one for consumers.
The second virtue of great entrepreneurship, I explained, was cheapness. This is probably the skill we abandoned most dramatically during the Internet bubble era, when the idea of making a profit seemed the last thing on our agendas. "Michael Dell has built a multibillion dollar business based upon being cheap," I observed. I also spoke about the virtues of competitiveness and imagination. Throughout my professional career, I have observed the world trying to compete with vigor against Bill Gates. In fact, as far as I am concerned, I noted, Scott McNealy, Larry Ellison, and Steve Case have made careers of trying to topple the king.
Finally, I talked about the fact that great entrepreneurs have a high tolerance for taking risks. To illustrate this point, I noted that the six blue-chip technology companies that had successfully made the transition to the Internet era–Apple, Cisco Systems, Dell Computer, Intel, Microsoft, and Oracle–are still run by their original entrepreneurs. In essence, I believe that it takes the same aptitude for risk to point a large corporation in an entirely new direction as it does to start a company.
After finishing my talk, I felt strangely satisfied that my thoughts had been somewhat original. That was until I sauntered to the back of the room and sat next to Paul Deninger, Broadview International's CEO and a Red Herring board member. "You know, Tony," he said in his typical bottom-line style, "its amazing, but what you were just talking about is Entrepreneurship 101. And ironically it seems like we were all listening to these things for the first time!" This is when it occurred to me that somehow–magically–we were back to the good old days. Back to the basics. Back to the days when, as Steve Jobs used to observe, "overnight successes sure take a helluva long time." When we have to work hard, we earn our glory. And, you know what? It sure feels great!
***********************
So here are my comments:
[1]: you need to be imaginative, nanotechnologies, quantum computing, and elsewhere in the 2001 issues, I read about Nanotechnologies again (including fullerene, gallium nitride) and nanotech start-ups (Nitronex, Zyvex, not to forget Nanosys; I am not sure where they are), Europe irising (in biotech. Really?), Robotics, including artificial intelligence, face analysis and recognition. Coming! We need to dream, do not get me wrong. But RH missed Google (just as I did) and probably the Web2.0.
[2] The only debate that is going on is whether we are going to grow at a rate of ten squared or ten to the eighth." Well, aren't we in a recession?. Too easy now that we know.
[3] But the piece I like the most is the back to basics, entrepreneurship 101: focus, competitiveness and imagination, cheapness, high tolerance for taking risks. This is what great entrepreneurs are about. Jobs, Gates, Ellison back then. Brin and Page today.
RIP RH!