I do not make the front page so often so it was fun to be on the EPFL one this morning. Forgetting about ego, I talked about my usual obsession, lack of growth of European start-ups. You may read the interview by clicking on the picture or reading it below.
More seriously maybe, you can read a similar analysis by Oseo, the French innovation agency which published "A look at 10 years of creation of innovative companies in France". the study is in French and looked at 5'500 start-ups created between 1998 and 2007.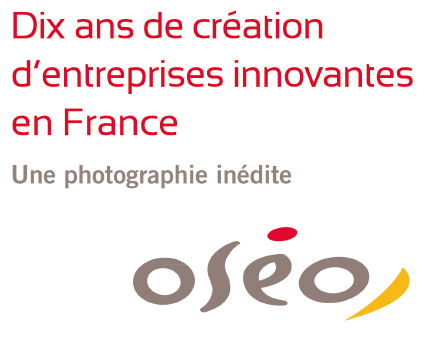 What the study says is that 85% of the company are alive after 5 years [against 50% in the USA; I already addressed the topic in Survival or failure – which success?], they have less than 10 employees, and the one important reason of this situation is the difficulty in building relational networks. Nothing new probably and nothing new in the interview below… except maybe that half of the French start-ups have an international strategy right from teh start and 30% have a foreign-only market!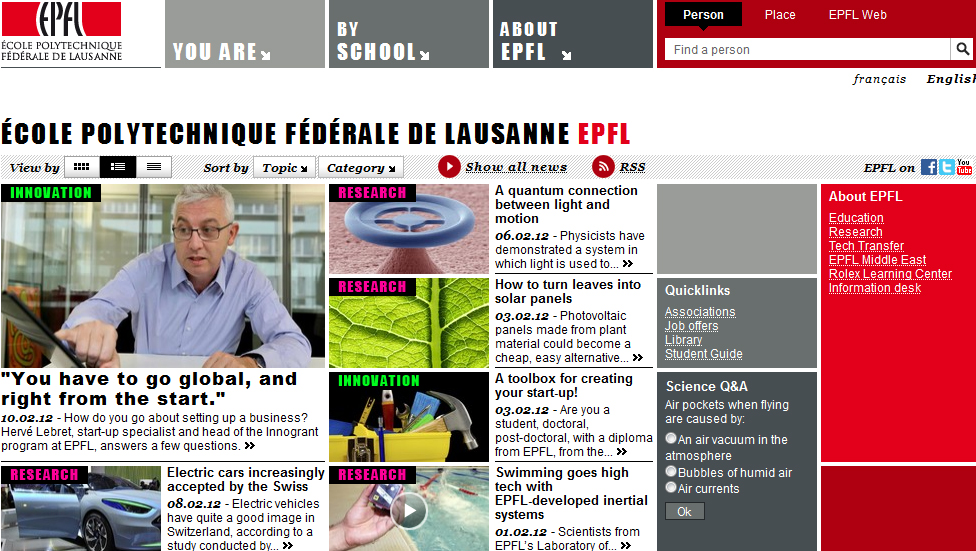 "You have to go global, and right from the start."
10.02.12 – How do you go about setting up a business? Hervé Lebret, start-up specialist and head of the Innogrant program at EPFL, answers a few questions. "When launching a start-up, you must think globally right from the start", says Hervé Lebret, head of the Innogrant program, a support tool for entrepreneurs coming from academia. He believes that both the Swiss and Europeans hesitate too much when creating start-ups. As the person responsible for writing a monthly column dedicated to start-ups on the new EPFL website, starting next Monday, he was more than happy to be interviewed.
Does the current economic situation make it harder to find funding?
This may come as a surprise, but I don't think that things have really changed. It's hard to find capital, as it has always been, but not impossible. It depends on the business area concerned, but I would even go so far as to say that there is more capital now than there was 15 years ago. Businesses such as Scala or Aleva, with origins in EPFL labs, have raised significant sums from venture capitalists in the last few years, just as Aïmago, Lemoptix or Attolight which secured 1 to 2 million francs from Business Angels.
Are some areas more favorable than others?
It makes it easier if the know-how is present locally, as is the case here with biomeds or nanotechnologies. Cleantech businesses are starting to lose the favor which they enjoyed until recently. But I'm convinced that ideas can come out of anywhere and get a good reception, as long as their communication is efficient. Incidentally, we shouldn't pay so much attention to the needs of the market. These don't suffice to predict which start-up will be the next success-story. Promising areas have needs, but no immediate solutions, and when the start-ups enter the market the first needs have often already evolved and are moving in another direction.
How can one ensure a good launch for their start-up?
Only one start-up out of ten succeeds in raising venture capital like Aleva or Biocartis, and grows to a size of 50 to 100 employees. Then out of these, 10 percent will enjoy success over ten years, like Endoart or Swissquote, which employs over 400 people. The main goal should not be survival. On the contrary, these start-ups sometimes last too long. Some 90 percent of them are still there five years on, but they haven't grown. In the United States there is a higher rate of renewal: only 50 percent of start-ups are still in existence after this same five-year-period. The problem lies in the conservative stance of Europeans, who are wary of quick growth. I think we should bring students' attention to this aspect very early, starting in high school. You cannot just turn yourself into a businessperson. We need to encourage children and young people to explore and stop stigmatizing failure, which we still do now in Switzerland. We plan to show a fascinating documentary soon on the topic of students who are eager and interested in creating businesses – it's called Something Ventured.
How do you carve out a place for yourself?
It's fairly easy, if you have a good idea, to obtain up to 500,000 francs from public funds or philanthropic organizations, which allows the business to survive one or two years. These contacts also provide free marketing, which can in turn help to find initial business angels and make an initial million francs. The limits come from the young businessperson's excessive humility, from their self-limitations. In order to succeed, you must be a salesman and somewhat extrovert, or team up with someone who is. Network is essential in effective positioning of the company.
How important are start-ups for the economic fabric of Switzerland?
Some forty start-ups are created each year in the Canton of Vaud, fifteen of which come from the academic world. They play an important role in the future of the Canton, of Switzerland and even Europe. Logitech or Swissquote, for instance, have created many jobs. However, Swiss start-ups in general struggle to grow beyond five or six employees. The biggest problem is well known: entrepreneurs lack risk-taking instincts and therefore struggle to grow their businesses. They prefer to do it in stages. In the United States an "all or nothing" policy prevails, and results in a higher success rate. Facebook, which has just declared its entry on the stock exchange, already employs 3000 people. Individuals who have good ideas go straight ahead and are not afraid of failure. They aim directly for global markets. The biggest mistake is to aim first and foremost for the Swiss market. One should aim for the world market straight away by adopting a global perspective and not being afraid of passing off as arrogant is essential.
Author: Cécilia Carron – Source: EPFL Mediacom