The New Yorker just published a beautiful article abotu two google developers. The Friendship That Made Google Huge is subtitled Coding together at the same computer, Jeff Dean and Sanjay Ghemawat changed the course of the company—and the Internet.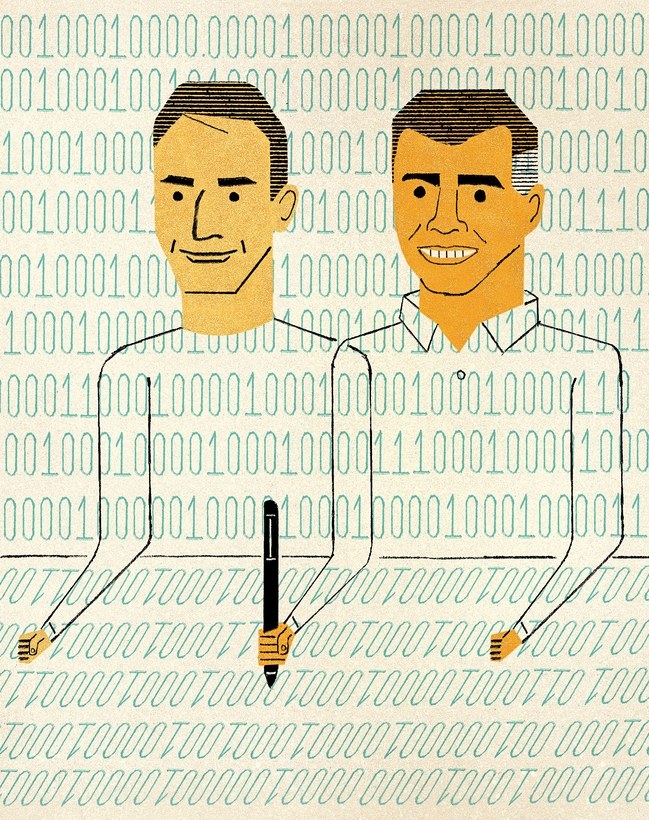 The company's top coders seem like two halves of a single mind.
Illustration by David Plunkert
Here are some extracts:
Sanjay Ghemawat, [is] a quiet thirty-three-year-old M.I.T. graduate with thick eyebrows and black hair graying at the temples. Sanjay had joined the company only a few months earlier, in December. He'd followed a colleague of his—a rangy, energetic thirty-one-year-old named Jeff Dean—from Digital Equipment Corporation. Jeff had left D.E.C. ten months before Sanjay. They were unusually close, and preferred to write code jointly. In the war room, Jeff rolled his chair over to Sanjay's desk, leaving his own empty. Sanjay worked the keyboard while Jeff reclined beside him, correcting and cajoling like a producer in a news anchor's ear.
[…]
Today, Google's engineers exist in a Great Chain of Being that begins at Level 1. At the bottom are the I.T. support staff. Level 2s are fresh out of college; Level 3s often have master's degrees. Getting to Level 4 takes several years, or a Ph.D. Most progression stops at Level 5. Level 6 engineers—the top ten per cent—are so capable that they could be said to be the reason a project succeeds; Level 7s are Level 6s with a long track record. Principal Engineers, the Level 8s, are associated with a major product or piece of infrastructure. Distinguished Engineers, the Level 9s, are spoken of with reverence. To become a Google Fellow, a Level 10, is to win an honor that will follow you for life. Google Fellows are usually the world's leading experts in their fields. Jeff and Sanjay are Google Senior Fellows—the company's first and only Level 11s.
And more about dual creativity. Quite fascinating!
It took Monet and Renoir, working side by side in the summer of 1869, to develop the style that became Impressionism; during the six-year collaboration that gave rise to Cubism, Pablo Picasso and Georges Braque would often sign only the backs of their canvases, to obscure which of them had completed each painting.
[…]
In "Powers of Two: Finding the Essence of Innovation in Creative Pairs," the writer Joshua Wolf Shenk quotes from a 1971 interview in which John Lennon explained that either he or Paul McCartney would "write the good bit, the part that was easy, like 'I read the news today' or whatever it was." One of them would get stuck until the other arrived—then, Lennon said, "I would sing half, and he would be inspired to write the next bit and vice versa."
[…]
François Jacob, who, with Jacques Monod, pioneered the study of gene regulation, noted that by the mid-twentieth century most research in the growing field of molecular biology was the result of twosomes.
You should read the article…