Speculation, bubbles, yes, they have always been around. I entered the VC world in the late 90s. Now we are in the unicorns era. Or were we?
I did my 537th startup cap. table a few days ago (see below). I had hesitated a little as I was not sure a company selling mattresses, even online, could be classified in my list of tech companies. But with VCs like NEA, IVP, Norwest on board and leading banks such as Goldman Sachs and Morgan Stanley as underwriters, it had all the needed pedigree. Or at least it looked like it.
Then I read Casper's IPO is officially a disaster on CNN and Here's why Casper's disappointing IPO could spell disaster for other unicorns on Business Insider Nordic
What happened? Well the initial IPO price on the table below should have been $18, then it was fixed at $12 for the first day of trading and this morning CSPR is at $10.26. The unicorn is now a $400M company. And you may want to have a look at the price of the B, C and D preferred rounds on the table below. Yes disasters happen from time to time.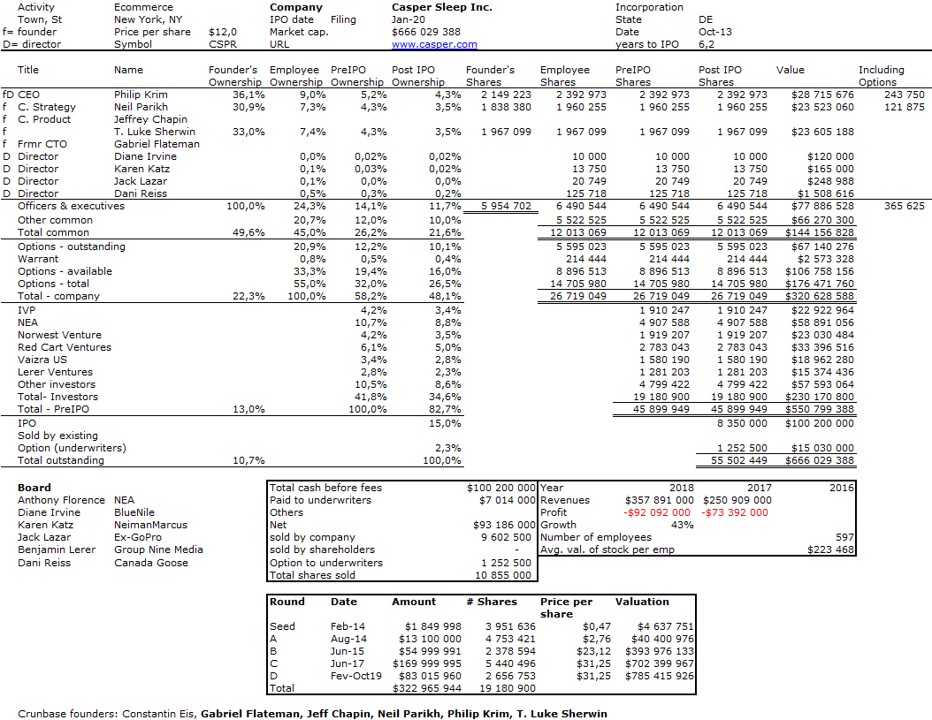 As a quick remined my latest list to be updated when I will have reached 550 tables.