Charles Geschke may not be as famous as many Silicon Valley entrepreneurs, but he is really a legend of technology and software. With John Warnock, he cofounded Adobe in 1982 and he is an exception in the group of founders as he was in his early 40s when he left Xerox to create the company which developed Postcript, PDF, Adobe, Photoshop and so many more products. He died on April 16, 2021.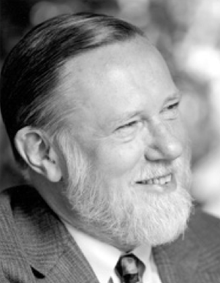 I had read about Geschke (and Warlock) in a good number of books and blogged about him here:
– In the company of Giants in November 2008
– A success story: Adobe Systems – John Warnock and Charles Geschke in March 2009
I found yesterday this very interesting short video that you should watch (or read the transcipt below).
Here is the transcript: "when John and I started Adobe we had a sort of simple thought in mind in terms of how we wanted to organize the business
we wanted to build a company that we would like to work at and we sort of used that principle in terms of how we defined the management structure, the operational organizational thoughts that we had about how to put the company together and part of that recognition was that we had constituencies that every business has that need to be balanced
we had our shareholders we had our employees we had our customers and of course the communities in which we operated and if you think about running a business all four of those constituencies are mildly in conflict what's good for one may not be good for the other and to be successful as a business and to retain the kind of quality employees that you want to have it's extremely important that you continually monitor how those four constituencies are being served and keep them in balance
a couple other principles people would often ask as they worked at Adobe
well what will it take for me to enhance my career and both John and I would tell them well the first thing you have to figure out is how to fire yourself by hiring someone to work for you who can do your job better than you do and there's no alternative but to get promoted once you do that
and the second piece of philosophy which is frankly the most critical one building particularly a high technology business is to tell every engineer and every manager that your job is to hire people who are smarter than you are as it's a much larger population from which to choose and those turned out to in fact have been extremely important in building a business
and again I want to comment that without my relationship with John and our partnership it's hard to imagine that we could have achieved what we did over the past twenty seven years and we're extremely pleased with this award and the opportunity to have served our industry
thank you very much
the really cool thing about this award is it's from engineers we've gotten entrepreneur awards before but they're from business guys and getting award for entrepreneurship from engineers is very very cool
Chuck and I when we started the company weren't on a get-rich-quick scheme we were frustrated at Xerox and our major frustration is we knew we could invent great technology but no one would ever use it and it would never see the marketplace and I think our major motivation in starting Adobe and continuing with Adobe was to make stuff that people would use a lot of people would use and I think inside of every engineer is that basic need to have your stuff used so that was the primary motivation behind what we did
the other thing in the hardest thing about building a business and keeping a business sustained and going on is continuing to innovate and we've never figured out how you institutionalize innovation innovation is a very sort of remarkable thing that sometimes happens sometimes doesn't but the best you can do is build an environment where people are happy they're doing an adventure they're trying to create and hopefully in that process great things will happen"