Yesterday I had a short debate about Wozniak and Jobs initial ownership in Apple Computer. It is true that at the IPO Wozniak had much less ownership than Jobs, but this can be explained by the fact that he gave or sold at a low price shares to employees (whom he thought deserved it and Jobs did not). But at the origin, they had equal shares as the extract from the prospectus shows.

So I thought of having a look at my startup database (currently having 890 cap. tables) and I studied the numbers. Here they are: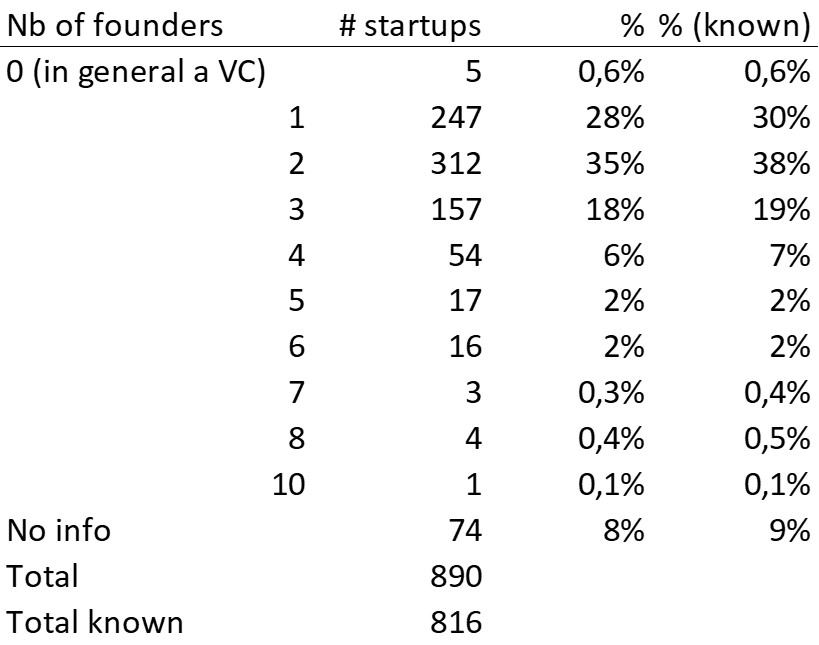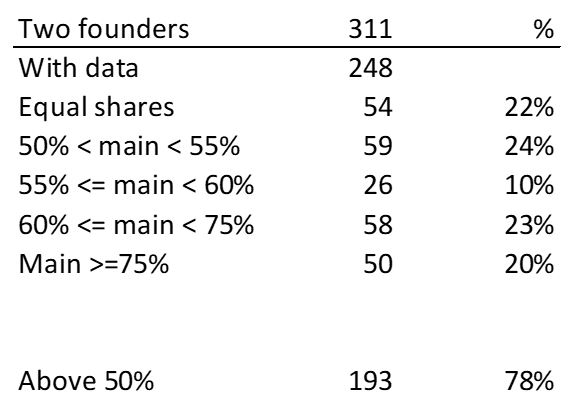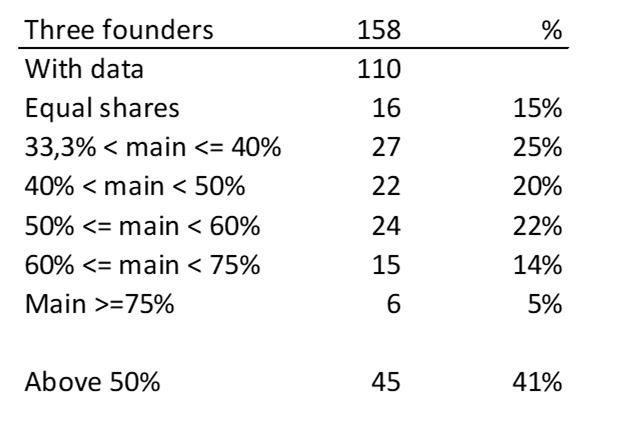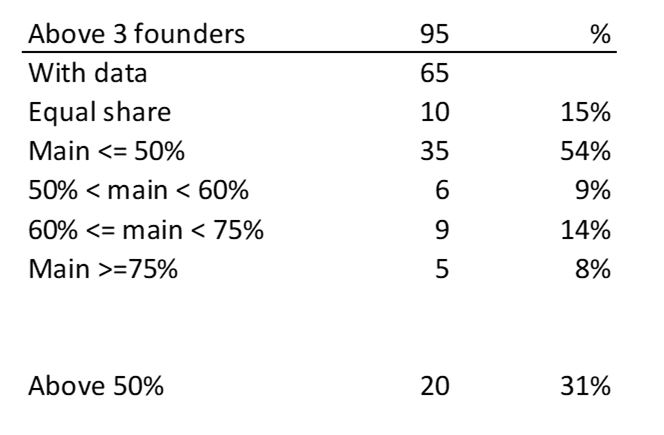 So what are the lessons?
First majority of startup have between 1 and 3 founders, and 1 founder (contrarily to intuition maybe) is not so rare. Now there is a caveat: the history of a startup is never fully known. Apple had initially (and for 2 weeks) 3 founders! The third one was Ronald Wayne
Second, equal ownership is not the majority but it is not rare. Around 15-20%.
But this does not mean, one founder owns more than 50%. Of course yes with 2 founders. But for 3 founders, this happpens in 41% of the cases. When more than 3 founders, this is 31% of the cases. I did not check (yet) if geography or fields of activities have an impact…
Finally, if you read this blog, you should know that statistics do not say it all. Startups are a world of exceptions (and the statistics are seldom Gaussian but follow a power low, so beware of means of %). Therefore more anecdotally, but still important, here are some famous examples:
Famous startups – 2 founders with equal shares
Adobe
Akamai
Apple
Atlassian
Broadcom
Cisco
Genentech
Google
Intel
Netscape
Riverbed
Skype
Soitec
Spotify
Tivo
Yahoo
Zalando
Famous startups – 3 founders with equal shares
Airbnb
Checkpoint
Compaq
DoubleClick
Equinix
Marimba
nVidia
Palantir
Revolut
RPX
WeWork
Famous startups – 3+ founders with equal shares
AMD
Regulus
ROLM
Xiaomi
Famous startups – founders with non-equal shares
Cypress
DropBox
Etrade
Eventbrite
Facebook
Lyft
Microsoft
Mysql
Oracle
Pinterest
Salesforce
Sun Microsystems
Twitter
Uber