March 5th, 2013
Comment »
In 2007, I had made the same exercise, i.e. extract from the Forbes billionaire list, the ones who had a link with technology. I found by accident the 2013 Forbes list, and did the same exercise. Again the USA dominates and the word is weak. Europe has 8 whereas the USA has 63…
What's new from the 2007 Technology Billionaires is the new comers, the web2.0 winners from Facebook, LinkedIn, Twitter and Groupon, not to forget GoDaddy!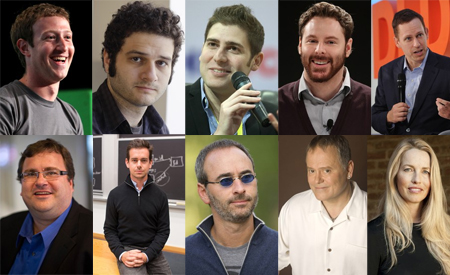 Top: the Facebook billionaires. Bottom: founders of Linkedin, Twitter, Groupon, GoDaddy and finally Laurene Powell Jobs.
Also, average age is 57 but Internet billionaires' age is 46!
| | | | | | | |
| --- | --- | --- | --- | --- | --- | --- |
| # | Name | Origin | Company | Field | Wealth ($B) | Age |
| 2 | Bill Gates | USA | Microsoft | Software | 67 | 57 |
| 5 | Larry Ellison | USA | Oracle | Software | 43 | 68 |
| 19 | Jeff Bezos | USA | Amazon.com | Internet | 25.2 | 49 |
| 20 | Larry Page | USA | Google | Internet | 23 | 39 |
| 21 | Sergey Brin | USA | Google | Internet | 22.8 | 39 |
| 49 | Michael Dell | USA | Dell | Hardware | 15.3 | 48 |
| 51 | Steve Ballmer | USA | Microsoft | Software | 15.2 | 56 |
| 53 | Paul Allen | USA | Microsoft | Software | 15 | 60 |
| 66 | Mark Zuckerberg | USA | Facebook | Internet | 13.3 | 28 |
| 94 | Ernesto Bertarelli | CH | Merck Serono | Biotech | 11 | 47 |
| 98 | Laurene Powell Jobs | USA | Apple | Hardware | 10.7 | 49 |
| 122 | Hasso Plattner | D | SAP | Software | 8.9 | 69 |
| 123 | Hansjoerg Wyss | CH | Synthes | Medical devices | 8.7 | 78 |
| 123 | Pierre Omidyar | USA | Ebay | Internet | 8.7 | 45 |
| 138 | Eric Schmidt | USA | Google | Internet | 8.2 | 57 |
| 145 | Patrick Soon-Shiong | USA | Abraxis | Pharmaceuticals | 8 | 61 |
| 154 | James Goodnight | USA | SAS | Software | 7.7 | 70 |
| 156 | Klaus Tschira | D | SAP | Software | 7.5 | 72 |
| 179 | Xavier Niel | F | Free | Internet | 6.6 | 45 |
| 182 | Dietmar Hopp | D | SAP | Software | 6.5 | 72 |
| 262 | David Duffield | USA | Peoplesoft | Software | 4.8 | 72 |
| 316 | Gordon Moore | USA | Intel | Hardware | 4.1 | 84 |
| 353 | Dustin Moskovitz | USA | Facebook | Internet | 3.8 | 28 |
| 353 | John Sall | USA | SAS | Software | 3.8 | 64 |
| 363 | Jeffrey Skoll | USA | Ebay | Internet | 3.7 | 48 |
| 376 | Barbara P. Johnson | USA | Johnson & Johnson | Medical devices | 3.6 | 76 |
| 437 | Reid Hoffman | USA | LinkedIn | Internet | 3.1 | 45 |
| 437 | Alain Merieux | F | Biomerieux | Pharmaceuticals | 3.1 | 75 |
| 503 | Ronda Stryker | USA | Stryker Corp. | Medical devices | 2.8 | 58 |
| 503 | Andy v. Bechtolsheim | USA/D | Google | Internet | 2.8 | 57 |
| 527 | John Doerr | USA | KPCB | Venture capital | 2.7 | 61 |
| 527 | Elon Musk | USA | Tesla Motors | Hardware | 2.7 | 41 |
| 554 | Marc Benioff | USA | Salesforce.com | Software | 2.6 | 48 |
| 554 | Jack Dangermond | USA | ESRI | Software | 2.6 | 67 |
| 554 | Phillip Frost | USA | Key Pharma, Ivax | Pharmaceuticals | 2.6 | 76 |
| 554 | David Sun | USA | Kingston Technology | Hardware | 2.6 | 61 |
| 554 | John Tu | USA | Kingston Technology | Hardware | 2.6 | 72 |
| 613 | Mark Cuban | USA | Broadcast.com | Internet | 2.4 | 54 |
| 641 | Ray Dolby | USA | Dolby Laboratories | Hardware | 2.3 | 80 |
| 641 | Ralph Dommermuth | D | United Internet | Internet | 2.3 | 49 |
| 670 | Michael Moritz | USA | Sequoia | Venture capital | 2.2 | 58 |
| 670 | Eduardo Saverin | USA/Bra | Facebook | Internet | 2.2 | 30 |
| 736 | Sean Parker | USA | Facebook | Internet | 2 | 33 |
| 785 | Romesh T. Wadhwani | USA | Aspect | Software | 1.95 | 65 |
| 792 | Meg Whitman | USA | Ebay | Internet | 1.9 | 56 |
| 831 | Hans-Werner Hector | D | SAP | Software | 1.8 | 73 |
| 831 | Thomas Siebel | USA | Siebel | Software | 1.8 | 60 |
| 882 | David Filo | USA | Yahoo | Internet | 1.7 | 46 |
| 882 | Henry Samueli | USA | Broadcom | Hardware | 1.7 | 58 |
| 882 | David Cheriton | USA/Can | Google | Internet | 1.7 | 61 |
| 922 | Kavitark Ram Shriram | USA | Google | Venture capital | 1.65 | 56 |
| 931 | Craig McCaw | USA | McCaw Telecom | Telecom | 1.6 | 63 |
| 931 | Pat Stryker | USA | Stryker Corp. | Medical devices | 1.6 | 56 |
| 931 | Peter Thiel | USA | Paypal, Facebook | Internet | 1.6 | 45 |
| 965 | Irwin Jacobs | USA | Qualcomm | Hardware | 1.55 | 79 |
| 974 | Vinod Khosla | USA | KPCB, Khosla | Venture capital | 1.5 | 58 |
| 974 | Bob Parsons | USA | Go Daddy | Internet | 1.5 | 62 |
| 974 | Jerry Yang | USA | Yahoo | Internet | 1.5 | 44 |
| 1031 | John Brown | USA | Stryker Corp. | Medical devices | 1.4 | 78 |
| 1031 | Steve Case | USA | AOL | Internet | 1.4 | 54 |
| 1031 | Henry Nicholas, III. | USA | Broadcom | Hardware | 1.4 | 53 |
| 1107 | Mark Stevens | USA | Sequoia | Venture capital | 1.3 | 53 |
| 1107 | Jon Stryker | USA | Stryker Corp. | Medical devices | 1.3 | 54 |
| 1107 | Nicholas Woodman | USA | GoPro | Hardware | 1.3 | 37 |
| 1161 | Graham Weston | USA | Rackspace | Internet | 1.25 | 49 |
| 1175 | Jim Breyer | USA | Accel | Venture capital | 1.2 | 51 |
| 1175 | Robert Duggan | USA | Computer Motion | Medical devices | 1.2 | 68 |
| 1268 | James Clark | USA | Netscape | Internet | 1.1 | 68 |
| 1268 | Jack Dorsey | USA | Twitter, Square | Internet | 1.1 | 36 |
| 1268 | Eric Lefkofsky | USA | Groupon | Internet | 1.1 | 43 |
| 1342 | John Morgridge | USA | Cisco | Hardware | 1 | 79 |