Was the information provided in episode 1 correct? I decided to try and contact Tom Perkins, the famous VC and he answered!
"I looked at the data you sent but, honestly, I don't know where they came from.  We have never given this sort of thing out,  and we would have a lot of trouble even to find it today. I don't think we had so many investments in that first fund—seventeen seems far to many.  The ones which I recall I put into my book. Having said that, I do believe that the fund would have achieved a modest return without Tandem and Genentech.  Those two were most important in changing our way for V.C. in the future."
What does Perkins mean? In each case, KP co-founded the companies and did not simply invest in them. So where were these numbers coming from? After some research via the web, I found on Google Books the next table, from the book Enterprise and Venture Capital by Christopher Golis.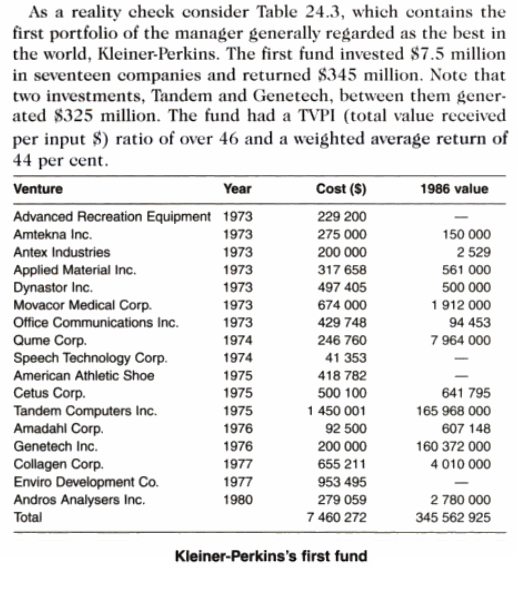 If correct, they would be however different from the ones I had before even if they are quite similar.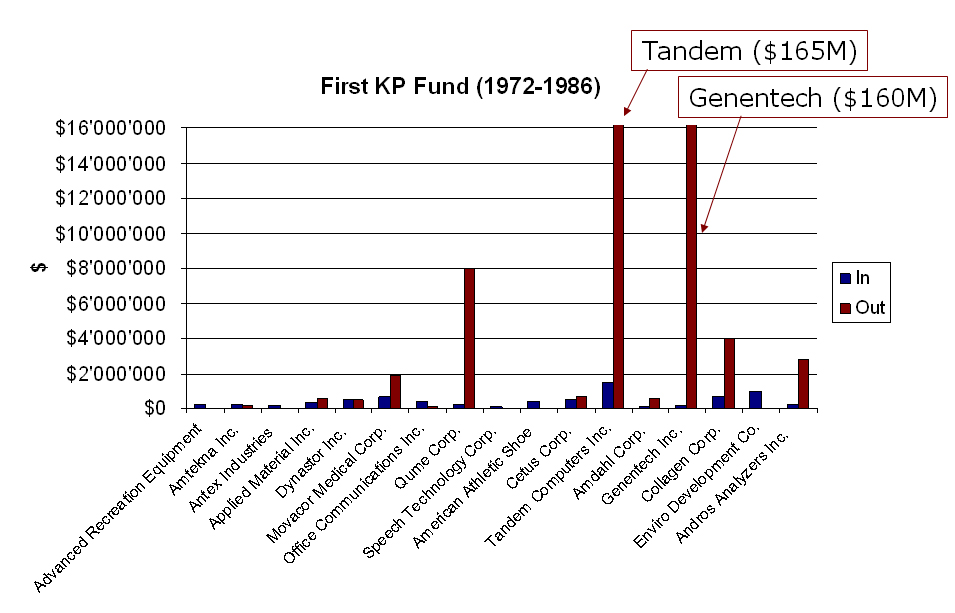 I checked Perkins' book and Perkins obviously mentions Tandem and Genentech. He also mentions Advanced Recreation Equipment (aka Snow-Job, a company which converted motorbikes into snowmobiles) and American Athletic Shoe (re-soled tennis shoes). He adds: "Unsurprisingly, both failed". He also mentions Qume as a nice return. Not much more.
So I asked Golis where all this came from…  "I cannot remember where I got it as I actually wrote the 4th edition some 8 years ago.  However I only put the table in the 4th edition.   Comparing the bibiographies of the third and fourth editions I would say the source was Gompers.  However Nesheim, Lewis, or Kaplan are potentially other sources. Hope this is of some help."
Well, well… To know more, you will have to wait for episode 3!