I was studying recent IPO filings and discovered (more by accident than on purpose), that some of these companies were not US-based. I wanted first to know more about Chinese success stories, Baidu and Alibaba, and at the same time heard of Envivio's filing and Transmode IPO. Envivio has roots in France (just as Sequans which I also studied a few weeks ago) and Transmode is based in Sweden.

I remember visiting Transmode during my days with Index. Transmode was and is a start-up in the Telecom sector, providing solutions for fiber-based local networks. The company just went public on the Stockholm stock exchange, 11 years after its IPO. The prospectus was in Swedish so that the data should be handled with care! An interesting element of information, if we agree high-tech is a global business.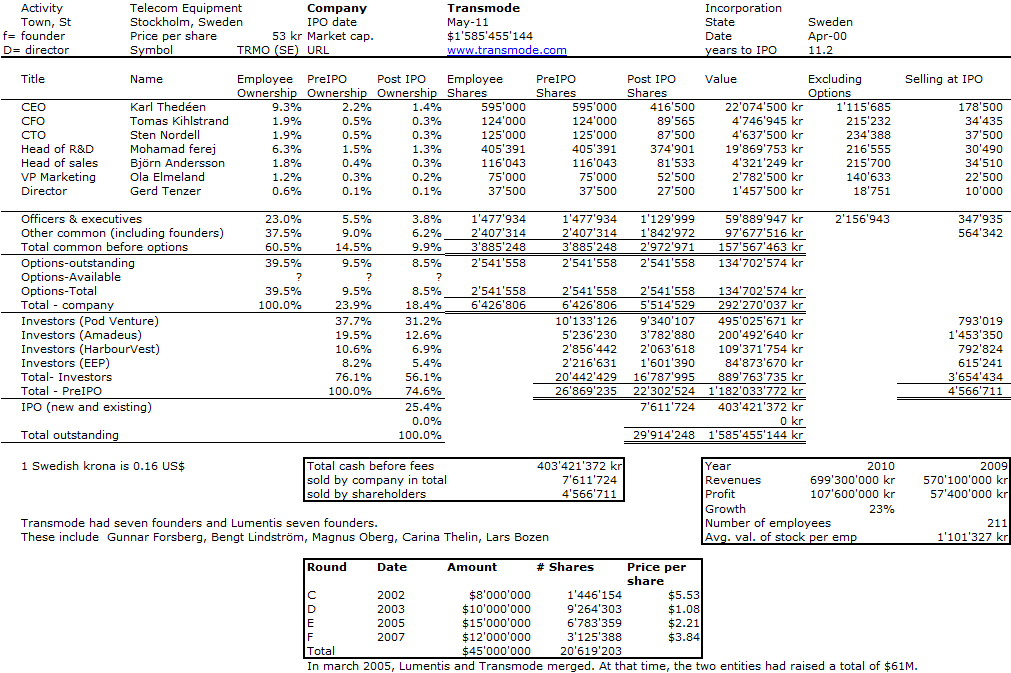 The cap. table that you just discovered shows the history of the company has probably not been simple. Transmode has raised $45M since 2002 but this is the "new" Transmode, which is the outcome of the merger of Lumentis, another Swedish start-up with the old Transmode. At the time of merger the combined entities had raised $61M. There is money available in Europe, no doubt. They were 7 founders in each firm, but none appears in the Transmode IPO filing.
Investors owned 76% of the start-up before the IPO, 56% after the sale of 25% of the company to the public. With about 700M Swedish Kronas in revenues (about $100M), the company is valued 2x its annual revenues. Nice but not great. Still a sign that high-tech is viewed more favorably than during the last decade.
Next: Envivio.