France is often criticized for its apparent weakness in entrepreneurship and of its start-ups, but it is clear that the reality is not as negative as the perception; Kelkoo in the past, Criteo probably in a few months as well Deezer. And last week Neolane. I hear the critics say: "Yes, but this is the web." It would mean you forget Parrot, Soitec, Envivio, Sequans Ymagis, Qualys, Inside… France is quite impressive (at the European level) for its start-up scene.
Neolane is the story of three friends who met at Centrale (one of the top French engineering schools). They co-founded a first start-up just out of school, which they sold before the Internet was really born. They launched a new one, Neolane, in 2001, with the support of Auriga Partners in 2002. Neolane raised more than €15M before being acquired last week by Adobe for €460M. It should not be very far from the largest M&A value of a French start-up. Again the acquirer is from the USA, as it is mostly the case with start-up acquisitions. Let us hope the jobs will not disappear, but it is certainly good news for France and Europe to enjoy such success. And sincere congratulations to my friends at Auriga Partners (I am not sure if they will appreciate or not this article…) Comments welcome!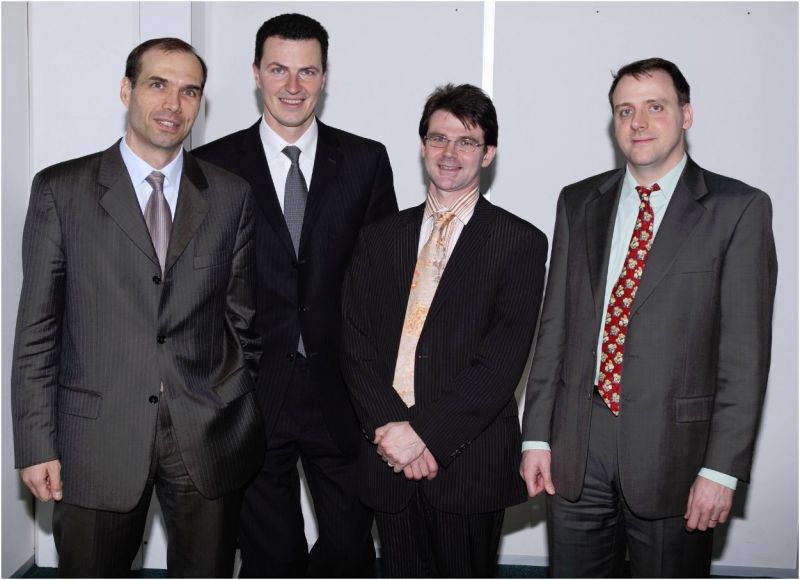 The founders of Neolane. From left to right, Benoît Gourdon, (Director of Operations for Europe), Stephen Dietrich (President of North America), Stephane Dehoche (CEO) and Thomas Boudalier (CTO).
As you can imagine if you know my blog, I had to build the capitalization table. I decided to focus here on the VC returns, i.e. both multiples on the investments and IRR. This is an interesting exercise as they were many rounds including partial sales. I have always been confused by the difference between multiples and IRRs. Multiples are what matters but IRRs also count as a relative measure of return (if compares with other assets).

NB: all data come from French register of commerce. Some numbers were missing so it is a best effort exercise and it was not the easiest I had to do…