Mazzucato's book is so important and interesting that it will take me many articles to cover it in a satisfying manner (to me at least).
– Part 1 covers the Innovation dilemmas and crises. The "6 myths" she introduces are great.
– Part 2 deals with the (forgotten or untold) role of the state in stimulating innovation through research. I had more disagreements with her on how far the State should act in the innovation ecosystem.
– In this part 3, I will focus on Chapter 5, about the role of the State in the iPhone technologies.
– Part 4 will deal with the chapters on Green technologies
– and I will need a part 5 to conclude and share thoughts.
Chapter 5 – the State behind the iPhone
Mazzucato shows here how "Apple concentrates its ingenuity not on developing new technologies and components, but on integrating them into an innovative architecture. […] Apple's capabilities are mainly (a) recognizing emerging technologies with great potential, (b) apply complex engineering skills that successfully integrate recognized emerging technologies, and (c) maintain a clear corporate vision prioritizing design-oriented product development." [Page 93]
Therefore "Apple received enormous direct and/or indirect government support derived from three major areas: (1) direct equity investment, (2) access to technologies, and (3) creation of tax or technology policies." I mentioned already the first area and expressed my doubts. No objection and no discussion about the third area. I agree only partly with the second area: I have the feeling the access was through corporations, which themselves may have had access to government or academic research. Xerox PARC is the most famous examples, but Apple also acquired little-known start-ups which had developed products from such research. Mazzucato built her own "Origins of popular Apple products."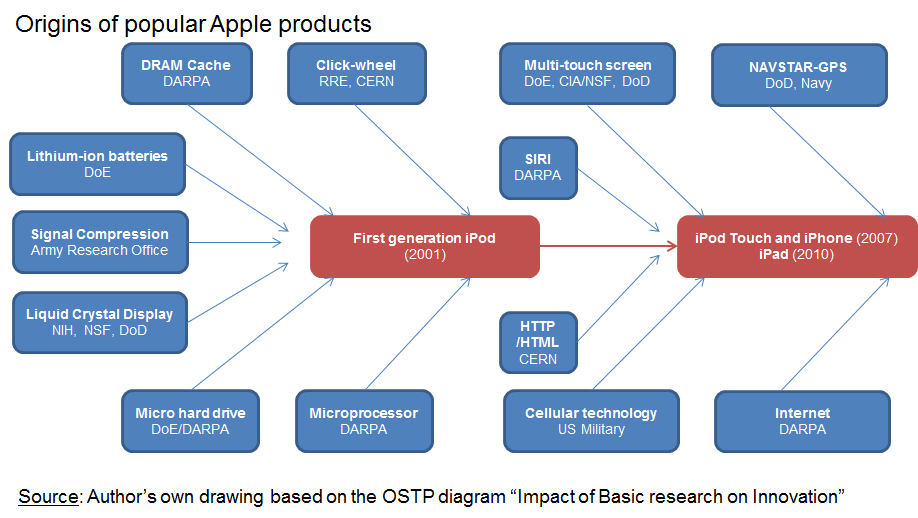 It is a very interesting drawing but I would have liked to see which "entity" developed the mentioned products. In some cases, it is a government related body, such as for the Internet for example (http://en.wikipedia.org/wiki/History_of_the_Internet) and in other cases it is a private entity funded initially with public money.
SIRI is an interesting example as it has some roots here at EPFL. The CALO program was funded by DARPA, but a start-up was launched with venture capital money in 2008, which was then acquired by Apple.
When it comes to displays, Mazzucato quotes Florida and Browdy and "The invention that got away" (1991) about the inability of private actors to build manufacturing capabilities. "The loss of this [TFT-LCD] display technology reveals fundamental weaknesses of the US high-technology system. Not only did our large corporations lack the vision and the persistence to turn the invention into a marketable product, but the venture capital financiers who made possible such high-technology industries as semiconductors and computers failed too." The paper shows the higher efforts of the Japanese industry pouring hundreds of millions of dollars in the technology development. In my analysis of Stanford-related high-tech companies, I remember being stricken by the amount of funding of Candescent. On the Internet archive dated 1998, I could find the following:
"Candescent Technologies Corporation is a seven-year old company developing a revolutionary new flat panel display [which is] a dramatic improvement over the liquid-crystal displays. In 1991 Candescent formed a strategic alliance with Hewlett-Packard Company. As of May 1, 1998 Candescent had received more than $337 million in funding from investing strategic partners, venture capital firms, institutional investors, US Government-sponsored organizations, and capital equipment leasing firms." In 2001, it had raised more than $600M with Compaq, Citicorp, Hewlett-Packard, J.P. Morgan, New Enterprise Associates, Sevin-Rosen, Sierra Venture Affiliates, and others. In June 2004, Candescent filed a Voluntary Reorganization case under Chapter 11 of the Bankruptcy Code in the San Jose Bankruptcy Court. In August 2004, Candescent sold substantially all of its assets, including its flat panel display intellectual property to Canon, Inc."
Again, I do not have major disagreements with Mazzacuto but my experience with innovation is that it is a very uncertain activity and I am not sure it is due only to the lack of private sector support. In the end, neither Japan nor the USA won, but Korea with Samsung and LG.
I knew less about multi-touch screens and the interesting story of FingerWorks, which assets Apple bought when the company went bankrupt.
"The company's products remained a high-end niche, and something of a curiosity, despite good press and industry awards. In early 2005, FingerWorks went through a rocky period, and stopped shipping new products. Outside reports indicated that they had been acquired by a major technology company. This company turned out to be Apple. In June 2005, FingerWorks officially announced they were no longer in business. The founders continued to file and process patents for their work through late 2007. And as of August 2008 they still filed patents for Apple, Inc." (http://en.wikipedia.org/wiki/FingerWorks)
Again Apple also worked with Corning to develop ultra-robust screens called the Gorilla Glass (http://en.wikipedia.org/wiki/Gorilla_Glass).
On the microprocessor, I have two similar comments:
– Though there are many sources claimed for the microprocessor, it is often mentioned that Intel really launched the technology as a product and this came as an order from a Japanese company, not from public procurement.
– Much later, Apple bought P.A. Semi. which developed specialized microprocessors. Well even P.A. Semi. had strong links with the DoD so Mazzucato still has a strong point!
As an interesting comparison, the MIT technology review had a hacking session of the Apple I, iPhone and iPad, which shows the brilliance of integration. There were many computers and smart phones, but at Apple, there was the genius of Wozniak and others when Jobs came back – http://www.technologyreview.com/view/425238/classic-hacks-the-apple-i-computer-the-iphone-and-the-ipad-3g/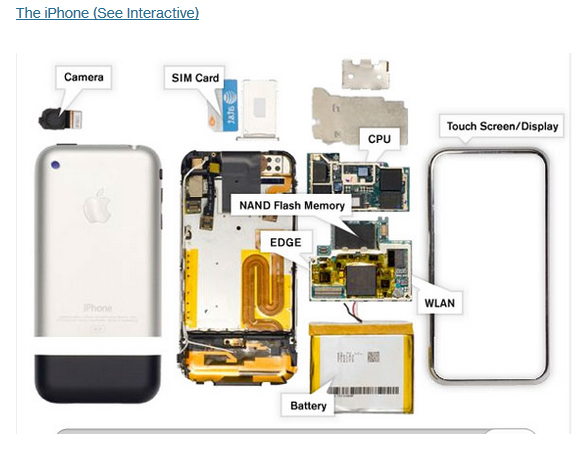 My reaction is that yes, many not to say most technologies have their roots with public entities, at least at the research stage, but the development is often concretized in small companies, with or without venture capital. Apple buys fewer VC-funded companies than Cisco's A&D (Acquisition & Development) and clearly most big companies do not do much research. The challenge lies in the ability of translating research results into development, which many start-ups achieve. This is the Silicon Valley model.
I finish my notes on chapter 5 with Mazzacuto: "It is indisputable that most of Apple's best technologies exist because of the prior collective and cumulative efforts driven by the State." [Page 112]