As you noticed if you read my previous posts, I've been quite impressed by Peter Thiel's notes about start-ups. I've written 7 long parts. I had been similarly impressed by Mariana Mazzucato's The Entrepreneurial State even if with only 5 posts!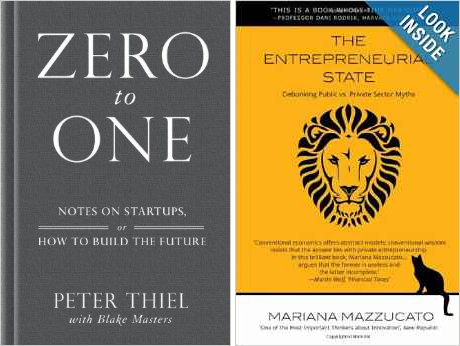 I said it already, I would have loved to attend their debate in a few days at the conference Human After All, Toronto 2014. But apparently they do not participate to the same roundtable anymore… (After reading what follows, I see that Taleb would have been a great addition).
– He will discuss "The Economics of Radical Uncertainty."
How do human beings truly react when confronted with conditions of genuine "unknown unknowns"? According to Frank Knight, "Uncertainty must be taken in a sense radically distinct from the familiar notion of risk, from which it has never been properly separated…The essential fact is that 'risk' means in some cases a quantity susceptible of measurement, while at other times it is something distinctly not of this character; and there are far – reaching and crucial differences in the bearings of the phenomena depending on which of the two is really present and operating… It will appear that a measurable uncertainty, or 'risk' proper, as we shall use the term, is so far different from an unmeasurable one that it is not in effect an uncertainty at all." The economics literature from Knight onward is very good at laying out the propensity of markets to greatly overshoot and undershoot the fundamentals. However, economics does not adequately address the implications of "Knightean" uncertainty, because the discipline finds it hard to model this phenomenon. To get a full measure of this, one has to enter into the realm of psychology and neuroscience. That's where the definition lies. Radical uncertainty, like so much else, is too important to be left to the realm of economics alone.
– She will be part of "Innovation: Do Private Returns Produce the Social Returns We Need?"
The machines of the first age replaced and multiplied the physical labour of humans and animals. The machines of the second age will replace and multiply our intelligence. The driving force behind this revolution will, argue the "techno-positivists," exponentially increase the power (or exponentially reduce the cost) of computing. The celebrated example is Moore's Law, named after Gordon Moore, a founder of Intel. For half a century, the number of transistors on a semiconductor chip has doubled at least every two years. But the information age has coincided with – and must, to some extent, have caused – adverse economic trends: stagnation of median real incomes; rising inequality of labour income and of the distribution of income between labour and capital; and growing long – term unemployment. Are the great gains in
wealth and material prosperity created by our entrepreneurs in and of themselves sufficient to produce desired social returns demanded in today's world?
Start-ups are a great area to study the tension between individuals and society. A kind of chicken and egg situation… Indeed they might explain the growing gap between the USA and Europe in many dimensions. Mazzucato would be on the social side, Thiel closer to the individual. But do not see any provocative statement here. The thoughts of Thiel and Mazzucato are profound. I agree with most of what they say, disagree with smaller pieces, though most people could think their thinking can not be reconciled. I really think that combining their point of views is an interesting approach to what innovtaion really is…
PS (May 8, 2014): I just found that video of Thiel at SXSW.