While reading Dogfight: How Apple and Google Went to War and Started a Revolution in the public transportation, this morning, I just took a short pause and looked at the two young people in front of me. They were both using their iPhone and I thought about the revolution which occurred in less than 10 years. Not many ebooks yet, no more newspapers and a few older guys like me still reading books. But most were using their smart phone…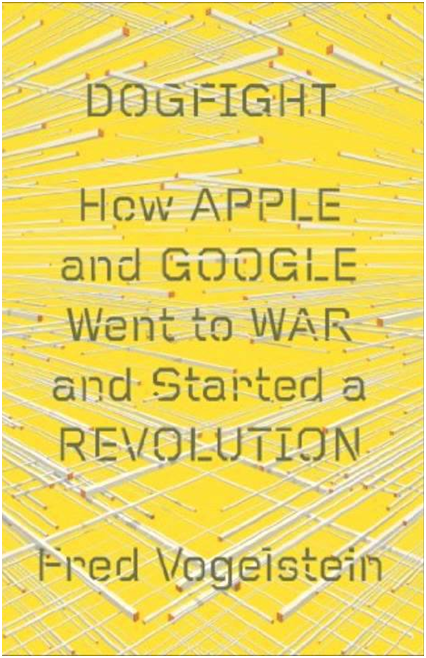 Dogfight describes the behind-the-scene history of a giant battle (I am not sure it is a war) between Google's Android and Apple's iPhone. No need to give a complete a account, but just a few points. For example Fred Vogelstein writes (page 13): "One of the things that I didn't expect when I took on this project was how hard it is to conceive and build the products that Steve Jobs liked to casually pull out of his pocket onstage. Whether you are an Apple engineer, a Google engineer, or any engineer, building products that change the world isn't just work. It's a quest. It leaves its participants not only tired the way all jobs sometimes do but mentally and physically exhausted – even traumatized – at the end. Part of Jobs appeal as a leader and a celebrity was that he successfully hid all this from public view. He made innovation look easy. […] Before there could be smartphones and tablets we all now buy and take for granted, there was yelling, screaming, backstabbing, dejection, panic, and fear over what it would take to get these projects off the ground."
And Vogelstein shows also the dirty politics and huge internal fights such as the one between Tony Fadell and Scott Forstall.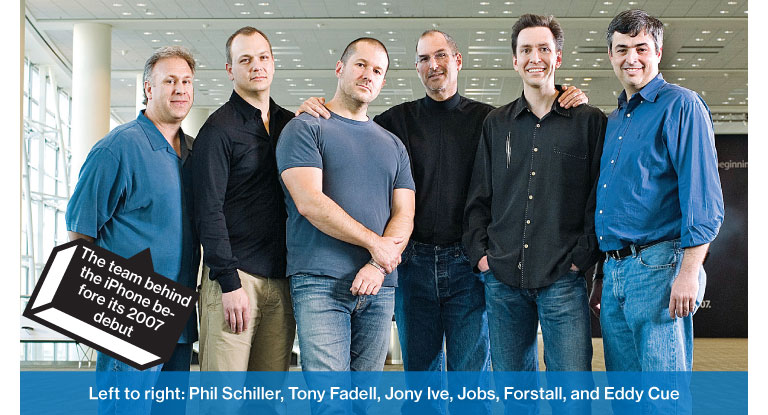 On the shoulders of giants…
The politics also exist at Google and there was similar tension between the iPhone team led by Vic Gundotra and the Android team led by Andy Rubin. The fight was really at its highest between Apple and Google, between Jobs and the triumvirat Schmidt, Page & Brin.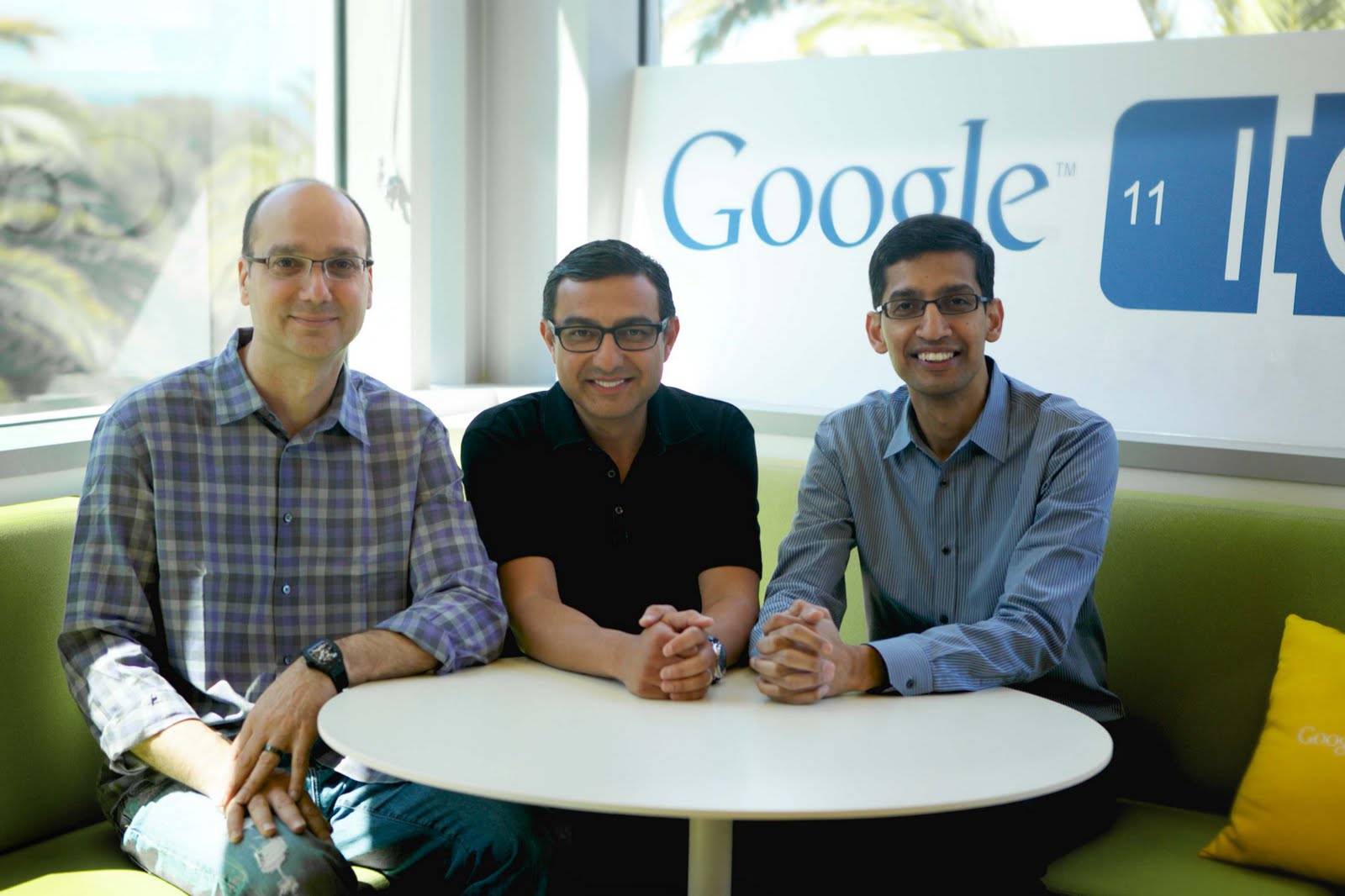 Andy Rubin, head of Android, Vic Gundotra, head of social, Sundar Pichai, head of Chrome in 2011.
It seems Google was embarrased by Jobs' attitude (page 102): "They believe that there are very few firsts in Silicon Valley – that all innovation are built on the shoulders of others […] One piece of evidence the Googlers used to make their point in their negotiations with Jobs was a 1992 video of James Gosling, a famous Sun Microsystems engineer and inventor of the Java programming language, showing off the Star7. This crude-looking handheld device had a 200KB radio; a four-inch, LCD, color TV screen; and speakers from a Nintendo Game Boy. Even then, before anyone but the richest executives had a mobile phone or had seen a Newton handheld, Gosling was showing off a machine not only with a touchscreen but with inertial scrolling. The harder you flicked the screen, the faster it scrolled through items."
… Jobs and God
Most Silicon Valley people were (and still are) fascinated by Jobs. Vic Gundotra belongs to that group (page 98): "One Sunday morning, January 6th, 2008 I was attending religious services when my cell phone vibrated. As discreetly as possible, I checked the phone and noticed that my phone said "Caller ID unknown". I choose to ignore. After services, as I was walking to my car with my family, I checked my cell phone messages. The message left was from Steve Jobs. "Vic, can you call me at home? I have something urgent to discuss" it said. Before I even reached my car, I called Steve Jobs back. I was responsible for all mobile applications at Google, and in that role, had regular dealings with Steve. It was one of the perks of the job. "Hey Steve – this is Vic", I said. "I'm sorry I didn't answer your call earlier. I was in religious services, and the caller ID said unknown, so I didn't pick up". Steve laughed. He said, "Vic, unless the Caller ID said 'GOD', you should never pick up during services". I laughed nervously. After all, while it was customary for Steve to call during the week upset about something, it was unusual for him to call me on Sunday and ask me to call his home. I wondered what was so important? "So Vic, we have an urgent issue, one that I need addressed right away. I've already assigned someone from my team to help you, and I hope you can fix this tomorrow" said Steve. "I've been looking at the Google logo on the iPhone and I'm not happy with the icon. The second O in Google doesn't have the right yellow gradient. It's just wrong and I'm going to have Greg fix it tomorrow. Is that okay with you?" Of course this was okay with me. A few minutes later on that Sunday I received an email from Steve with the subject "Icon Ambulance". The email directed me to work with Greg Christie to fix the icon. Since I was 11 years old and fell in love with an Apple II, I have dozens of stories to tell about Apple products. They have been a part of my life for decades. Even when I worked for 15 years for Bill Gates at Microsoft, I had a huge admiration for Steve and what Apple had produced. But in the end, when I think about leadership, passion and attention to detail, I think back to the call I received from Steve Jobs on a Sunday morning in January. It was a lesson I'll never forget. CEOs should care about details. Even shades of yellow. On a Sunday. To one of the greatest leaders I've ever met, my prayers and hopes are with you Steve."

More to come maybe when I am finished with Dogfight…