Kleiner Perkins is a, not to say the VC brand name – but there is also Sequoia. When their partners write something, it is often worth reading. And this month two of them publish a book! I begin here with John Doerr and his Measure What Matters (though this is the paperback publication – the hardcover was published in 2017). In my next post I will write about Komisar's Straight Talk for Startups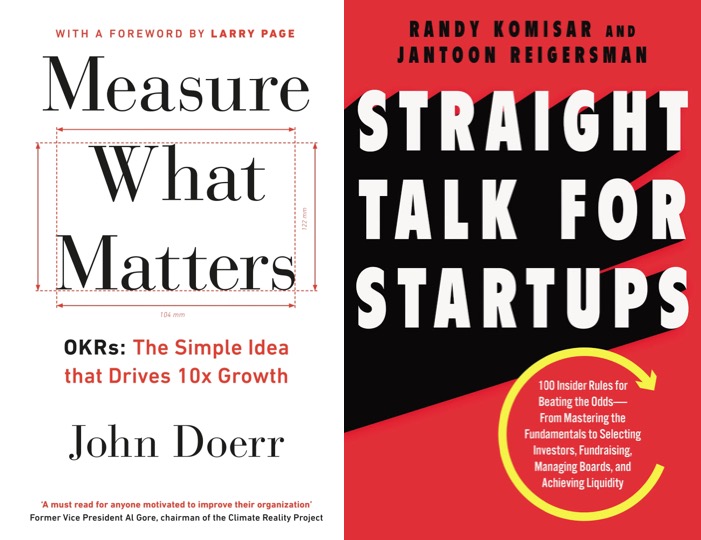 Ideas are Easy. Implementation is Everything.
Doerr is a Silicon Valley legend. He owes a lot to the pioneers of Silicon Valley, such as Noyce and Moore and particularly to Andy Grove, whom he mentions a lot: he calls him one of the father of OKRs. Chapter 2 is about Grove who said "there are so many people working so hard and achieving so little". It reminds me of The Innovation Illusion: How So Little is Created by So Many Working So Hard. And many owe to him, beginning with the Google founders. Indeed Larry Page is the author of a short, 2-page and powerful foreword about OKRs: "OKRs are a simple process that helps drive varied organizations forward… OKRs have helped lead us to 10x growth, many times over."
And Doerr begins with a tribute to Google and its two founders (page 4):
Sergey was exuberant, mercurial, strongly opinionated, and able to leap intellectual chasms in a single bound. A Soviet-born immigrant, he was a canny, creative negotiator and a principled leader. Sergey was restless, always pushing for more; he might drop to the floor in the middle of a meeting for a set of push-ups.
Larry was an engineer's engineer, the son of a computer science pioneer. He was a soft-spoken nonconformist, a rebel with a 10x cause: to make the internet exponentially relevant. While Sergey crafted the commerce of technology, Larry toiled on the product and imagined the impossible. He was a blue-sky thinker with his feet on the ground.
So what are these OKRs? It's an acronym for Objective and Key Results. "An objective is simply WHAT is to be achieved. Key Results benchmark and monitor HOW to get to the objective." (Page 7) But there is no recipe. Each company or organization should have its own. "By definition, start-ups wrestle with ambiguity… You're not going to get the system just right the first time around. It's not going to be perfect the second or third time, either. But don't get discouraged. Persevere. You need to adapt it and make it your own." (Page 75)
Now if you need that kind of advice, read Doerr's book…