I write from time to time and perhaps even more often about this other fact of innovation and entrepreneurship (which remains my passion, positively), a face that is darker, more negative, a vision that is more critical of the impact of innovation on society. I read these days, in French, Technocritiques – Du refus des machines à la contestation des technosciences (Technocritics – From the refusal of the machines to the challenge of the technosciences) by François Jarrige. It is a rich, harsh, demanding but exceptional book for all those interested in the subject.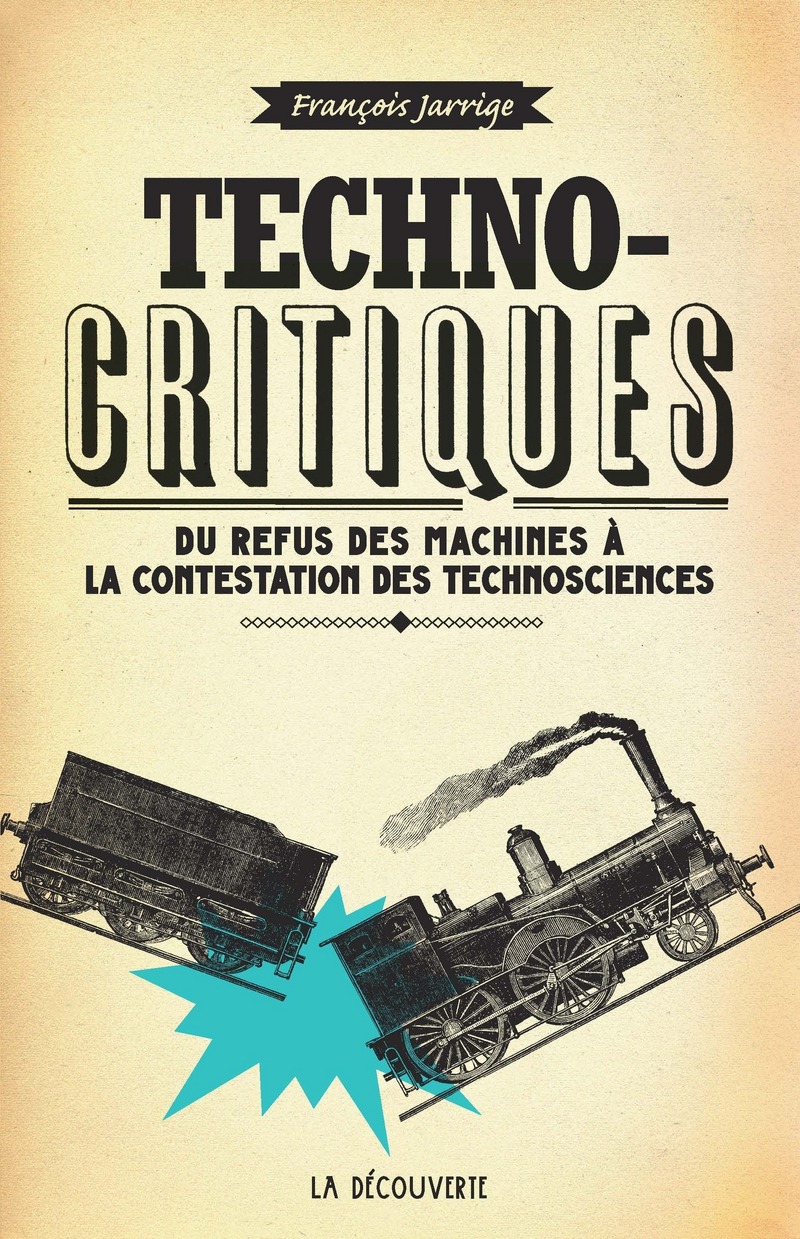 Even if extremely critical at first sight, the book shows that the positive and negative aspects of progress have always developed in parallel. My closest reading of this work was probably that of Bernard Stiegler, In Disruption – How Not to Go Crazy? without forgetting the works of Libero Zuppiroli, such as The utopias of the 21st century. Thanks to him for mentioning this remarkable book.
Here is a full translation of a long and exciting passage on pages 87-88. It looks like it describes our world, it does describe an older one.
"If we were to characterize our time by a single epithet, we would not call it a heroic, religious, philosophical, or moral age; but the mechanical age, for that is what distinguishes it from all the others." [1] Carlyle embodies the romantic denunciation of "mammonism" (that is, the religious worship of the god Silver), whose mechanical surge of his time is one of the manifestations. Why always strive, thanks to mechanics, to sell "at a lower price than all other nations until the end of the world", why not "sell for equal price", he asks? [2] He invites "ingenious men" to find a way to distribute products more equitably rather than always looking for ways to achieve them at the lowest cost: "A world of simple patented digesters will soon have nothing to eat: such a world will be extinguished and by the law of nature it must be extinguished."
At the same time, Michelet, the great French romantic historian, discovered the gigantism of machinery during a trip to England in 1834. He also describes the ambivalence of the effects of machines. Impressed by the "beings of steel" who enslave "the being of blood and flesh", he is nevertheless convinced that one will continue to prefer to the "uniform fabrications of the machines the various products which bear the imprint of the human personality". If the machine is undeniably a "powerful agent of democratic progress" by "putting a host of useful objects within the reach of the poorest", it also has its terrible setback: it creates a "miserable little people of men-machines that live half [and] that engender only for death ". [3]
The anxiety about machinery diminished in the Victorian era, with the expansion of the prosperity of the imperial period, the decline of workers' violence, the rise of the political economy. However, it continues to arouse the fears of some moralists, such as John Stuart Mill, a complex radical thinker, a liberal fascinated by socialism and a feminist justifying imperialism. In his Principles of Political Economy (1848), Mill proposes an inventory of the political economy of his time. He distances himself from economists who are overly optimistic about technical change, expresses reluctance about the beneficial effects of the division of labor and considers that the state must compensate for the detrimental effects of mechanization. But his criticism goes beyond these classic questions because John Stuart Mill proposes a theory of the "stationary state" that breaks with classical economics. He describes this "stationary state of capital and wealth" as "preferable to our present situation", marked by the struggle of all against all. He sees it as a world shaped by "prudence" and "frugality," in which society is composed of "a large and well-paid body of workers" and "few enormous fortunes"; this "stationary" world, where everyone would have enough to live, would leave room for solitude and contemplation "of the beauties and grandeur of nature". In this world, the "industrial arts" would obviously not stop, but "instead of having no other goal than the acquisition of wealth, the improvements would reach their goal, which is the diminution of work. [4]
To be followed, maybe …
Sources:
[1] Thomas Carlyle, "Signs of the Times," Edinburgh Review vol. 49, 1829, p. 439-459
"Were we required to characterise this age of ours by any single epithet, we should be tempted to call it, not an Heroical, Devotional, Philosophical, or Moral Age, but, above all others, the Mechanical Age. It is the Age of Machinery, in every outward and inward sense of that word; the age which, with its whole undivided might, forwards, teaches and practises the great art of adapting means to ends."
http://www.victorianweb.org/authors/carlyle/signs1.html
[2] Thomas Carlyle, "Past and Present" (1843), Cathédrales d'autrefois et usines d'aujourd'hui. Passé et présent, fr. transl. of Camille Bos, Editions of the Revue Blanche, Paris, 1920, p.289
I admire a Nation which fancies it will die if it do not undersell all other Nations, to the end of the world. Brothers, we will cease to undersell them; we will be content to equal-sell them; to be happy selling equally with them! I do not see the use of underselling them. A world of mere Patent-Digesters will soon have nothing to digest: such world ends, and by Law of Nature must end, in 'over-population;'
P. 229-31, http://www.gutenberg.org/files/26159/26159-h/26159-h.htm
[3] Jules Michelet, "Le peuple". Flammarion. Paris, 1974 [1846]
[4] John Stuart Mill, "Principles of Political Economy," fr. transl. Léon Roquet, Paris 1894 [1848] Pages 138-142.