I had the chance to take part in a debate on France Culture with Olivier Alexandre the author of La Tech – Quand la Silicon Valley refait le Monde (Tech – When Silicon Valley changes the World). I say "chance" because I was able to discover a book which I consider to be among the best about this still poorly-known and fantasized subject that is this region of innovation and startups. In fact Fred Turner, an expert of the region, wrote on LinkedIn: "If you read French, you should read this book – a rich and close view of Silicon Valley by an outsider who has become an insider long enough to learn the system . Highly recommended"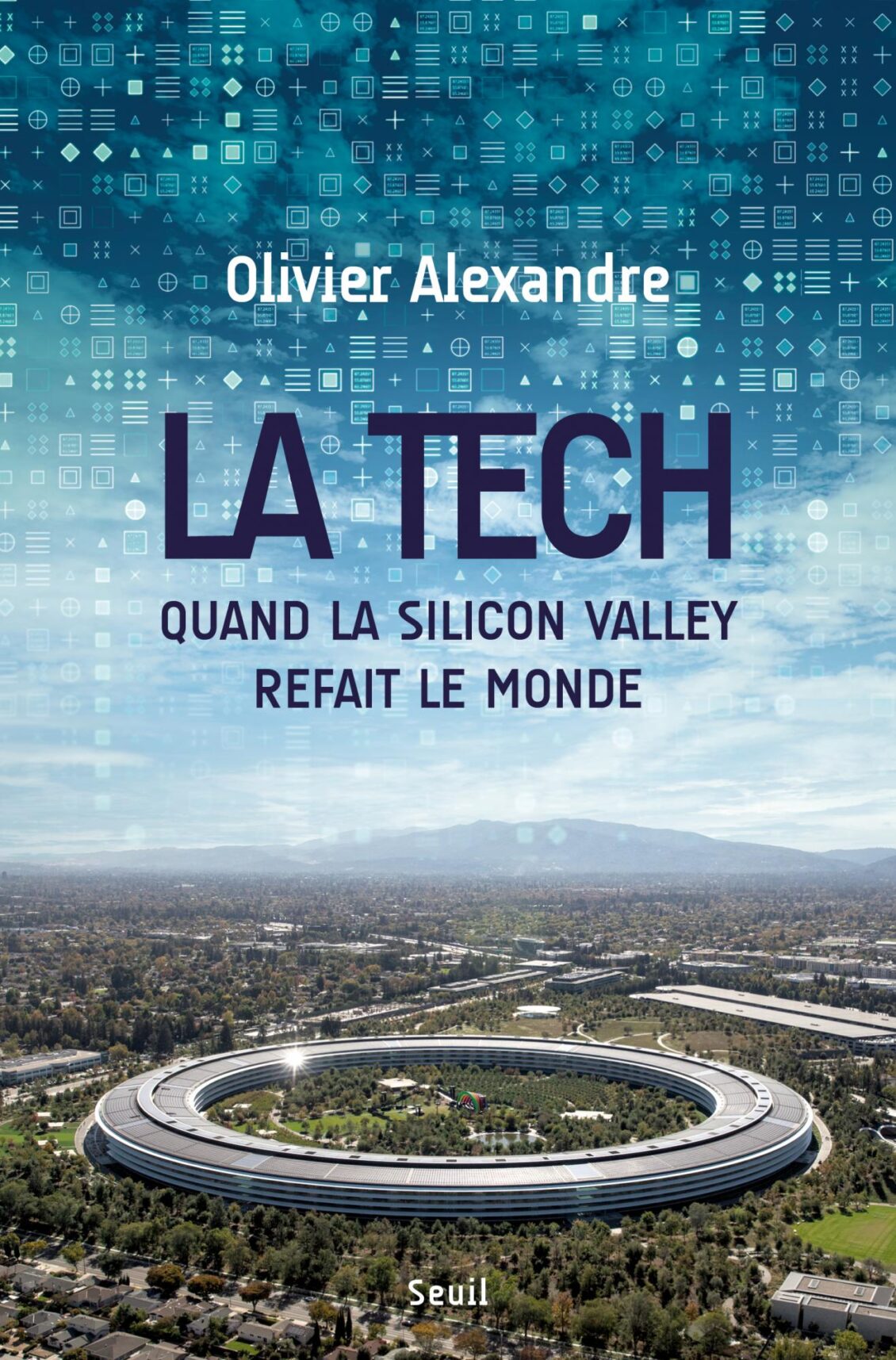 It is perhaps because Olivier Alexandre was not a specialist of the region at the start of his career as a sociologist that his work is fascinating. The perspective he shows (which is not always the case with analysts who often take too negative or too positive point of views) and the variety of subjects he studies (although I am only a third of the way through) strenghten my belief, which I hope to confirm when I get to the last page. Here are some illustrations.
Players more than actors
To account for this state of mind and the conditions that favor it, it is therefore necessary to make a phenomenological detour. Entrepreneurs, investors and engineers seek to change the world, that is to say to put it into play. The term play is not understood here in the sense of idleness (hobby) or of a ludic phenomenon (amusement), but covers a mundane scope, i.e. the desire to modify the organization of the world by means of new technologies. For this reason, the workers of Silicon Valley will not be qualified as "agents", "actants" or "actors" but as players, a notion which is often mobilized in English ("players", whether they are "new", "big" or "global"). It does not designate a specific professional category, but a mentality as well as a regime of action. [Page 28]
"We were all more or less in PhD programs at MIT. My co-founders did the VC [roadshow] tour. We were still students, we thought it was cool, to take a plane, to find ourselves in offices talking about research to get money from people who tell you: Great, go ahead, take this money, and you return with it to the airport. It was much more exciting than the lives of the rest of our college friends. For a 25-year-old kid, finding yourself with 2 or 3 million in the bank is super exhilarating. We went to an ATM, to see the balance of our bank account… And we planned: what we were going to need, how to assess the risks of what we were doing… We started to pay ourselves, which represented for a student a pretty insane amount of money, around 80,000 dollars a year, compared to 25,000 for a PhD student. And we moved to the Bay Area… To do a start-up, you have to have an idea… But the thing is, people are going to change, your idea is going to change, you have to be ready for that. And we weren't ready for that. We thought we were super smart and our tech was super cool, which was the wrong way to do it [laughs]. After several months, we came to the conclusion that we were different, in our personalities, our agendas, on what a company was for us or what it was not… So, in the end, one went to Google, another went back to college, and we started something again together. The VCs said to us: OK you burned everything, but here is the money, 2-3 million, we believe in you." [Page 96]
"Here you see two things: smart people and money. Money, there has been a lot of it and for a long time. Is it a bubble or not? That's not the problem. The issue is concentration. When you go on Sand Hill Road [the street where the main venture capital brands are located], for a few kilometers, you have an insane amount of money that is concentrated… Venture capital in the world is 87 billion dollars, two-thirds is in the United States, and half of that is in Silicon Valley. When you realize this, you think to yourself Wow… it means that the two resources of the chemical reaction to undertake great things are available here. Paul Graham [founder of accelerator Y Combinator] says this is sufficient. But it's not just that. It's a bit like in Hollywood, with universities that intelligently play their role in an economy that is both global and local: there are labs that do research, specialized people, etc. In the movie industry, there are people who are capable of doing high-level janitorial work, of buying or liquidating a company, of negotiating contracts with seven, eight or nine figures. It's the same thing here. There is this economy of specialized services, which is under the surface, which is an invisible but determining element. It is upon this that the ability to value a firm depends, i.e. to assign a value to it, or to liquidate it. In every sense of the term; and it is infinitely precious. Lawyers, specialized banks, VCs, HR firms specializing in start-ups, etc." [Page 70]
This is another enlighting way of describing What makes an entrepreneurial ecosystem as mentioned by Nicolas Colin, Martin Kenney or Paul Graham again. But this description does not explain why Silicon Valley was never replicated. The author shows also that two important laws, Moore's law and Metcalfe's law had a strong impact in creating a virtuous cycle of self-fulfilling prophecies. [Pages 47-52]
A reversed capitalism
In Silicon Valley, three characteristics make the keeping of fair accounting particularly complex: the partial freeness of services, the practice of exchange, and the proportion of failures. [Page 89] … The exchange value corresponds to the usage value. However, the situation is different for intangible services, where consumption may be collective. For this reason, economists refer to intangible goods as public goods. [Page 90]
"On my first two start-ups, we never found the market fit. Never." [Page 93] Market fit is credited to one of the region's first venture capitalists, Don Valentine. Marc Andreessen helped to popularize it in the 2000s, through a post on his blog. On the inequalities of success of start-ups, he identifies three factors: the team, the product and the market, emphasizing that the most important of these three elements for the success of a company is the third term, the market (or "market fit") justifying this position as follows: "In a large market – a market with many real potential customers – the market pulls the product from the start-up. The market must be satisfied and the market will be satisfied by the first viable product that comes along. The product doesn't have to be great, it just has to work. And the market doesn't care about the quality of the team, as long as the team can produce this viable product. In short, customers are knocking at your door; the main objective is to answer the phone and all the emails of people who want to buy. And when you have a great market, it's remarkably easy to scale the team on the fly." Chosen (and translated) by the author from web.stanford.edu/class/ee204/ProductMarketFit.html [Note 14 page 497] Here we find the fundamentals sought by VCs, as indicated in What makes Silicon Valley Venture Capital unique?
I had to find I disagreed with Olivier Alexandre, but it is at the level of detail, so successful is the first part of this book! "Kleiner Perkins had several difficult years before realizing a substantial return on investment with Sun Microsystems and Lotus Development in the early 1980s. Despite their rivalries, they [Sequoia and Kleiner Perkins] made a joint investment in Google in June 1999, at the initiative of micro-investor Ron Conway, against 5% of the shares of the company." [Page 125] So my nuances are as follows:
– the first KP fund was particularly successful, as early as 1972, as indicated in About Kleiner Perkins first fund,
– I think that Sequoia and KP invested $25M for 34% of Google during the series B round and Ron Conway only arrived after, I think Andy Bechtolsheim was the business angel who made the intro, but I could be wrong. But here we are in the micro-detail. On the other hand, Pierre Lamond at Sequoia corrected me by claiming that despite their rivalry, KP and Sequoia had quite often invested together. The famous co-opetition of this world, people are in competition but collaborate… See When Kleiner Perkins and Sequoia co-invest(ed).
The Cultures of Silicon Valley
Silicon Valley is quite poor with culture (the arts and other manifestations of human intellectual achievement regarded collectively) and Olivier Alexandre shows it by comparing the number of movie theaters, bookshops and art galeries in San Francisco and in other cities worldwide. Museums in Silicon Valley with the exception of one on the campus of Stanford University are not really impressive.
The culture of Silicon Valley, on the other hand, is unique. Alexandre mentions the praise of doing, freedom at work, an open society, a tradition of welcome, a progressive elite. "What struck me right away was that they were discussing what they would do, they were talking, without hiding, sharing information, talking about their business… People who for me were a priori competitors… Where I had been, in Paris, in New York, you had to remain secretive. Today, I've been here for seven years, I now know that it's a typical cultural trait here. If you compare to elsewhere, in terms of cultural, psychological traits, there is this ability to say things." [Page 156] How not to mention here the little-known Wagon Wheel Bar ?
Ultimately, the prevalence of the notions of "ecosystem" and "community" illustrates the ambiguities of this industry, certainly localized but with a globalized vocation: open to the integration of new entrants; but selective and Darwinian. [Page 165]
I hope you will discover this fascinating book. And certainly to be followed. In fact here.