The "Mom Test" is an intelligent book for any student of Steve Blank and his "Customer Development" model: validating hypotheses to launch a startup by exploring the existence of customers and of a market, of course. But how do you concretely approach this delicate phase when you are not a specialist?
Author Rob Fitzpatrick says he has faced this situation multiple times and gives excellent advice including how to conduct initial interviews and learn relevant information from them. This is, I believe, the main and rather rare quality of this book. An absolute must-read when you feel helpless on the subject and even more if you do not think you need advice!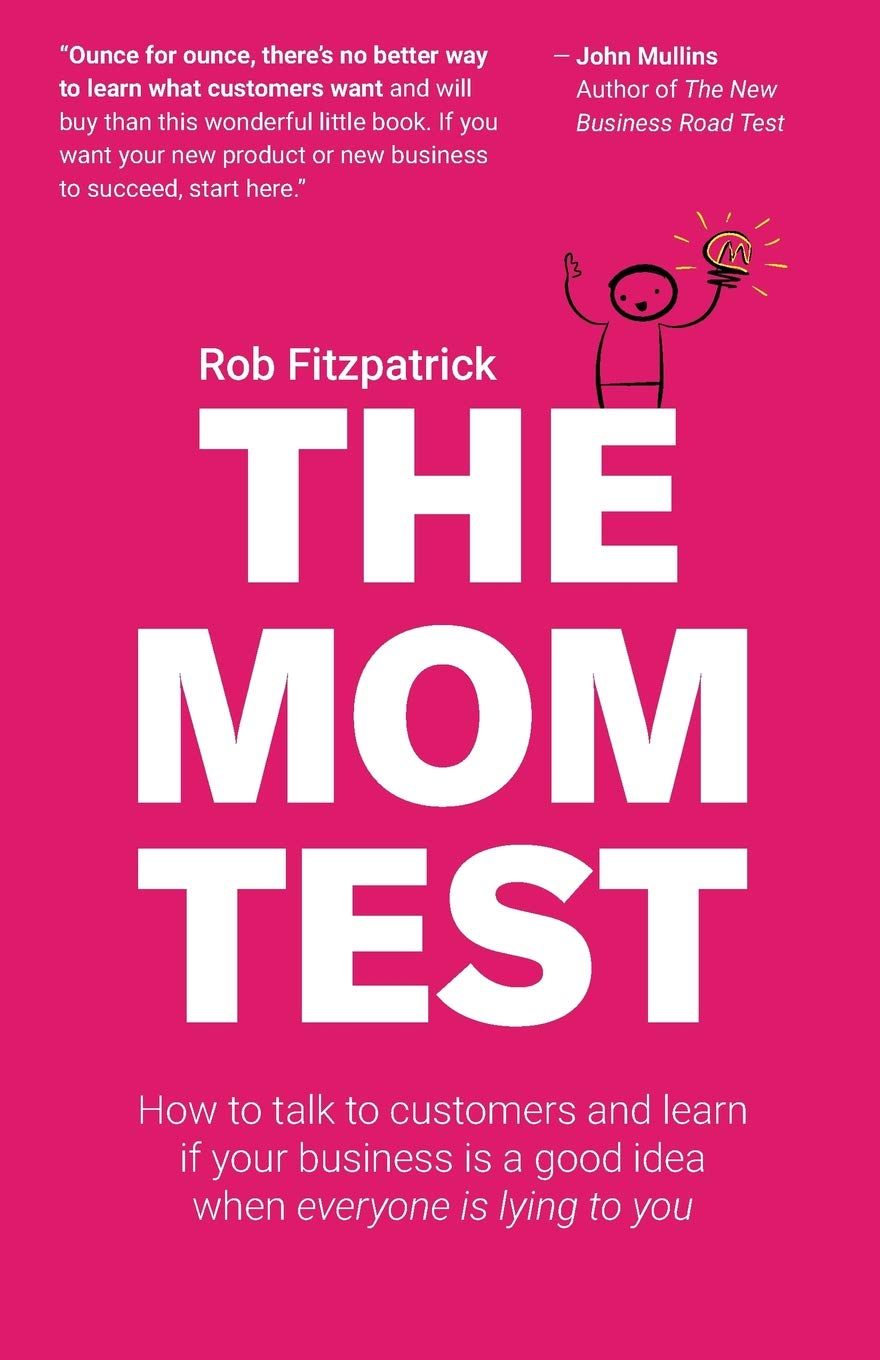 This is a small 122-page book that I really recommend reading. Here are some extracts that I hope will convince you
Every question we ask carries the very real possibility of biasing the person we're talking to and rendering the whole exercise pointless. (Page 3)
And I add a strong statement from Steve Blank: Talking to customers is hard.
The measure of usefulness of an early customer conversation is whether it gives us concrete facts about our customers' lives and world views. (Page 12)
The Mom Test:
1. Talk about their life instead of your idea
2. Ask about specifics in the past instead of generics or opinions about the future
3. Talk less and listen more. (Page 13)
Blank talks about "a day in the life of your customer". You need to understand the actions and the interactions, who does, who decides, who pays.
Here is a list, according of the author, of good and bad questions:
"Do you think it's a good idea?"
"Would you buy a product which did X?"
"How much would you pay for X?"
"What would your dream product do?"
"Why do you bother?"
"What are the implications of that?"
"Talk me through the last time that happened."
"Talk me through your workflow."
"What else have you tried?"
"Would you pay X for a product which did Y?"
"How are you dealing with it now?"
"Where does the money come from?"
"Who else should I talk to?"
"Is there anything else I should have asked?"
at page 15 and he lets you think about what is bad and good before giving his views.
What you should have in mind is given page 22: "They own the problem, you own the solution." And this is so true as Henry Ford or Steve Jobs mentioned, customers do not know what they want!
So (page 49), when interviewing, "Start broad and don't zoom in until you've found a strong signal, both with your whole business and with every conversation."
How to begin?
In his original book on Customer Development, 4 Steps to the Epiphany, Steve Blank solves this by recommending 3 separate meetings:
the first about the customer and their problem;
the second about your solution;
and the third to sell a product.
By splitting the meetings, you avoid the premature zoom and biasing them with your ideas. In practice, however, I've found it both difficult and inefficient to set them up. The time cost of a 1-hour meeting is more like 4 hours once you factor in the calendar dance, commuting, and reviewing.
If the solution isn't a 3-meeting series, then what is it? You may have noticed a trend throughout the conversation examples we've seen so far: keeping it casual. (Page 56)
Rule of thumb: Learning about a customer and their problems works better as a quick and casual chat than a long, formal meeting.
Advancement
Then you need to deliver (page 62): "When you fail to push for advancement, you end up with zombie leads: potential customers (or investors) who keep taking meetings with you and saying nice things, but who never seem to cut a check."
Rule of thumb: "Customers" who keep being friendly but aren't ever going to buy are a particularly dangerous source of mixed signals.
Ideally you should find a champion as an early customer. Page 73: "Steve Blank calls them earlyvangelists (early evangelists). In the enterprise software world, they are the people who:
• Have the problem
• Know they have the problem
• Have the budget to solve the problem
• Have already cobbled together their own makeshift solution"
Of course to ask questions, you must organize conversations. This is what chapter 6 is about…
A short extract: "The framing format I like has 5 key elements.
1. You're an entrepreneur trying to solve horrible problem X, usher in
wonderful vision Y, or fix stagnant industry Z. Don't mention your idea.
2. Frame expectations by mentioning what stage you're at and, if it's true,
that you don't have anything to sell.
3. Show weakness and give them a chance to help by mentioning your
specific problem that you're looking for answers on. This will also
clarify that you're not a time waster.
4. Put them on a pedestal by showing how much they, in particular, can
help.
5. Ask for help."
Rule of thumb: Keep having conversations until you stop hearing new stuff.
And then you will need to focus by doing customer segmentation and slicing. This is chapter 7.
Rule of thumb: Good customer segments are a who-where pair. If you don't know where to go to find your customers, keep slicing your segment into smaller pieces until you do.
Process
Avoid creating (or being) the bottleneck. To do that, the customer and learning has to be shared with the entire founding team, promptly and faithfully. That relies on good notes plus a bit of pre- and post-meeting work.
Everyone on the team who is making big decisions (including tech decisions) needs to go to at least some of the meetings.
The tech guys don't need to go to most of the meetings, but you'll all learn a ton from hearing customer reactions first-hand occasionally. You'll also be able to help each other catch and fix your conversation mistakes and biases. (Page 99)
What is the number of people that should face customers? 2 is ideal, 1 is not enough to take notes and avoid bias, more is messy.
Conclusion
I still ask dumb questions all the time. You will too. Don't beat yourself up over it. In fact, just yesterday I screwed up a particularly important meeting by slipping into pitch mode (this was yesterday at the time of writing… hopefully not again at the time of reading). (Page 112)
with a nice final quote : "Having a process is valuable, but don't get stuck in it. Sometimes you can just pick up the phone and hack through the knot." (Page 113)
PS: I think the Mom Test is more convincing than Reis' Lean Startup, you can read here about the reason of my skepticism.
PS2: thanks to Laurent and Monica for advising me to read this little gem!