So what is innovation? I had already addressed the question in 2015 in Invention, Entrepreneurship and Innovation. My colleague Federico gave me a few days ago another definition of Innovation from MIT's Bill Aulet.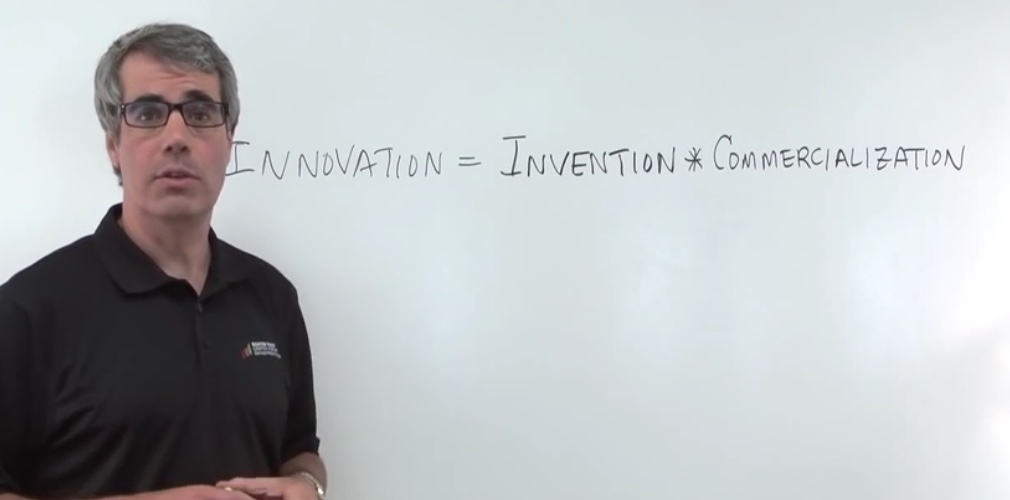 Innovation = Invention ∗ Commercialization
You will find the video here.
And here some extracts:
So could it have been "Innovation equals invention?" No, often people mistake these two things for the same thing. They are not. Innovation is something that generates value for the world. It makes something faster, better, cheaper. It gives someone some great satisfaction. An invention is an idea, a technology, a patent. In and of itself, it does not generate value. So these two are not the same thing. And sometimes you see them interchange. And that's not correct.
So innovation equals invention times commercialization. And when we look at this equation of innovation, something of value, it requires a new idea. And then, it requires someone or some organization that is going to commercialize that idea and to make it a value to the world. So it's important to understand that an idea by itself is not valuable. Ideas are cheap. Is the commercialization when combined with it that makes them extraordinarily valuable. So while sometimes when I used to say invention plus commercialization, in fact, it's times.
It's a product because if I don't have one, then it's zero. Then, I have no innovation. If I have no new idea, I can't commercialize anything. Therefore, it's zero. If I have an invention and no commercialization, I have no innovation as well. So it's actually a product. It's, in fact, the commercialization aspect of it that's very, very difficult.
If you look at the most innovative company in the world today, which I would argue is Apple, the underlying inventions that created Apple, great innovations starting with the Mac, did not come from themselves. It actually came from Xerox PARC. It was windows, icon, mouse, pointer. That invention, they commercialized to create innovation, which created terrific value in the marketplace and for their customers and for themselves, their investors as well. Likewise after that, you look again that the invention for the underlying and enabling idea, technology from the iPod was MP3, which did not come from Apple, again. That came from Fraunhofer. But what Apple was terrific at was commercialization to create innovation and, again, to create great value for their customers and their shareholders. So this definition of innovation we found very, very helpful to make clear that innovation is a combination of a new idea, a new technology. But then, it has to be commercialized and mapped to some customer in the real world where it will generate value.
Thanks Federico 🙂