My second post about Technology Transfer (following the one about National Systems) is about the micro-economics of the activity. This is motivated by the very good Keys to the kingdom – subtitled What you need to know about your technology transfer office.
Before summarizing its content, let me remind you about the posts which already cover the topic so you will agree it's not a new topic for me and I consider it as important:
– University licensing to start-ups in May 2010 (www.startup-book.com/2010/05/04/university-licensing-to-start-ups) followed by
– University licensing to start-ups (Part 2) in June 2010 (www.startup-book.com/2010/06/15/university-licensing-to-start-ups-part-2)
– How much Equity Universities take in Start-ups from IP Licensing? in November 2013 (www.startup-book.com/2013/11/05/how-much-equity-universities-take-in-start-ups-from-ip-licensing)
– Should universities get rich with their spin-offs? in June 205 (www.startup-book.com/2015/06/09/should-universities-get-rich-with-their-spin-offs)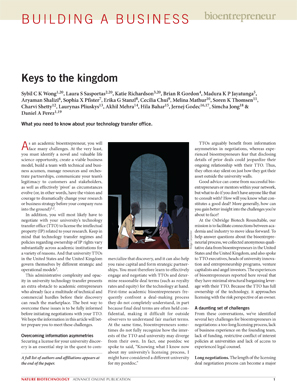 Co-authored by 18 people from Stanford, Oxford, Harvard, the University of California in San Francisco and the University College London, the article describes what should know people interested in getting a license on intellectual property to create a start-up. The paper begins with "As an academic […]entrepreneur, you will face many challenges" and the second paragraph follows with "In addition, you will most likely have to negotiate with your university's technology transfer office (TTO) to license the intellectual property (IP) related to your research".
What are these challenges related to TTO? they are written in the article in bold fonts as follows: Overcoming information asymmetries – Long negotiations – Inexperience – Lack of funding – Conflict of interest rules – Experienced legal counsel. This means that as a future entrepreneur, you should be prepared and ideally be knowledgeable about these.
The challenges
The main challenge seems to be the administrative complexity and opacity (page 1), including confidentiality of contracts, which makes it difficult for outside observers to understand fair market terms (page 1 again). In the end, they nearly conclude with: "Indeed, even for the universities for whom we have data regarding equity policies, it was often hidden deep within a jumble of legalese. To that end we encourage universities and research institutes receiving public monies to be fully transparent in their equity and royalty policies, and not use these information asymmetries as a bargaining advantage against fledgling […]entrepreneurs."
On page 2, I note:
– A negotiation may be long (6-12 months, even 18 months) and one way to make it short is to take the proposed terms.
– A way to mitigate inexperience is by "preparing an adequate business plan or strategy for your IP before approaching your TTO" or by "bringing aboard team members with prior experience in […] commercialization to improve your team's credibility".
– Lack of funding can be partially solved by signing "license option agreements".
– Conflict of interest rules "exist to prevent academics from playing both sides of a technology licensing deal or devoting too much time to nonacademic obligations". Furthermore, "TTOs represent the interests of the university (not the academic), yet the academic is technically an employee of the university. "Our policy is to never negotiate directly with the faculty," says a US-based TTO representative".
– Experienced legal counsel is advised for assessing the quality of the IP but also because "[…]entrepreneurs often fail to appreciate the opportunity cost to the TTO in outlicensing. If a technology is licensed to an ineffective team (particularly with an exclusive license), the university forgoes any success or revenue it may have received from licensing the technology to a better organized industry partner. Moreover, universities have limited resources and manpower to protect IP, and, for this reason, prefer to license technology to teams they believe are well prepared to commercialize it."
The equity deal terms
"Perhaps the most striking difference between the United States and United Kingdom is seen with equity deal terms. In the United Kingdom, a typical licensing deal is a rarely negotiable 50:50 split between the university and the academic […]entrepreneur, whereas US interviewees often reported universities taking a 5–10% negotiable equity share."
You now understand why I said I was not convinced in my previous post about taking the UK as a reference. The US practice shows space for debate. You may check again my article from November 2013, where you will see that a typical deal is either 10% at creation or 5% after significant funding. Very rarely more.
Again the authors mention "US founders often do not realize that some deal terms are negotiable, including upfront fees, option payments, equity, royalty payments, milestone payments, territories covered, field of use and exclusivity versus nonexclusivity" and "In the UK, licensing deal equity terms are often perceived as being non-negotiable, though this is not always the case. In fact, many institute policies explicitly state that equity terms are negotiable." This may however make the process lengthier.
On page 4, the authors add: "It is difficult to understand the justification of UK TTOs, such as Oxford's Isis Innovation, taking 50% of a company's equity at formation — which after investment can leave the academic entrepreneur with an extremely low stake from the get-go, for what was likely years of work, and will require many years and millions more to develop." and indeed "The data would suggest that TTOs taking less upfront and leaving more to the academic and investors who will actually carry the idea forward pays off in the long term. Simply put: holding a smaller piece of something is still more valuable than a large piece of nothing."
The mystery of royalties
"It is also worth noting that while a discussion on royalties was outside the scope of this study, it was clear from our research that many university TTOs "double dip" and take significant equity and royalty." but again "Perhaps more disquieting than the out-sized equity and royalty stakes that universities are claiming is the lack of transparency from many universities on this critical issue."
My conclusion: any wannabe entrepreneur should read this short 5-page paper and be prepared to negotiate. I would love as much as the authors that universities and research institutes be fully transparent in their equity and royalty policies, though I am also aware of the possibly weakened position of universities which would do so.