My naive and obsessive quest for startup cap. tables has led me today to a thriller-like research! First I will let you have a look at Darktrace cap. table which I decided to study as it belongs to the short list of UK unicorns together with Revolut and Graphcore.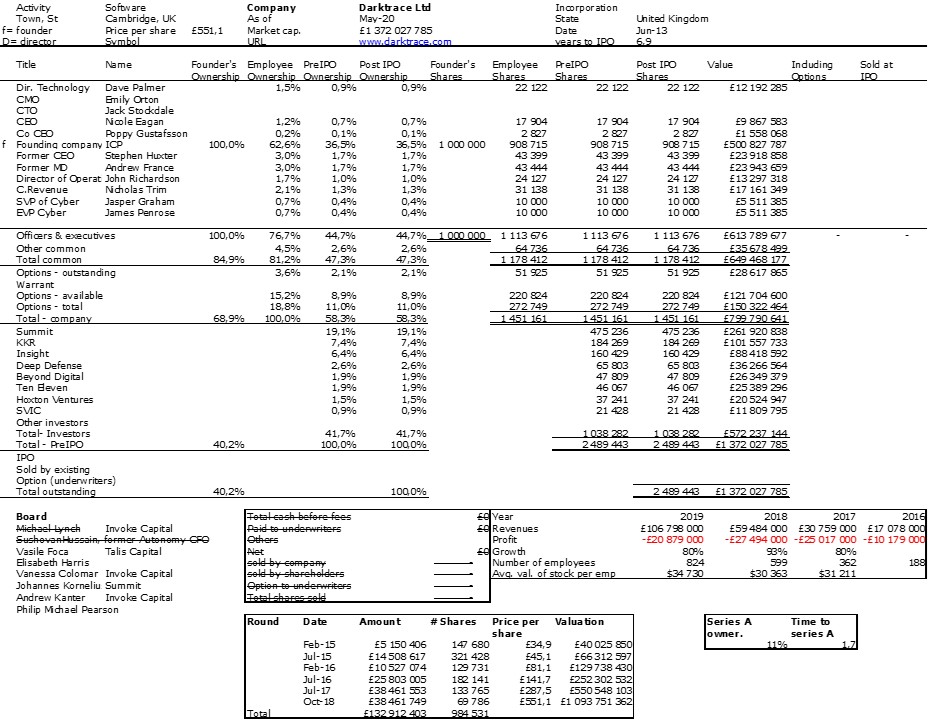 Well the first surprising information is the founding structure, ICP London. Why a British Virgin Islands structure? To hide who the founders are? Then I discovered surprising board members, Michael Lynch, the founder of Autonomy and Sushovan Hussain, the former Autonomy CFO… Autonomy was always a puzzle to me before becoming a scandalous HP acquisition and then the cause of a huge trial, not decided yet… And in law, you are innocent unless proven guilty.
Another strange side of the company is its links to secret services, MI5, CIA, NSA. Probably not so surprising when your industry is cybersecurity… Being based in Cambridge, it is not surprising that many Darktrace employees were at Autonomy before. The board members I did not know, but the investors are famous: Summit, KKR, Insight. Less maybe is Invoke Capital board members Vanessa Colomar and Andrew Camper. Lynch and Hussain are not on the board anymore and this is probably linked to the HP Autonomy litigation.
Then I got it: Invoke Capital Partners… ICP! So Darktrace was indeed founded by the former Autonomy people and its new investment structure, Invoke. I had to do a little more search and found two quite fascinating articles:
Skeletons In The Closet: $2 Billion Cybersecurity Firm Darktrace Haunted By Characters From HP's Failed Autonomy Deal, a remarkable enquiry published in Feb. 2020 by Forbes staff member, Thomas Brewster.
And 2019 Darktrace and Autonomy: tracking down all the money and CEOs published in Dec. 2018 by Luca Kosev is nearl as good!
Worth reading. Enjoy!