30 juin 2008
Commentez! »
Penny Aycinena m'a demandé d'écrire un bref article pour EDA confidential, qui résume mes inquiétudes et mes espoirs quant à l'innovation et aux start-up. Il est publié aujourd'hui (30 juin 2008).

Laissez-moi lui ajouter quelques lignes:

Le chapitre de "Start-Up" qui a été le moins remarqué est le chapitre 6. Il est pourtant un de mes préférés. EDA signifie Electronic Design Automation. Aujourd'hui aucun architecte ne peut concevoir un bâtiment complexe sans logiciel spécialisé ; il en est de même pour un ingénieur qui conçoit une automobile, un avion. C'est exactement la même chose pour la conception des circuits électroniques.

Il y a vingt-cinq ans, l'EDA n'existait quasiment pas. Il y a quarante ans, les circuits étaient conçus en interne (et manuellement) chez IBM, Motorola,… mais petit à petit, de nouveaux acteurs apparurent, des start-up minuscules sont devenus des géants, et une industrie s'est bâtie. L'EDA a représenté plus de $5B de revenus en 2007. Le cycle typique de créations et d'acquisitions de start-up s'est perpétué sur presque vingt ans, mais depuis, 2001, il ne s'est plus passé grand-chose : pas d'IPO, peu d'acquisitions de taille, et il y a quelques jours, Cadence, le no1 mondial, a lancé une offre hostile d'acquisition contre Mentor, le no3. Les deux sociétés ont été fondées dans les années 80.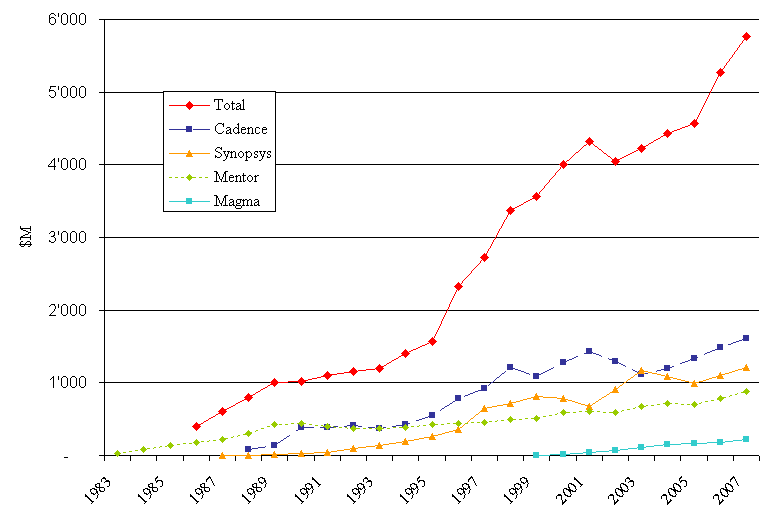 L'EDA est une parfaite illustration de la Silicon Valley: un réseau dense d'individus, chercheurs, entrepreneurs, investisseurs. Ce qui est intéressant à propos de l'EDA est que son centre est Berkeley (plus que Stanford ou Sand Hill Road) comme le montre la figure qui suit. Pour terminer, voici deux citations de légendes de l'EDA, deux récipiendaires de la Kaufman award, le prix Nobel de l'EDA:
- "Risk taking in EDA is gone." Joe Costello
- "If there is a single point I wish to make here today, it is that as a discipline, both in industry and in academia, we are just not taking enough risks today." Richard Newton
Il est possible que la maturité de l'EDA comme de la Silicon Valley ne soit pas un très bon présage.